SPOKANE, Wash. — The heat wave gripping the Northwest is one for the record books. The temperatures being recorded across the region are once-in-a-lifetime rare, if not more so than that. Most locations haven't seen heat like this in recorded history.
As of 4:10 p.m. on Tuesday, Spokane International Airport is up to 109 degrees and has broken the all-time record high temperature for the city. That record, which stood at 108 degrees, has happened twice in history — first on July 26, 1928 then again on August 4, 1961. The forecast for Wednesday stays hot at a whopping 110 degrees.
Richland recorded a high temperature of 118 degrees on Tuesday. That ties the record for the warmest temperature ever recorded in the state of Washington. The previous record was set on August 5, 1961 at Ice Harbor Dam
The heat that spread across the state on Tuesday broke many long-standing high temperature records. The graphic below is updated to show the new all-time record high temperatures for the cities in red. The ones not in red didn't set new all-time records this go-round.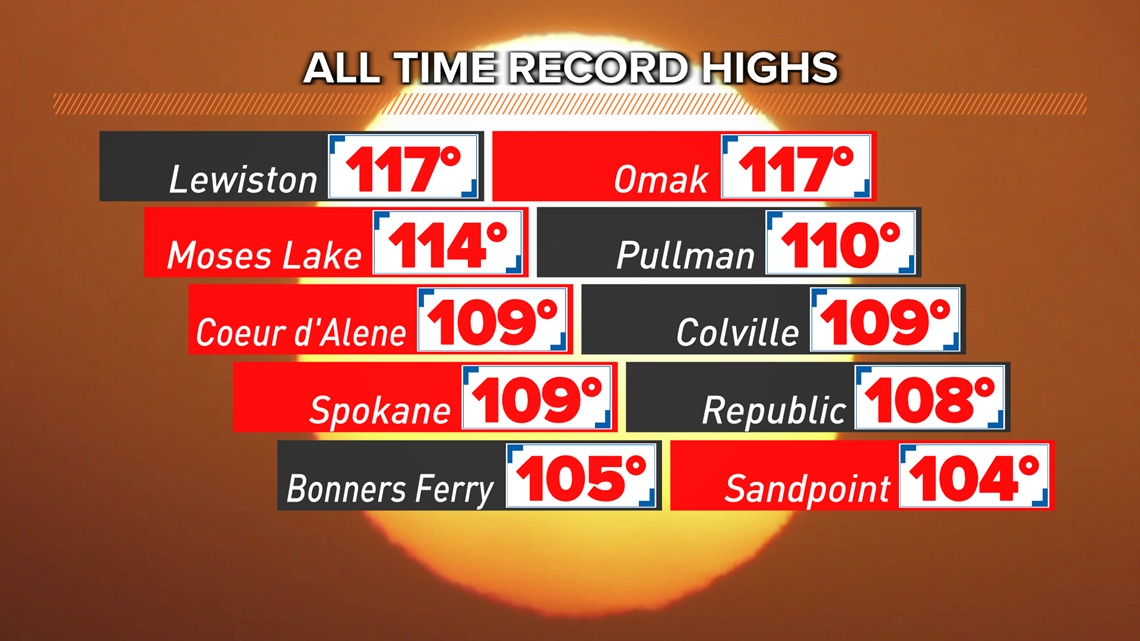 While the warmest days for Spokane and North Idaho will be Tuesday and Wednesday, Monday was no slouch. The high of 105 degrees was the warmest June day on record until Tuesday afternoon broke it. It tied the previous record of 105 degrees set on June 28, 2015.
It's not just the Inland Northwest breaking all-time records. Places west of the Cascades have already broken long-standing records. Portland climbed to 116 degrees on Monday, that sets a new all-time record high. Seattle didn't miss out either. Washington's biggest city hit 108 degrees on Monday, setting the new high temperature bar.