SPOKANE, Wash. — Wednesday, May 31st is the deadline for early entrants into the NBA Draft to withdraw and retain college eligibility.
We had three players from our local colleges that participated in the NBA Draft Combine. So, let's take a look at how they did and hand out some grades for their performance leading up to the big day.
Keep in mind, the grades aren't in relation to others at the combine - more evaluating the individual's performance and how it may have helped or hurt their draft stock.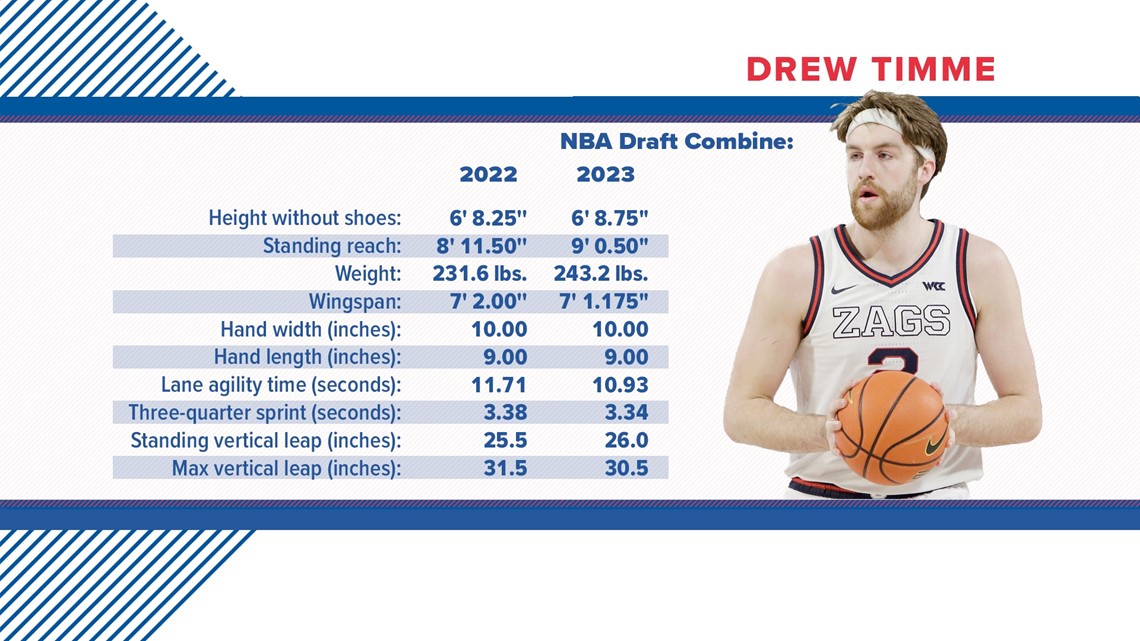 We'll start with Gonzaga's all-time leading scorer, Drew Timme.
Mock drafts currently project Timme to be taken in the late second round or going undrafted.
This was Timme's second time at the NBA Combine, he participated last year. Timme pretty much improved on everything! He even grew a half inch in the past year and put on about 12 pounds which will certainly help in the NBA.
On top of the measurements, Timme improved on his speed. Which is something that's been a knock on his potential at the professional level.
Of course, this data isn't everything you have to prove you can play.
Timme was the only local player to compete in the combine scrimmages. The first day of scrimmages didn't help the big fella much, he scored just 6 points. But, the second and final scrimmage for him was huge! He scored 17 points on 8-of-14 from the field and grabbed 7 rebounds. This was all against NBA prospect level guys.
That is exactly the type of performance Timme needed to prove his game can translate.
Drew Timme pre-draft grade: A-
Because of the big scrimmage, we're going to give Timme an A-.
All-together Drew proved he's gotten bigger, faster and can get buckets against any competition.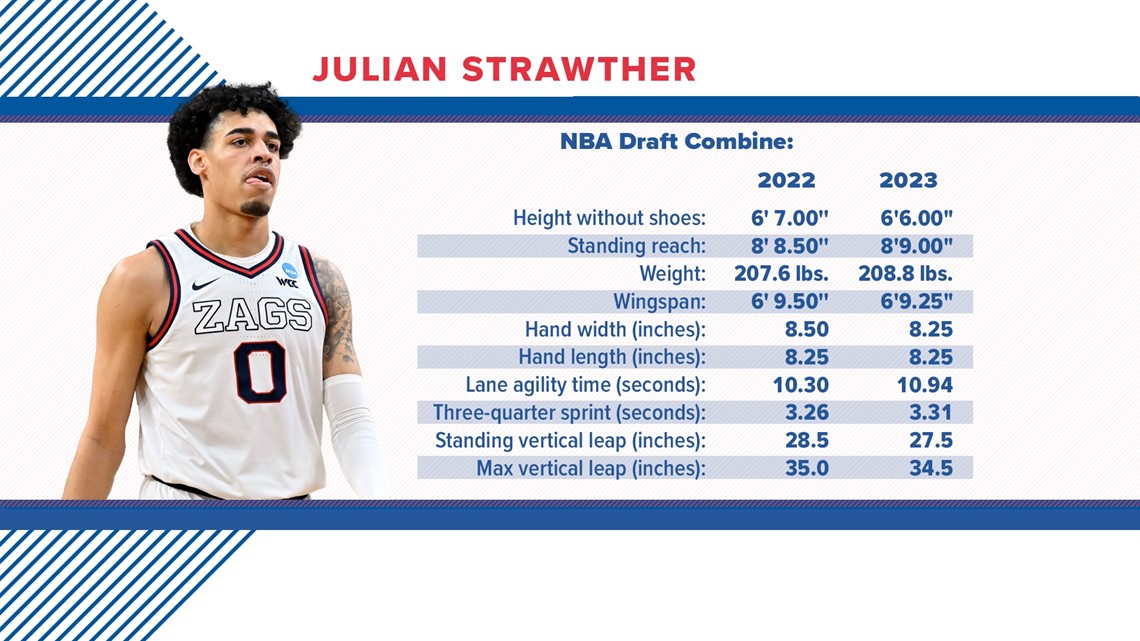 Julian Strawther is a bit of a different story from Timme. Strawther was also at last year's NBA Combine, where he really impressed scouts with his agility. His 10.30 seconds lane agility time was the fastest of the entire 2022 combine.
However, this year Strawther dropped on his lane agility time and about everything else. Maybe the most surprising measurement is Strawther came in an inch shorter at 6'6" compared to 2022's 6'7".
But, not shown on this graphic is the shooting portion where Strawther was one of the best at the combine. The Gonzaga guard/forward shot 76% on college corner three's (Fourth best at the combine) and 76% on the move from college three points range (tied for second best at the combine).
Strawther did not participate in the combine scrimmages.
Julian Strawther pre-draft grade: C
Overall we're going to give Strawther a C grade. Didn't help his draft stock, but didn't hurt it much either.
Strawther was at the Golden State Warriors facility on Friday as a pre-draft workout invite. Strawther spoke to meida via Zoom after the workout and said he "feels pretty good" about how the pre-draft process has gone for him.
We asked Strawther about the upcoming withdrawal deadline and it seems he is set on making the jump to the NBA.
"Right now, I'm 100% locked in on the draft. That's my main priority, it's been my priority since I put my name in," said Strawther. "I'm getting ready for the NBA. That's my main focus."
Mock Drafts have Strawther projected to be taken between the early to late second round.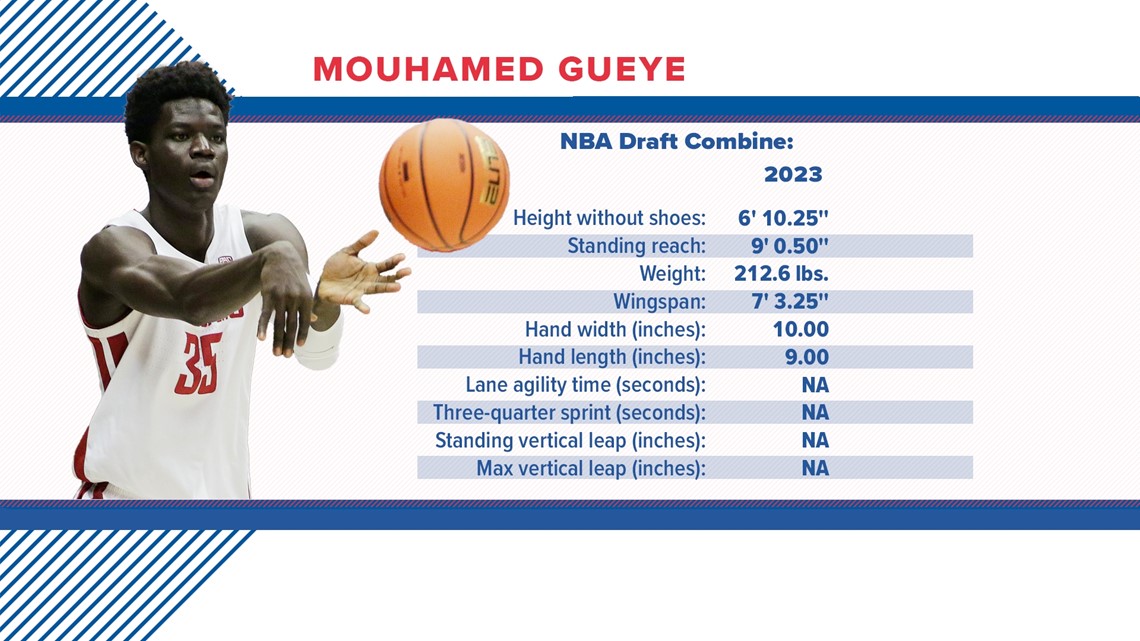 There was also a Washington State Cougar at the NBA Combine in center Mouhamed Gueye.
Gueye is a prospect that NBA scouts like because of his mix of size and athleticism. Mouhamed wasn't very active at the combine, he only participated in measurements.
However, those measurements and visits with teams seemed to be plenty enough as Washington State has confirmed with KREM 2 that Gueye is close to deciding to stay in the draft.
Gueye came in as the fourth biggest at the combine in height, reach and wingspan.
It is worth noting Gueye has been recovering from a slight back injury that he suffered during the season. So, that plays a role in his decision to not participate in much of the combine.
Gueye is currently projected to go at some point in the 2nd round in most mock drafts.
Mouhamed Gueye pre-draft grade: B-
With the lack of participation, it's hard to say he was able to help his draft stock, but the measurements and solid feedback Gueye's gotten from scouts earns him a B- pre-draft performance grade.
There are other local college players who were early entrants into the NBA Draft. Gonzaga's Anton Watson even participated in the G League Combine.
However, for those players it seems very likely they will return to college as they did not get an invite to the NBA Combine.
We will find out who is coming back to college and who is hoping to make the jump to the NBA come Wednesday.
HOW TO ADD THE KREM+ APP TO YOUR STREAMING DEVICE
ROKU: add the channel from the ROKU store or by searching for KREM in the Channel Store.