SPOKANE, Wash. — The City of Spokane will double the amount of cooling centers and extend public library hours in Spokane this weekend ahead of a possible record-breaking heat wave.
The expansion was made possible by orders from Gov. Jay Inslee. He issued an order Friday to remove pandemic limitations on the number of people served at publicly owned or operated and nonprofit cooling centers.
The city will use the multi-purpose rooms at the Looff Carrousel as temporary cooling centers. This location will be open from 11 a.m. to 7 p.m. starting on Saturday with a new capacity of 72 people.
Spokane Mayor Nadine Woodward asked that all city partner shelters follow the order to increase their capacity for guests.
The centers will be available throughout the heat wave, according to the city. There will also be 1,300 water bottles available at the centers that were donated by Dasani and Coca-Cola, according to Spokane spokesman Brian Coddington.
Before they expanded the amount of cooling centers, Councilwoman Betsy Wilkerson doesn't think they are doing enough. In an interview with KREM 2's Morgan Trau, she said the city's decision to open a cooling center at the Looff Carrousel is the bare minimum of what they should be doing.
"Hot weather has been predicted for several days now, and at the last minute, we're scrambling to help our most vulnerable," she said. "And then I thought, 'Oh, my God, we don't have any water fountains downtown. Where are they gonna get water?' It's dangerous."
In a Facebook post on Thursday, Wilkerson called the city's response "dangerous and unacceptable."
"This brings into view the fact that there are still no public drinking fountains in our downtown core or neighborhoods. Water is needed to keep people hydrated and alive too. Our friends at Coca-Cola provided a pallet of bottled water donated by Dasani to the cooling center but have to do better, we can do better Spokane," Wilkerson said.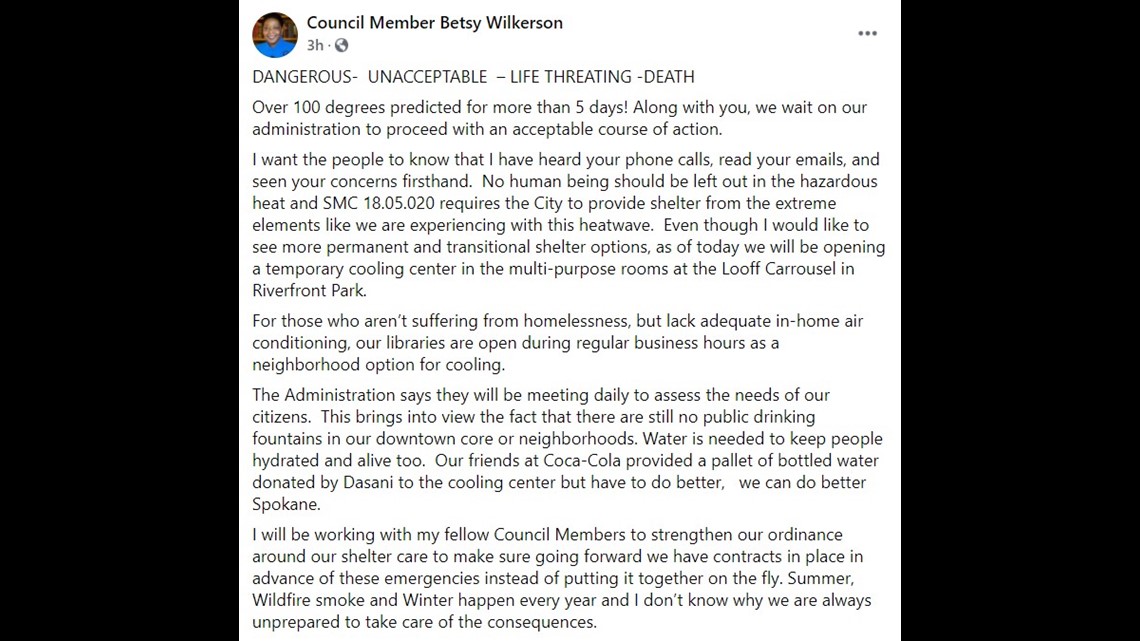 "I just want to hold the administration, not just them, but council too, accountable," she added in the interview. "We have to be accountable for where we sit in this city, and how we support and take care of the people we are elected to serve."
The idea of adding a cooling center downtown sounds logical, but she said it was not deliberate enough.
"We know that will not be a comfortable place for many people to go to," she said. "I believe we'll probably see a significant number of our folks down at the river. You really thought through other options for other people?"
All Spokane Public Library locations are also available and can accommodate those who need relief from the extreme daytime temperatures during business hours. They will also be abiding by the COVID-19 capacity requirements. The only problem with the public libraries is that they are closed on Sunday, which is set to be the hottest day.
"Not everyone has libraries around them," she said. "Someone may not have the money to get on the bus."
When asked by KREM 2's Morgan Trau why the libraries will be closed, Coddington said they were facing staffing and budgetary reasons. When pushed about opening them up just for the hottest day, he said the City has no plans to open them.
"I recommend using alternative methods," he said. "Certainly come here if you need to, see one of the shelters, go to businesses, go to mall, those kinds of places where you can get a little bit of air conditioning, a little cooling and get out."
Wilkerson said that doesn't make sense.
"This council is in full support," she said. I believe that we have the ability to find resources, if necessary, to make that happen. I'm always fascinated how we find money for everything else, which we just do."
There are multiple shelters around the city that will be open.
Spokane Mayor Nadine Woodward said they wanted to provide relief to the community.
"Businesses and malls are open and operating at reduced COVID capacities into next week and are still a great way to escape the heat and support our economy. For those in our community who are unsheltered, we have a multi-pronged approach that includes taking advantage of the existing resources and adding additional space to cool off," Woodward said.
There will also be water giveaway centers around the city that was set up by Spokane Quaranteam.
Rick Clark of Spokane Quaranteam said in a Facebook post that they are planning to giveaway at least 30,000 bottles of cold water.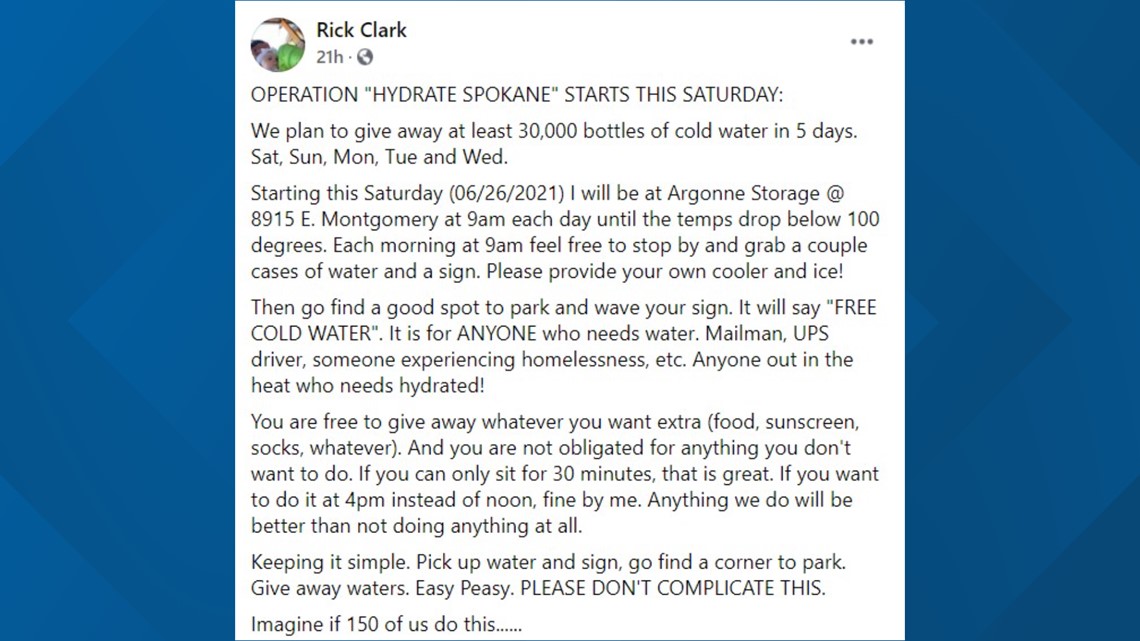 Wilkerson added that is unacceptable that people have to rely on community partners to provide for the city, instead of the city itself.
"This is dangerous, this is deadly," she added. "And that's the last thing we want to see, somebody dying because we weren't prepared to meet the challenge."
The councilwoman says she will be bringing up the decision to not open up the libraries at their meeting on Friday.
Here are the updated hours of cooling locations set up by the city
•The East Side, Hillyard, and Indian Trail locations will be open on Tuesday from 12 to 8 p.m., Wednesday through Saturday from 10 a.m. to 6 p.m. and Sunday and Monday from 11 a.m. to 6 p.m.
•The South Hill library will be open on Monday and Tuesday from 10 a.m. to 8 p.m., Wednesday through Saturday from 10 a.m. to 6 p.m. and Sunday from 11 a.m. to 6 p.m.
•STA Plaza and Northtown Mall will be open Tuesday through Saturday from 10 a.m. to 6 p.m. and will be closed on Sunday and Monday.
Here are shelters around Spokane that are offering a place to cool down
• Cannon Street Shelter will be open for drop-in day space and has recently added an outdoor shade structure with picnic tables and benches. The shelter also offers showers, restrooms, laundry and meals. They are also providing a mobile shower unit in front of City Gate. 170 S. Madison from 6 to 8:30 p.m. There will also be a group serving a meal and free clothing.
• House of Charity in Spokane is open 24 hours a day and offers day space for those who checked in the night before.