SPOKANE, Wash. — A historic heat wave is on the way for much of the Northwest. Temperatures will soar to record high levels this weekend as Spokane sees the potential for the highest June temperature ever recorded.
On Thursday afternoon, the National Weather Service in Spokane issued an Excessive Heat Warning starting Friday, June 25 through Thursday, July 1. High temperatures will be at a minimum in the mid-90s each day, with the hottest days likely recording temperatures above 100 and even 110 degrees in central Washington.
The weather pattern bringing the heat means it's likely we won't get a break any time soon. Before this weekend's heat arrives, temperatures will trend 15 to 20 degrees above normal. Spokane will see daytime highs climb into the 90s each day with overnight lows falling into the 60s. Central Washington will see daytime highs up near 100 in the days to come. But as the ridge of high pressure continues to build, even warmer weather arrives this weekend.
The ridge of high pressure responsible for the heat continues to build this weekend. Forecast models suggest the upper-atmospheric ridge turns into an omega block. The pattern is one that would create a heat dome over the region and the blocking nature of the pattern means it isn't going anywhere any time soon.
It will be so hot this weekend that widespread high temperature records will be broken. Temperatures will trend almost 30 degrees above normal. In Spokane, that puts high temperatures above 100 degrees starting Saturday and staying there through at least the first part of next week.
Spokane has the potential to break all-time high temperature records during the heat wave. The warmest June temperature on record was 105 degrees on June 28, 2015. Monday's forecast is 107, potentially setting a new record. The all time hottest temperature ever recorded in Spokane was 108 degrees. That happened twice, once in 1928 and again in 1961. It is possible that record falls Tuesday as the forecast is now up to 109 degrees.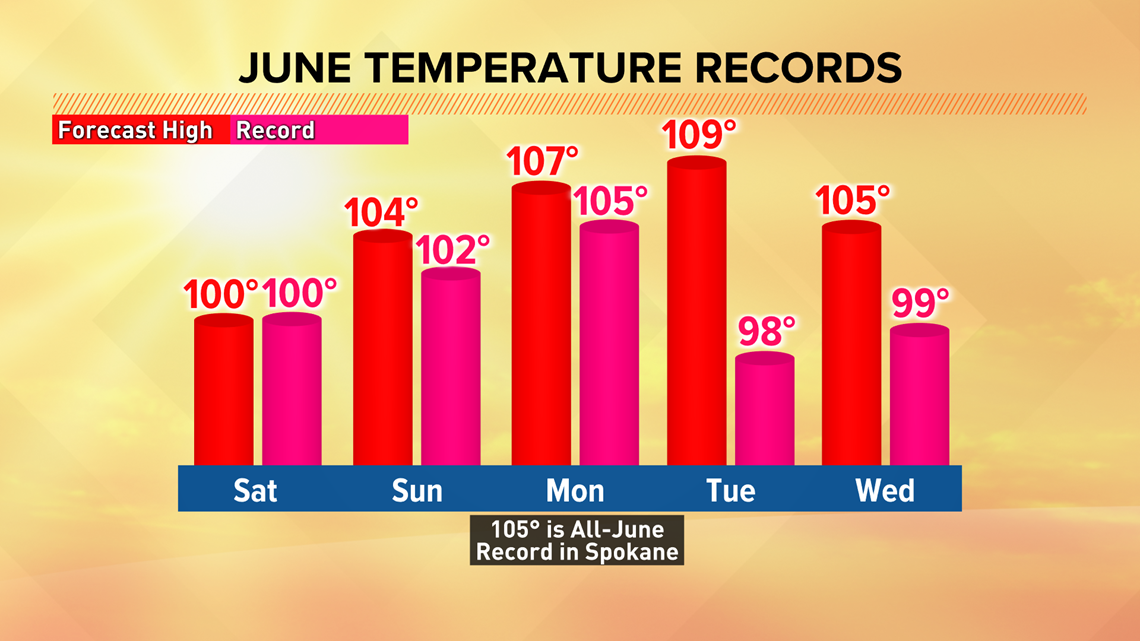 The Grant County Health District (GCHD) in Central Washington has issued a heat advisory and is urging people to take extra precautions to avoid heat-related illnesses. Groups at increased health risk from extreme heat include adults ages 65 and older, people with chronic medical conditions, young children, and those who work or exercise in a high heat environment.
The early warning signs of heat stress can include decreased energy, slight loss of appetite, light-headedness and nausea. People experiencing these symptoms should go to a cool environment, drink fluids, remove excess clothing and rest.
Serious signs of heat stress can include unconsciousness, rapid heartbeat, throbbing headache, dry skin, chest pain, mental confusion, irritability, vomiting, diarrhea, muscle cramps, staggering and/or difficulty breathing. People experiencing these symptoms should get immediate medical attention. While waiting for help, move the person to a cool area, remove excess clothing, spray them with water and fan the person. In an emergency, dial 911
GCHD is reminding people about the importance of visiting older friends, relatives and neighbors to make sure fans or air conditioners are working and living spaces are ventilated. People who do not have air conditioning are advised to seek relief from the heat by visiting friends or relatives that have air conditioning.
Hitting 100 degrees in Spokane is pretty rare. It happens on average just once each year. The earliest 100-degree day was June 22 in 1973. The latest was August 31, 1967. Each 100-degree day in the forecast potentially breaks a record. The forecast high of 105 degrees both Sunday and Monday would tie the 2015 record for the warmest June temperature ever recorded in Spokane.
For those wondering, the hottest day ever in Spokane was a whopping 108 degrees and that happened twice on July 26 of 1928 then again on August 4 in 1961. Forecast models put Tuesday over that long-standing record.
Here are some health and safety tips to avoid heat-related illness:
Stay indoors and in an air-conditioned environment as much as possible.
Drink plenty of fluids. Avoid beverages that contain alcohol, caffeine or a lot of sugar.
Eat more frequently, but make sure meals are balanced and light.
Never leave any person or pet in a parked vehicle.
Avoid dressing babies in heavy clothing or wrapping them in warm blankets.
Cover windows that receive morning or afternoon sun. Awnings or louvers can reduce the heat entering a house by as much as 80 percent.
Make sure pets have plenty of water.