RENTON, Wash. — The WIAA Executive Board announced on Tuesday that high school football will be one of a few fall sports that will begin in February and end in April due to the coronavirus pandemic.
Girls' soccer, 1B/2B boys soccer and volleyball will also be moved to next spring.
Cross country, slowpitch softball, and alternative seasons for golf and tennis will begin on September 7. Golf and tennis will still have championships in the spring, but schools can opt to have seasons this fall. The status of viability of girls' swim and dive taking place this fall depends on more information from the Department of Health.
The Executive Board will create benchmarks on July 28 to be met in order for sports scheduled to begin September 7 to take place. If the benchmarks aren't met, those sports will be pushed to next spring as well.
"We make decisions of what we know," WIAA Board of Executives President Greg Whitmore said. "We all felt, everyone in the board room, didn't feel we could get the high-risk sport of football played this fall."
Winter sports are expected to begin on January 4th. Football will begin February 22, while volleyball, girls' soccer, and 1B/2B boys soccer will begin the week of March 1. Spring sports will begin at the end of April as of now.
Championships for fall sports remaining in the fall will be held the week of November 2nd, championships for winter sports will be held the week of March 1, championships for fall sports moved to the spring will be held the week of April 26th, and championships for spring sports will be held the week of June 21. Football is the only sport that will have its own championship week. That will take place the week of May 3.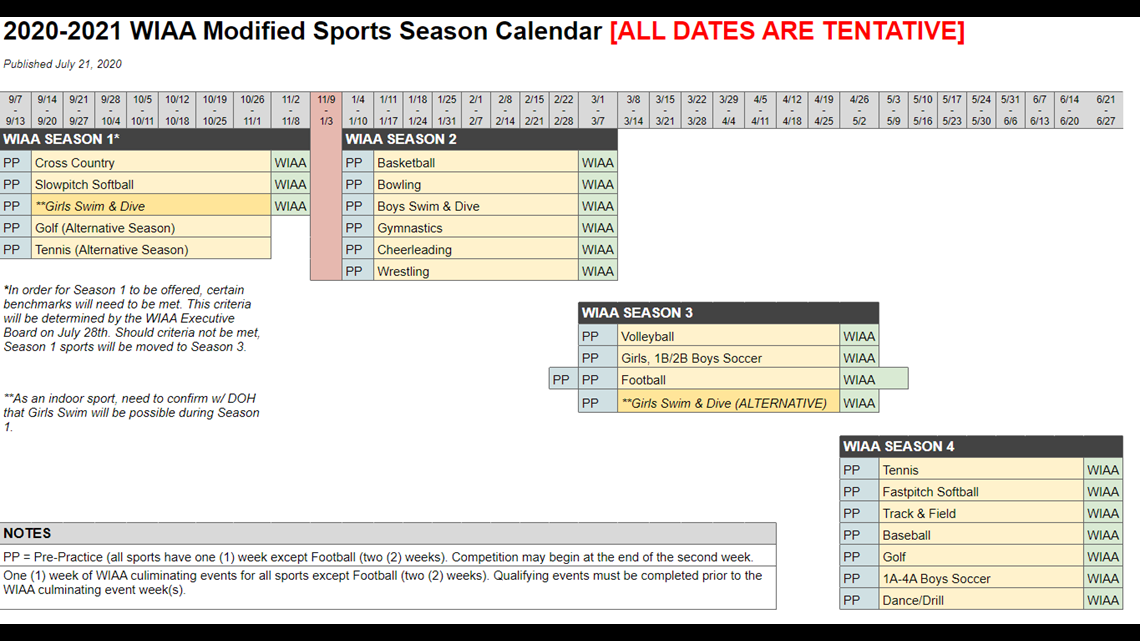 Both Whitmore and Hoffman reiterated that these dates are scheduled with the possibility they could change.
"What we have set is a visual," Whitmore said. "It's not set in stone."
"Dates are definitely written in pencil," Hoffman added.
Low-risk sports can compete in phase three while moderate risk sports can compete in phase four. High risk sports, such as football, cannot compete until phase four plus. That phase has not yet been defined by Governor Jay Inslee.
Hoffman said there is potential to have fans in the stands beginning in the fall. The Department of Health will decide that.
"If we can get our arms around this thing I think we can get fans in the stands," he said. "Outdoor sports have a better chance of this because they have the ability to distance in the stands."
There could be setbacks for teams that have players or staff who get Coronavirus during competition.
"If there's a positive test, they would have to quarantine for 14 days for anyone who came in contact," Hoffman said. "It could remove a team from competition."
Hoffman also noted the possibility of essentially doing regional championships instead of state championships this year. He said there is a possibility to give out multiple state championships across the same classification of a sport. This would happen if travelling amidst a pandemic became unrealistic. It would also help schools save money.
The WIAA is splitting this up into four seasons as listed below.
WIAA Season 1: Cross Country, Slowpitch Softball, Girls Swim & Dive*, Golf (Alternative Season), Tennis (Alternative Season)
WIAA Season 2: Basketball, Bowling, Boys Swim & Dive, Gymnastics, Cheerleading, Wrestling
WIAA Season 3: Volleyball, Girls Soccer, 1B/2B Boys Soccer, Football
WIAA Season 4: Tennis, Fastpitch Softball, Track & Field, Baseball, Golf, Boys Soccer, Dance/Drill