SPOKANE, Wash. — The college basketball landscape has drastically changed over the past few years, specifically the process for early entrants into the NBA Draft.
Here at KREM 2, we've been getting a lot of questions of what this means for our local college players and their futures with the teams. So, let's break things down.
Let's start with the rules.
Players can sign with an agent without losing eligibility
In 2019, the NCAA introduced a new rule where college players can sign with an agent without losing college eligibility. Now, there is a caveat, we'll get to that next.
This allows players to essentially get a taste of what it would be like to turn pro. In the process, the agent helps the player find out where they stand in terms of the upcoming draft. Whether they would be a first or second rounder or even get drafted at all.
Must terminate agreements to return to college
Under the new rule allowing players to sign with an agent and remain eligible, if a player decides to return to college they must terminate all agreements made with an agent.
Before the rule implemented in 2019, if a player signed with an agent, they became ineligible.
So, that contract that has been signed, go put it in the shredder. You're back in college for at least one more year.
Players can participate in the NBA Draft and still return to college
Now, here's another aspect that has changed. Players can go all the way through the NBA draft process. This means they can participate in draft day and if they aren't taken by a team in the draft, they are able to return to college. Of course, this is for early entrants that still have college eligibility left.
The one stipulation being, to do this, the player must have participated in the NBA Draft Combine.
To return, the athlete must inform the school's Athletic Director by 5 p.m. the Monday after the draft.
Again, before the 2019 rule changes, if a player was a part of draft day, their college eligibility was lost.
If a player enters the draft and is drafted by a team, they lose their college eligibility. You can't be taken by a team and then decide you want to return to college. This protects NBA teams and their draft picks.
Therefore, a player can't go back to college in an effort to raise their draft stock if they are unhappy with where they were taken.
Players can enter the NBA Draft three times
In total, a player can enter the NBA draft three times. There is a limit set on withdrawing twice. So, the third time a player enters, they cannot return to college.
If you remember, this was a part of the drama around Gonzaga guard Malachi Smith entering the draft, where it was reported it was his third time declaring. But, it is his second time, so he can return to college basketball if he decides to. The next time he enters the draft it is final.
A lot of the decisions made around early entry are centered around key dates.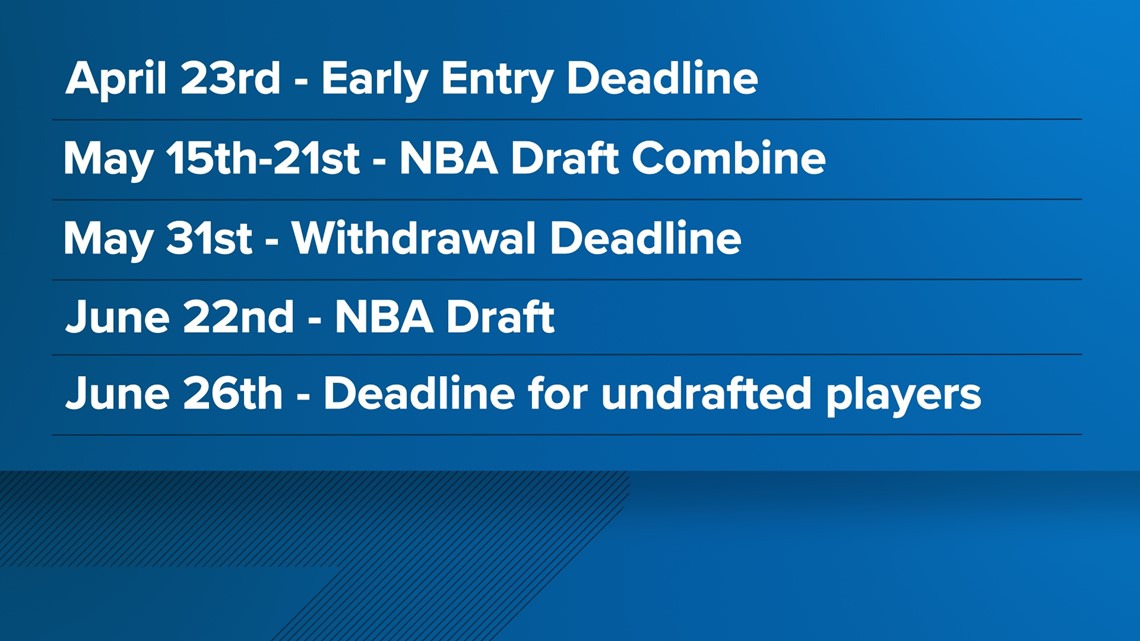 April 23rd -The Early Entry Deadline: This is the deadline for players to submit their name as early entrants into the NBA Draft.
May 15th - May 21st - NBA Draft Combine: May 15th through May 21st is the NBA Combine. This is where players get feedback on where they could get drafted depending on how their performance at the combine either helped or hurt their draft stock.
May 31st - NBA Draft Withdrawal Deadline: This is the final day for players to withdraw from the draft without participating in draft day. For example, this was the day Drew Timme decided to return to Gonzaga for the 2022-23 season. If he were to have stayed in the draft and was taken in the late 2nd round and wasn't happy with that spot, he wouldn't have had the opportunity to return to Gonzaga. This is a date a large portion of players decide to withdraw from the draft.
June 22nd - NBA Draft: A date that explains itself, the NBA Draft.
June 26th - Deadline for Undrafted Players: Monday, June 26th at 5 p.m. is the deadline for undrafted players to inform their school's Athletic Director they wish to return to college.
Those are the rules and key dates to remember ahead for our local college basketball players.
It will all come down to what they decide is best for them. Which likely depends on the feedback they get on if and when they could get drafted.
HOW TO ADD THE KREM+ APP TO YOUR STREAMING DEVICE
ROKU: add the channel from the ROKU store or by searching for KREM in the Channel Store.