BOISE, Idaho — A former Idaho state representative was convicted Friday of raping a 19-year-old Capitol intern during the 2021 legislative session.
Aaron von Ehlinger, 39, will be required to register as a sex offender and faces up to life in prison at his July 28 sentencing.
The jury returned a guilty verdict for felony rape after about eleven hours of deliberation, finding von Ehlinger not guilty on a separate charge of forcible penetration.
Von Ehlinger's face betrayed no emotion as the verdict was read, but as he was placed in handcuffs and led by a deputy out of the courtroom, sweat trickled down his neck.
In the gallery, several people embraced. One woman began to cry quietly. Prosecutors Katelyn Farley and Whitney Welsh rose and strode from the room, then hugged one another in the courthouse lobby.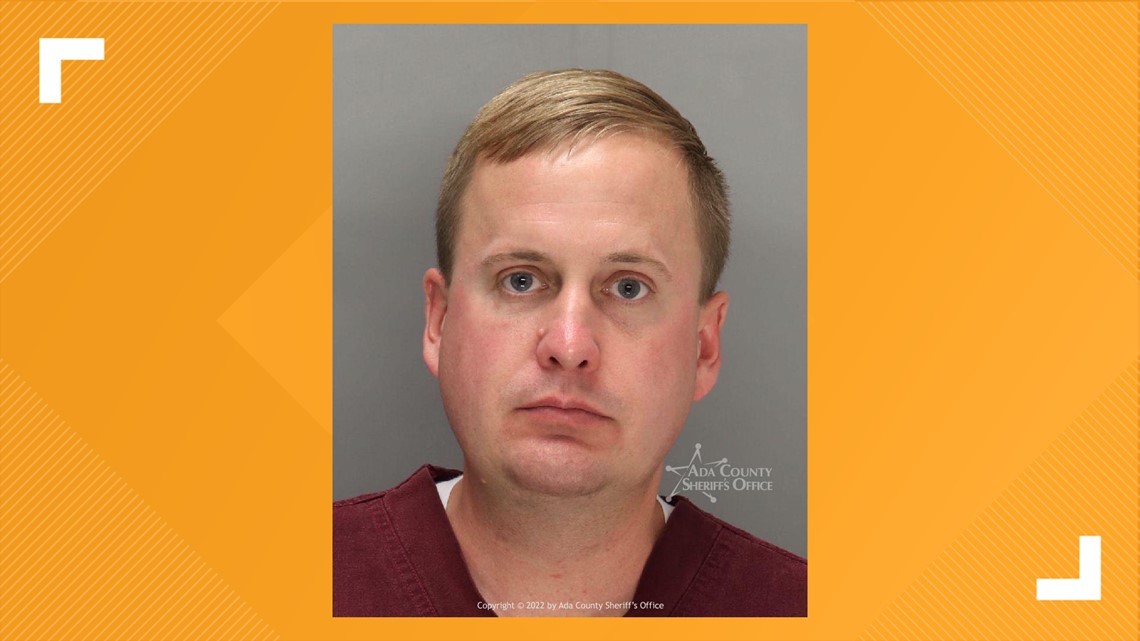 Ada County Prosecutor Jan Bennetts said after the verdict was handed down that she hopes the conviction helps to tear down the barriers faced by victims of sexual assault.
"It is incredibly important to show victims that you can come forward and that you will be believed," Ada County Prosecutor Jan Bennetts said after the verdict, adding that the intern, Jane Doe, showed "remarkable" courage.
"I am really proud of her," she added.
The young woman told police that von Ehlinger raped her in his downtown Boise apartment after the pair went out to dinner together March 9, 2021. The representative penetrated her with his finger, pinned her down, and forced her to perform oral sex, she reported, despite her saying "no" and telling him that she did not want to do it and that he was hurting her.
Jane Doe told her mother and another employee at the Statehouse what had happened, reported the rape to police, and received a sexual assault exam two days later.
Von Ehlinger, a Republican from Latah County, resigned his seat in the Idaho House the next month after a legislative ethics committee found that he had committed "conduct unbecoming a representative" in his sexual pursuit of the intern and several other women who worked at the Statehouse.
He took the stand in his own defense Thursday, testifying that the sexual encounter had been consensual and that the 19-year-old was a willing participant.
"She never told me no," von Ehlinger said.
The prosecution called Jane Doe to the stand as well. Midway through her testimony, however, she got up and bolted from the courtroom, prompting Judge Michael Reardon to instruct the jury that they could consider anything she said as they decide their verdict.
"I can't do this," she said as she left the room.
Farley told KTVB after the verdict that the moment was "heart-wrenching."
"It was a human reaction, I think, when she ran from the room," she said. "I don't think anybody could have not had a human reaction."
In their closing argument, prosecutors told the jury that von Ehlinger had wielded his power and influence over the young woman to devastating effect, and that his version of what happened inside the apartment that night is a lie. Prosecutor Katelyn Farley urged jurors to consider an injury to Jane Doe's head she said she received when trying to pull away from von Ehlinger, as well as think about why Jane Doe sought out a sexual assault examination and reported her assault.
Defense attorney Jon Cox argued that here was no power differential between von Ehlinger and the intern, and that there was no evidence the encounter was anything but consensual.
The prosecution fell far short of proving their case beyond a reasonable doubt, he argued.
"You have heard from one person of the two people that were in that room," Cox said, telling the jurors they each get to make their own decision on who to believe.
On Friday, almost exactly 24 hours after the case was handed to them for deliberation, they did.
Live updates from court:
1:48 p.m. - Just saw Jon Cox (von Ehlinger's defense lawyer) leaving, asked him if he had any reaction or statement. He shook his head. "Not now," he told me.
1:44 p.m. - Farley: "It was a human reaction when (Jane Doe) ran out of the room. I don't know if anyone could not have had a human reaction." She called it "heart-wrenching."
1:42 p.m. - "Victims can be believed," Bennetts says. Bennetts also says her office has not yet come up with a sentencing recommendation.
1:41 p.m. - Ada Co. Prosecutor Jan Bennetts thanks the jury for their hard work, and the prosecutors who "worked tirelessly on behalf of the victim." It took immense courage for Jane Doe to come forward, Bennetts said.
1:35 p.m. - Sentencing is set for July 28.
1:27 p.m. - Aaron von Ehlinger being taken into custody. A deputy places him in handcuffs. Before today's verdict, he had been released on his own recognizance. The judge revoked that after the jury found him guilty of rape.
1:27 p.m. - A conviction of rape means von Ehlinger will be required to register as a sex offender. He faces a possible sentence of up to life in prison.
1:25 p.m. - Judge Reardon orders a pre-sentence investigation and a psychosexual evaluation for von Ehlinger.
1:19 p.m. - Reardon is here. We are in session. "I am told we have a verdict," the judge says.
1:18 p.m. - Jon Cox and von Ehlinger just arrived.
1:14 p.m. Judge Reardon and the jury are not in the courtroom yet either - pretty sure they are waiting to come out until the defendant and his lawyer get here.
1:13 p.m. - Of course, they weren't actually deliberating for all of that - about 11 hours in total between yesterday and today.
1:12 p.m. - The jury made a decision alllllmost 24 hours on the dot from when deliberation started yesterday.
1:10 p.m. - The prosecutors are here, still waiting on von Ehlinger and Jon Cox to arrive. The judge instructed them to stay within 10 minutes of the courthouse during deliberations.