STEVENS COUNTY, Wash. — Entertainment venues will remain closed until Phase 4 of reopening in Washington. But that hasn't stopped entertainers from a popular Spokane nightclub from lifting people's spirits through music.
Steve Ridler has owned the Ridler Piano Bar in downtown Spokane for five years and his son, 21-year-old Chaz Ridler, began playing there within the past year.
"It's been packed. It's been 100 reservations per night on our website," Steve said of the time before the coronavirus shutdown.
It's been six months since the piano bar closed after restrictions went into place. The business is the Ridler family's main source of income.
"We were packed Saturday night and we were closed on Tuesday – and just like that, it was horrible," Steve said.
But the musicians didn't let coronavirus force them to give up on their passion for performing. They turned a floating dock into a barge to entertain people on Deer Lake, where they live.
In a fun play on words, they are calling their new venue the Ridler Piano Barge.
"Last time we played it was, like, amazing. I'm getting messages saying, 'Our family's been so depressed. We've been at home, we've been locked up,'" Chaz said. "It just blows my mind how happy we're making people, which we're happy, too, to be playing music because that's our passion. That's what we like to do – and we like to entertain. We feel a little bit more restored in our hearts."
PHOTOS: Ridler Piano Barge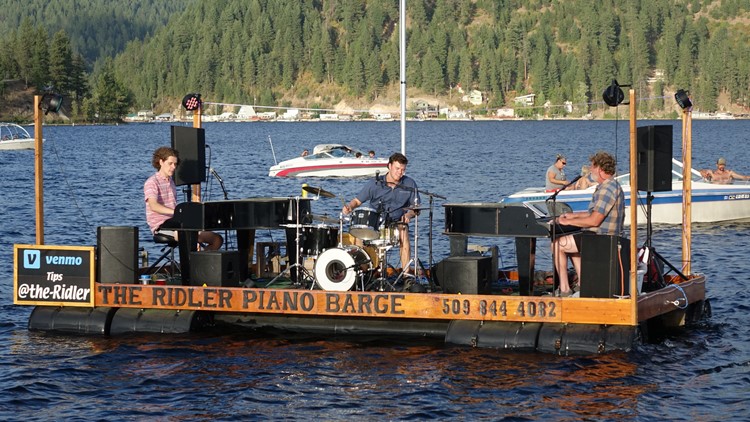 Chaz said he acquired a dock several years ago during a cleanup job in Deer Lake and convinced his dad to help him convert it into a floating stage. A week later, they were playing gigs on the lake.
The dock was later retired because the musicians didn't have time to take it out on the lake anymore while they were playing music every weekend. But that changed with the piano bar's closure.
Guests at the piano bar requested songs for the musicians to play and it's no different on the barge. People will ask for a popular song through Venmo, a payment service app, with some sending tips ranging anywhere from $20 to $100.
The group entertains people enjoying the lake on boats, paddle boards or kayaks, and hanging out on the docks of their houses.
"You got the whole lake singing 'Piano Man,' or 'Benny and the Jets,' or whatever. You know, it's just, everybody's in," Steve said.
Shawn Stratte, who plays with Steve and Chaz, stressed that the experience is "not a COVID breeding ground," adding that people are staying a safe distance away from others on their boats or docks.
Steve, Chaz and Shawn don't know what's next in their journey as musicians. Right now, Shawn is living with his parents due to lost income amid the pandemic.
But, for now, they are hopeful that some gigs may be available as the weather grows colder, though playing from the barge won't be an option.
When entertainment venues can reopen, Steve said it will only take the flip of some light switches to get the piano bar up and running again.