SPOKANE, Wash. — A winter storm has blanketed much of eastern Washington and North Idaho, prompting a busy day for city plow crews.
On Wednesday, the City of Spokane announced a full-city plow. The city announced on Thursday morning it was moving into residential areas.
City crews will work 24 hours a day, 7 days a week, until they plow all streets within the City. The full-city plow is expected to take three days to complete.
Browne's Addition is scheduled to be plowed Saturday, Dec. 3, from 10 a.m. to 4 p.m., east and west streets, and on Sunday, Dec. 4, from 10 a.m. to 4 p.m., north and south streets.
People living in that area are asked to move their cars from the east-west streets on Saturday and the north-south streets on Sunday to give the plows room to work.
As Spokane crews work to remove snow from the roads, residents can track the progress being made on the city's website.
When it snows four inches or more, city crews move to 24/7 operations to complete a full-city plow. Crews work to complete the plow in approximately three days.
Utility crews will supplement Street crews for larger plowing efforts, and more equipment will be available on a regular basis for plowing.
The city has a Plow Progress Map available online, which shows the progress being made on both residential and public streets. Residents can track which roads are completed, in progress or next on the list.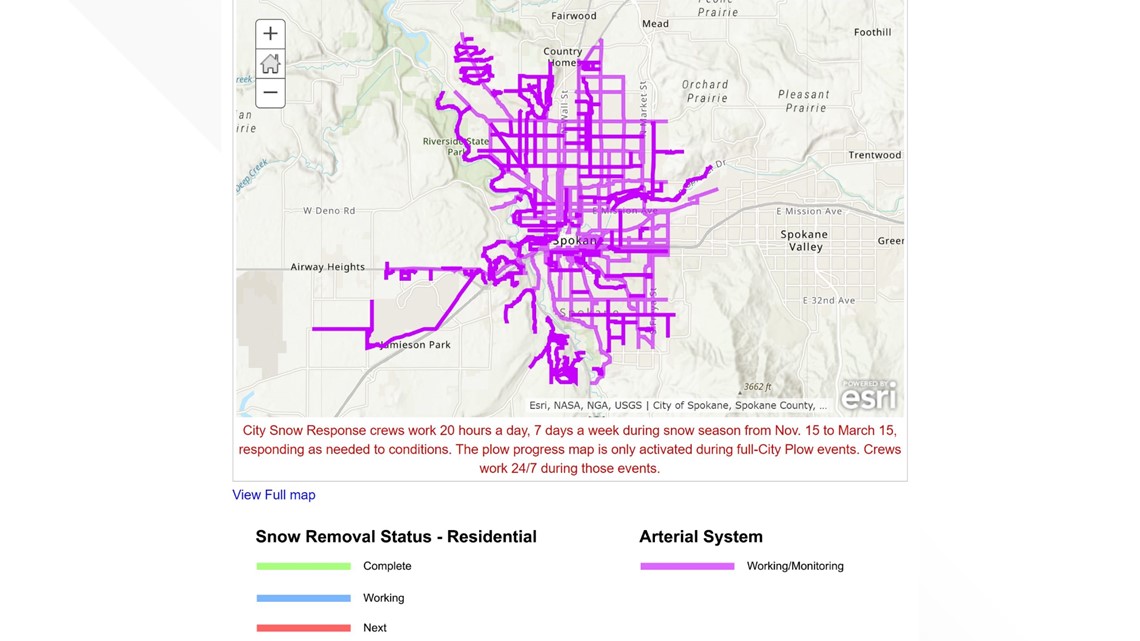 Visit the city of Spokane's website and click on the Snow Removal Map
Use the navigation bar in the upper left-hand corner to find your area.
Once there, use the key below the map to determine where crews stand on snow removal.
Snow response crews work 20 hours a day, seven days a week from Nov. 15- March 15, according to the city's website. The Plow Progress Map will be updated during full city plow events.
Spokane County Plow Map
Spokane County has its own winter maintenance team that plows county roads. For people who live in the county, you can track their progress here.
The city of Spokane shared these tips to help during a full-city plow:
Vehicles should be parked on the odd side of the street in residential areas to assist plows. Berms are likely in front of cars, even those parked on the odd side of the street. The parking restrictions are intended to allow plow drivers to do a better job of clearing snow in neighborhoods and to complete their work more efficiently.
The City asks residents and businesses to clear a 36-inch pedestrian path on sidewalks. Please assist your neighbors who may need help removing snow from their driveways and sidewalks.
Don't blow or shovel snow into the street, but back into your yard.
Clear snow off parked cars to allow plow drivers to see them better and
Consider clearing snow and ice around mailboxes and storm drains
HOW TO ADD THE KREM+ APP TO YOUR STREAMING DEVICE
ROKU: add the channel from the ROKU store or by searching for KREM in the Channel Store.