ALMIRA, Wash. — The community is stepping up to help the students and staff at Almira Elementary and Middle School after a fire destroyed the school building Tuesday evening.
The Columbia Basin Foundation and Innovia Foundation have both stepped in to raise money for the school.
In a press release Wednesday, Innovia Foundation Chief Programs & Community Engagement Officer Molly Sanchez received an anonymous gift of $30,000 to assist in recovery effort. Sanchez wrote in a press release that the school also served as a community gathering space and after the fire, the foundation started accepting donations.
"In times of hardship, we know our neighbors quickly pull together to support each other. The disaster response fund at Innovia offers a way for community members to channel generosity into immediate assistance," said Innovia Foundation CEO Shelly O'Quinn in a press release. "As a region, we are stronger when we come together, and we invite those who can to join in supporting recovery efforts in the Almira community."
Donations to support Almira School recovery can be made online at www.innovia.org. Donations by check should be payable to Innovia Foundation with "Almira School Recovery" in the memo. Please mail donations to Innovia Foundation, 421 W. Riverside Ave., Suite 606, Spokane WA 99201.
The Columbia Basin Foundation established the 'Almira School Warrior Strong' fund to help the school community. You can make a donation by visiting the foundation's website through PayPal or by sending checks to CBF 234 1st Ave NW Suite B. Ephrata, WA 98823.
According to Lincoln County Sheriff Wade Magers, the fire started around 4:30 p.m. and no one was inside the school when the fire started. Classes and after school activities were cancelled on Tuesday due to a power outage.
Lincoln County Fire District 8 Chief Denny Pinar said Avista shut down power to the city on Tuesday to fix a power issue somewhere in the area, which lead to the school closure on Tuesday.
The school is a total loss and a fire crew is on scene watching the fire smolder. As the building is a total loss, using any water at this point on the building would be a waste of water, Pinar said.
According to the Almira School District, there will be no school for middle schoolers on Wednesday. High schoolers in the district will have class, but will be moved to the Almira community Center.
District Business Manager Laureen Robertson released the following plan for the school:
1. Remote learning for grades K-8 beginning Monday, Oct. 18 extending through Friday, Oct. 22.
2. In-person learning beginning Monday, Oct. 25 at the following sites:
Preschool, 3rd, 4th and 5th at the Almira Community Church.
Kindergarten, 1st, and 2nd in the Almira Community Center.
Grades 6th, 7th, and 8th grade will be going to Coulee City.
3. We hope to have portables in Almira within the next three months for all grade levels.
Students who need Chromebooks can pick them up at the Almira Community Center between the hours of 8:00 a.m. and 2:00 p.m. Oct. 14 and 15.
The Almira School District is located south of Grand Coulee.
Fire breaks out at Almira Middle School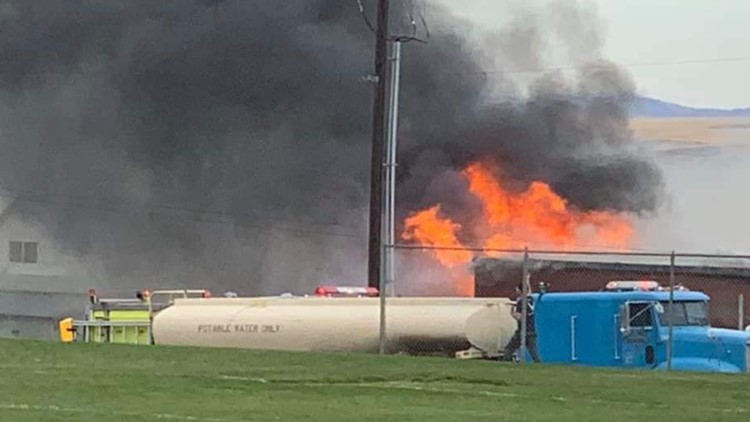 Sheriff Magers told KREM 2 that there was a lot of history in the building.
"My dad was the superintendent there. They combined Almira and Coulee City under him and created ACH [Almira/Coulee-Hartline High School] to combine sports and academics and only have one administration," Magers said. "They lost all the pictures, state tournament trophies and history."
Authorities ask the public to stay away from the area until the fire is contained.