COEUR D'ALENE, Idaho — These boots were made for standing, and that's just what they'll do.
"I worked a lot on this one to make sure he's right," Lee said. "That's been a challenge."
Lee is close to wrapping up his role in bringing the "U.S. Army Soldier" to life. Friday, he was in his Hayden home studio shaving small slices off the boots, detailed to the shoelaces.
"I'm very pleased with it," he said.
The City Council on Tuesday will consider accepting the donation of the life-size bronze statue to the city's public art collection. It's valued at $60,000.
The piece was originally commissioned by the late Bud Ford, who died Jan. 7, 2022. He was 91. His son, Charles Ford, and wife Ginger agreed to the donation.
A statue representative of the Army was important to Bud Ford. He served two years in the 2nd Armored Division at Fort Hood, Texas, worked as a technician for the Wyoming Air National Guard and served in the U.S. Army Reserve until November 1979, retiring as a lieutenant colonel.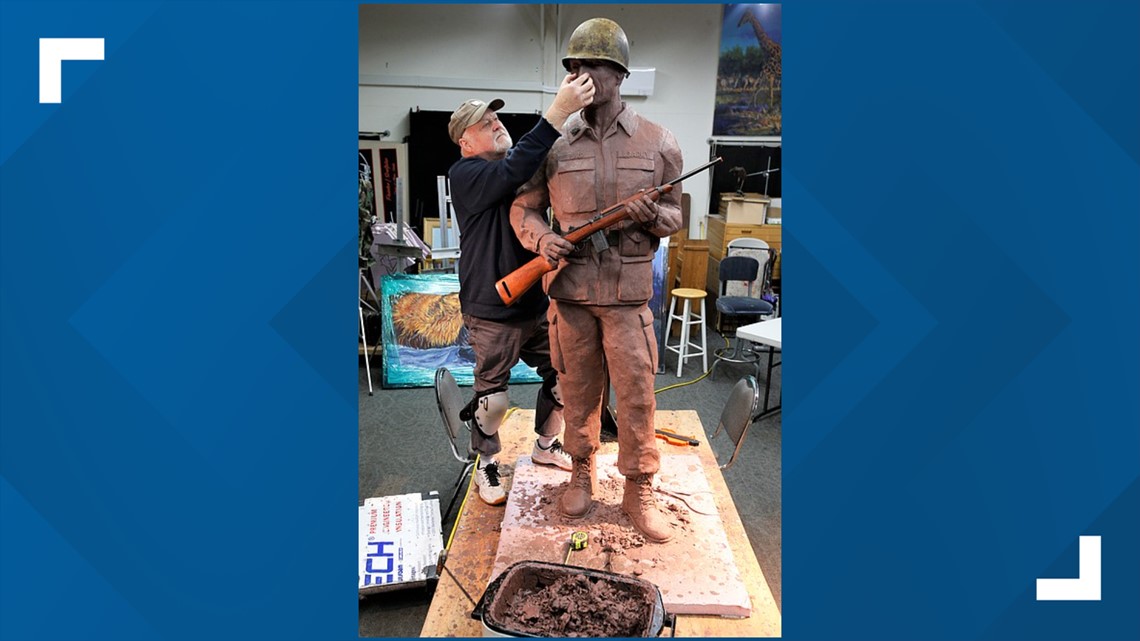 Bud Ford was known and respected for his generosity in Coeur d'Alene and his contributions to the University of Idaho.
He approached Lee in 2021 about making the statue, and the two struck an agreement over a handshake.
"The next day he brought me his uniform," Lee said.
Lee ended up photographing Charles Ford in the uniform, and using that as the model for his work.
Lee has been working on the statue for about four months. He uses rebar as the skeleton, foam for the form, then clay to shape over it.
The next stop is with local artist Cheryl Metcalf for molding. Then, it will go to Firebird Bronze, a foundry in Troutdale, Ore., to complete the process, which will take six to seven months.
"These things are costly, time consuming, labor intensive," Lee said.
The artwork may be installed in September.
It could join Lee's other works that are part of the History Walk at Sixth and Front. They include "The Miner," "American Worker," "Idaho Farmer," "Idaho Lumberjack" and "The Suffragist." Or, it may go to the nearby McEuen Park Veterans Memorial Plaza.
The staff report recommends the City Council approve the donation.
"Donations of a quality piece of art is an extremely cost-effective way to enhance and build upon the city's impressive public art collection. Public art can be a change agent for the community," according to the report.
Costs associated with the installation of the piece will be covered by the public art fund, and there is a dedicated art maintenance fund to cover ongoing expenses.
Lee said his next piece will be a World War II Navy nurse, which he expects to begin soon.