MOSES LAKE, Wash. — A K-9 officer with the Moses Lake Police Department who lost his eye in a shooting while pursuing a robbery suspect last week is returning home on Wednesday.
K-9 Chief, 3, was airlifted to Pullman-Moscow Regional Airport on Saturday and taken to Washington State University's Veterinary Teaching Hospital for care.
"We weren't sure if he was going to make it," said Emilia Terradas, a resident in veterinary Emergency and Critical Care. "I was very worried about him."
K-9 Chief arrived at the hospital with a low heart rate, blood running from his nose and was struggling to breathe due to swelling in the mouth from the gunshot.
"He was pretty agitated and he was struggling to breathe because of the swelling on the back of his mouth," Dr. Terradas said.
Doctors and veterinary technicians arrived at the hospital at about 2:45 a.m. to care for the four-legged officer.
Veterinarians had concerns about possible brain injury, making the first 24 to 48 hours of care critical.
Following a CT scan, veterinarians were surprised to discover that the bullet went through the dog's left eye and shattered his jawbone, missing the brain entirely.
"That gunshot wound, if it was angled a little differently, it would have killed him," one of the veterinarians said.
K-9 Chief had his eye surgically removed on Tuesday afternoon. Now, he just needs his jawbone to heal.
"I was not expecting that dog to survive, when we got the initial call, our concern was that he had the shot in the brain, that would have completely changed the picture," Dr. Terradas said.
Chief was met with a police procession on Wednesday morning when he was discharged from the hospital.
Law enforcement agencies throughout eastern Washington, including Moses Lake, Pullman and Spokane, were in attendance.
It's uncertain if K-9 Chief will return to active duty and his handler, Officer Nick Stewart, said the dog's well-being is his No. 1 concern right now.
Stewart said he's grateful for the veterinarians at WSU and at the Pioneer Veterinary Clinic in Moses Lake who cared for his partner.
"If it wasn't for them he wouldn't have made it," Stewart said. "Thanking them isn't enough."
K-9 Officer Chief's Road to Recovery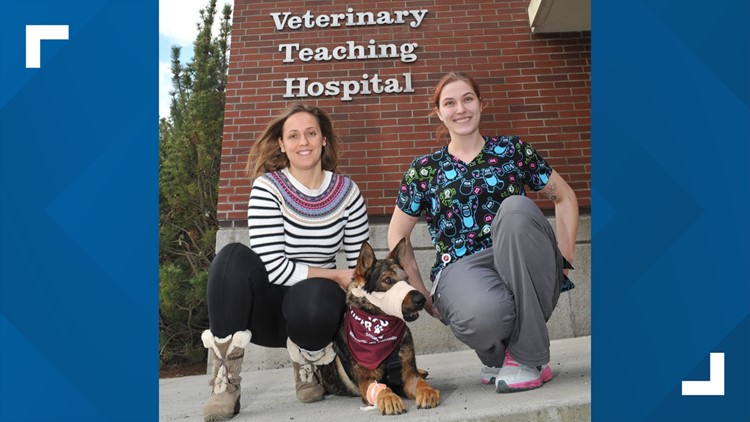 K-9 Chief shot by suspect following pursuit on Friday
Moses Lake police shot and killed a suspect who shot a police K-9 following a lengthy pursuit with law enforcement on Friday.
According to a Facebook post from the police department, Jose Rivera, 22, was shot and killed by K-9 Officer Nick Stewart.
Moses Lake police said Stewart's body camera footage shows Rivera's car coming to a stop on Denton Road after a lengthy pursuit. He fled on foot from the vehicle with Stewart and K-9 Chief following with multiple Moses Lake Police Officers and Grant County deputies following behind, officials said.
According to police, you can hear Stewart yell multiple times in the video for Rivera to "drop the gun." Within a few seconds you can hear multiple gunshots, officials said. K-9 Chief and the suspect were shot. Rivera was also shot and died from his injuries.
Police said the Columbia Basin Investigative Team is following up on interviews of the involved officers and citizen witnesses, obtaining radio transmissions of the incident and gathering evidentiary information about the firearm.
Officer Stewart has been with the Moses Lake Police Department for five-and-a-half years. He has been a dog handler for about two years, is a defensive tactics instructor and a member of the regional tactical response team.