WALLA WALLA, Wash. — US 12 between Touchet Road and the Wallula junction is now open, according to the City of Walla Walla's Facebook page.
"There are no longer any current road closures along US 12 in our area," the city wrote in a post.
Bennington Lake levels also dropped from 77 percent full to 65 percent full last night, according to the Army Corps of Engineers. The lake levels are continuing to decrease.
Flows through the Mill creek channel declined and are currently running at about 1500 cubic fee per second through city of Walla Walla, down from 4,000 cubic feet, according to the USACE.
U.S. Army Corps will continue to divert flows of 100 cubic feet per second from Bennington Lake into Russell Creek.
City crews found no new ares of concern after inspecting the Mill Creek levees from the spillway at Rooks Park to the Wastewater Treatment Plant Saturday.
Water levels also appear to have receded about 3 feet from Friday afternoon, according to city crews.
U.S. Army Corps of Engineers officials said Rooks Park and the Mill Creek Project Office are open to general public access, but by walk-in only.
Corps Officials ask the public to continue to avoid levees, high water areas and Bennington Lake until further notice.
The closed section of US 12 between Waitsburg and Dayton reopened yesterday, according to WSDOT.
The Red Cross has opened an emergency shelter in Walla Walla as flooding impacts the region. The shelter opened at the Walla Walla Fairgrounds, located at 363 Orchard Street, at 6:30 a.m. on Friday in response to flooding of the Touchet River in Dayton and Mill Creek in Walla Walla.
The flooding stretches from Dayton to Walla Walla, and further south into Oregon near Pendleton and Umatilla.
Leaders with the City of Walla Walla say the water level of Mill Creek is showing a slow decline, which is expected to continue. They added that the flow of water is at a safe capacity through Walla Walla, but the peak is not expected to come.
The City of Dayton declared a state of emergency due to the flooding and high river flows. Large tree trunks and irrigation pipes have been seen floating down the Touchet River.
Volunteer crews have been placing boulders and rocks into the river to help bolster it.
This marks the worst flooding the city has seen since 1996.
Dayton's Mayor Zac Weatherford said 10 houses have been impacted by the flooding, and those people were asked but not required to evacuate.
Weatherford said county roads have also taken a hit.
"Most of the county roads are eroded so bad, it required heavy equipment," he said.
He also said if the river's levee was breached in certain areas, it would cause terrible damage.
"If the river were to breech the leeve in certain spots, it could definitely devastate our city," Weatherford said.
Patit Creek, on the other side of Downtown Dayton, is also flooded. Some nearby homes are impacted.
Heavy rain after snowfall, along with rising temperatures in the nearby Blue Mountains, are thought to be to blame for the flooding.
The Walla Walla River going into Milton-Freewater, Oregon, is at about the same level as it was on Thursday, city leaders say. It will likely remain high through Friday and recede by Saturday.
The state Department of Transportation says Highway 12 is closed between Waitsburg and Dayton due to water over the road and more potential for flooding. There is no estimated time of reopening but crews are continuing to monitor the situation.
The City of Walla Walla has also closed a handful of other streets, including:
Otis Street is closed from Cypress Street to Alder Street
Merriam Street is closed form Cypress Street to Alder Street
Sixth Avenue is closed from Cherry Street to Rose Street
Sumach Street is closed from Sixth Avenue to Fifth Avenue
Red Cross responders in Walla Walla can provide emergency shelter, food, clothing and other urgent needs. If possible, evacuating residents are encouraged to bring prescription and emergency medications, extra clothing, pillows, blankets, hygiene supplies and important documents, among other items.
High waters lead to flooding in southeastern Washington
The National Weather Service in Pendleton, Oregon, issued a Flash Flood Warning on Friday for south central Walla Walla County. Emergency management leaders say water released from Mill Creek into areas west of Walla Walla will produce flash flooding.
Other locations that are expected to experience flooding are College Place and Garrett.
The Dayton School District is closed on Friday due to flooding.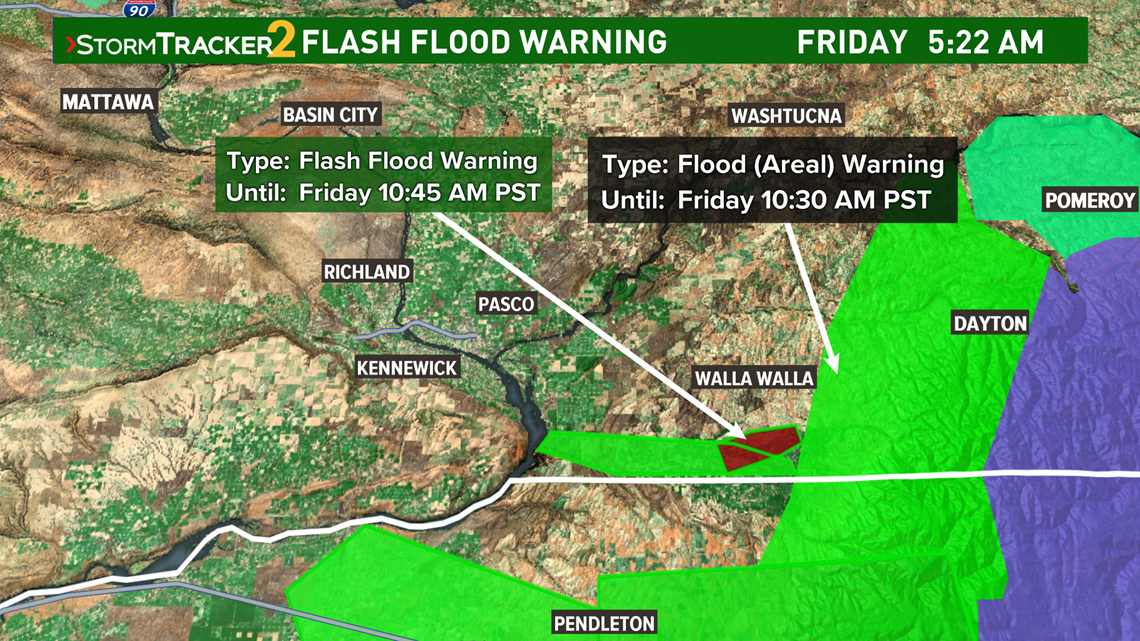 NWS has also issued a Flood Advisory until early Friday afternoon for areas of the Idaho Panhandle, including Nez Perce, Lewis, Garfield and Asotin Counties. Mud and rock slides are possible in steep terrain areas.
The city of Pullman saw record flooding for the day on Thursday with a total of .86 inches that came down during the course of the day. This beats the previous record of .62 inches in 1926.
Month to date, Pullman has picked up on 1.91 inches of rain total. The downpours have been even heavier south of Pullman and we are awaiting official numbers from the National Weather Service.
River basins to monitor include the Grande Ronde River, Alpowa Creek, Clearwater River, Lapwai Creek, and small streams in the Camas Prairie.
KREM's Jen York received dramatic video from her family in Milton-Freewater, Oregon, which is near Walla Walla, of flooding in the area.
Mandatory evacuations are in place for Millton-Freewater east of Highway 11 and from South Main to the river, the city posted on Facebook.
Eleven people, including several children and animals, were rescued Thursday from an Issaquah apartment complex that flooded after heavy rainfall.
About 2.5 inches of rain fell near Issaquah in 48 hours.
Several western Washington rivers remain under a Flood Watch or Warning.