COEUR D'ALENE, Idaho — A historic church in Coeur d'Alene suffered severe damage on Wednesday when a tree fell on it during a windstorm.
Tree removal crews arrived at Fort Sherman's "Little Red" Chapel at about 12:45 p.m. Thursday. Three hours later, they were finally able to remove the tree from leaning on the chapel.
Two people have died during the storm and many buildings, including some homes, throughout the Inland Northwest have suffered damage due to fallen trees.
Fort Sherman's Chapel, built in 1880 by the U.S. Army, is the city's oldest church, according to the Museum of North Idaho. It served as a church, library and the area's first school.
Jocelyn Whitfield-Babcock, Development Director for the Museum of North Idaho, said the building was "bowing from the impact of the tree." The museum is communicating with an insurance company about the damage, she added.
"It's really been a staple of the community since you know quarterly and came about," Executive Director of the Museum of North Idaho Britt Thurman said. "And it gets used continuously we have groups that rented out. It's part of the Museum of North Idaho. So to have such a beautiful historic building have damaged like this it's really heartbreaking."
Thurman said the building is leaning so much, they are not even able to open the front door.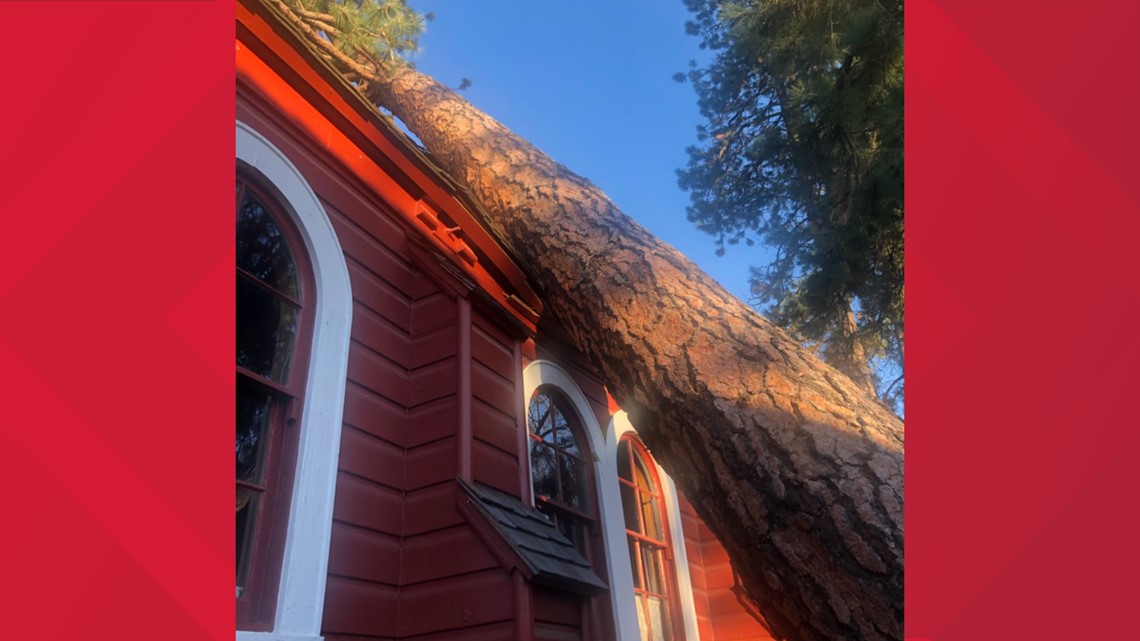 Fort Sherman was abandoned in 1900 and the buildings and property were sold at public auction five years later. Developers bought what is today known as the Sherman Park Addition, which included the chapel.
Many denominations used the chapel for church services over the years, the museum said. Efforts to preserve the chapel began in 1934.
In 1942, the Athletic Round Table held the building in trust and began repairs. The organization then donated the chapel to the Museum of North Idaho in 1984 in order to ensure its preservation.
The chapel has since served as a setting for weddings in Coeur d'Alene, with three planned in February 2021.
The Fort Sherman Chapel has a restricted donation account that the Museum of North Idaho uses to maintain the venue. Donations can be made online, over the phone at 208-664-3448 or sent by mail to PO Box 812 Coeur d'Alene, Idaho, 83816.