Mt. Spokane 56, Sandpoint 6: Junior Kannon Katzer finished with 11 carries for 88 yards and a game-leading three touchdowns to help Mt. Spokane (3-0) to a win over Sandpoint (1-3). Quarterback completed 13 of 16 pass attempts for 150 yards and a touchdown for the Wildcats.
Cheney 42, Shadle Park 40: The Blackhawks (3-0) remained undefeated with a win over the Shadle Park Highlanders (1-2).
North Central 14, East Valley 7: Junior running back finshed with 26 carries for 174 yards and scored a pair of touchdowns to lead the Indians (1-2) to a win over the Knights (0-3) and their first win of the season.
Lewis & Clark 41, Central Valley 39: Quarterback Michael Flaherty completes 10 of 15 pass attempts for 240 yards and three touchdowns and Lewis & Clark (3-0) held off a late Central Valley (1-2) rally to get the win. The Bears trailed the entire game, but they outscored the Tigers 20-7 in the fourth to come within two points.
Gonzaga Preparatory 46, University 33: Senior quarterback Connor Halonen completed five of seven pass attempts and had 25 carries for 270 yards and a pair of touchdowns, and the Bullpups (2-1) handed the Titans (2-1) their first loss of the season. Senior running back Isaac Taylor led University with 12 carries for 100 yards and two touchdowns.
Timberlake 36, Rogers 22: The Rogers Pirates (0-3) dropped their third game in a row to the Timberlake Tigers (3-1).
Mead 21, Ferris 13: Junior quarterback Ryan Blair finished with 16 of 28 pass attempts for 200 yards and two touchdowns, and the Mead Panthers (2-1) topped the Saxons (2-1). Junior running back Liam Lynch led the Ferris offense with 18 carries for 67 yards and a touchdown.
Lewiston 28, Clarkston 0: The Bengals (3-1) grabbed their third victory of the season with a win over the Bantams (1-2).
Pullman 48, Moscow 7: Senior running back James Pitzer had seven catches for 175 yards and a game-high three touchdowns to lead the undefeated Greyhounds (3-0) over the Bears (0-4). Pullman left the half leading 41-7 and held the Bears scoreless in the second half.
Lake City 40, Lakeland 27: Lake City (1-3) snapped its losing streak and grabbed its first win of the season with a convincing victory over Lakeland (2-1).
Coeur d'Alene 52, Eisenhower 14: The Vikings (4-0) extending their perfect record with a win over the Eisenhower Cadets (2-1). Officials ended the game early in the fourth quarter because of lightning.
Riverside 34, Freeman 14: The Riverside Rams (2-1) handed the Scotties (0-3) their third consecutive loss.
Lakeside 21, Medical Lake 7: The Eagles (1-2) captured their first win of the season after beating the Cardinals (0-3), who dropped their third game in a row.
Bridgeport 69, Wellpinit 28: The Bridgeport Mustangs (3-0) stayed undefeated after beating the Wellpinit Redskins (2-1).
Springdale (Mary Walker) 74, Northport 28: Senior running back Cory Hubert ran for 168 yards on five carries, and Springdale (2-1) extended Northport's losing streak (0-3) with a win. Eathan Penland followed Hubert with 106 yards on six carries and Tyrell Crossley and Avery Kitt combined for 177 yards on 11 and two carries, respectively.
Tri-Cities Prep 49, Northwest Christian 18: Tri-Cities prep handed the Northwest Christian Crusaders their first loss of the season (2-1).
Scores via KREM 2, Scorebook LIve
PHOTOS: #HSS2Night Sideline Selfies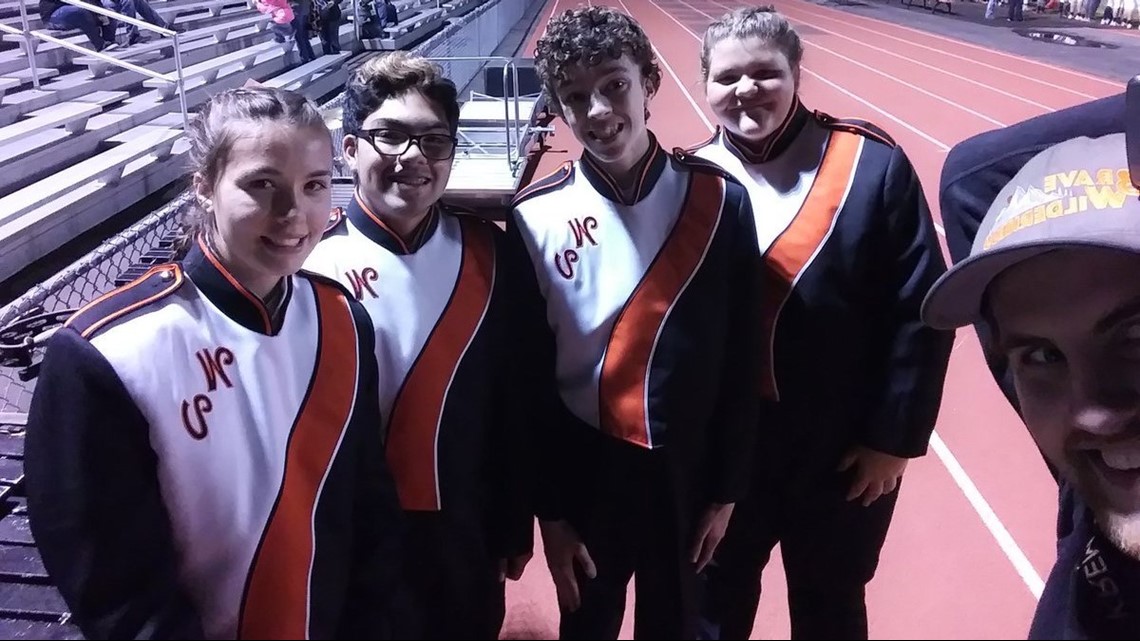 ---
Kickin' it with Austin: Former Central Valley star and Idaho punter and kicker Austin Rehkow break down the best special teams plays. To view this video, click here.
Bit of Whit: Whitney Ward steps in for Mark Hanrahan's "Off the Mark" and brings all the offbeat and unique stories from the sidelines. To view this video, click here.
Coach'd Up: Hear what Sandpoint head coach Ryan Knowles has to say on the sidelines during the Bulldogs' 56-6 loss to Mt. Spokane. To view this video, click here.
Fans of the Night: The Titans were not lacking any school spirit at the University-Gonzaga Prep game. To view this video, click here.