BOISE, Idaho — As the murder trial for Lori Vallow, or Lori Vallow Daybell, continues in Ada County, local sketch artist Lisa Cheney is tasked with providing a daily glimpse inside the courtroom.
For this specific case, cameras are not allowed inside the Ada County Courthouse. In an interview with KTVB, Cheney said the focus of her work is to be "the eyes and the feeler" of the trial, while accurately portraying the scene and emotions.
Vallow is charged with murder, conspiracy and grand theft related to the deaths of her two children, Joshua "JJ" Vallow and Tylee Ryan, and her husband's late wife, Tammy Daybell, in eastern Idaho.
"I don't have an opinion, which I don't, that's not my job. I'm not the jury, and I'm not the judge," Cheney said. "I'm just there to document and to observe and to feel the emotion in the room so that I can portray that in my sketches."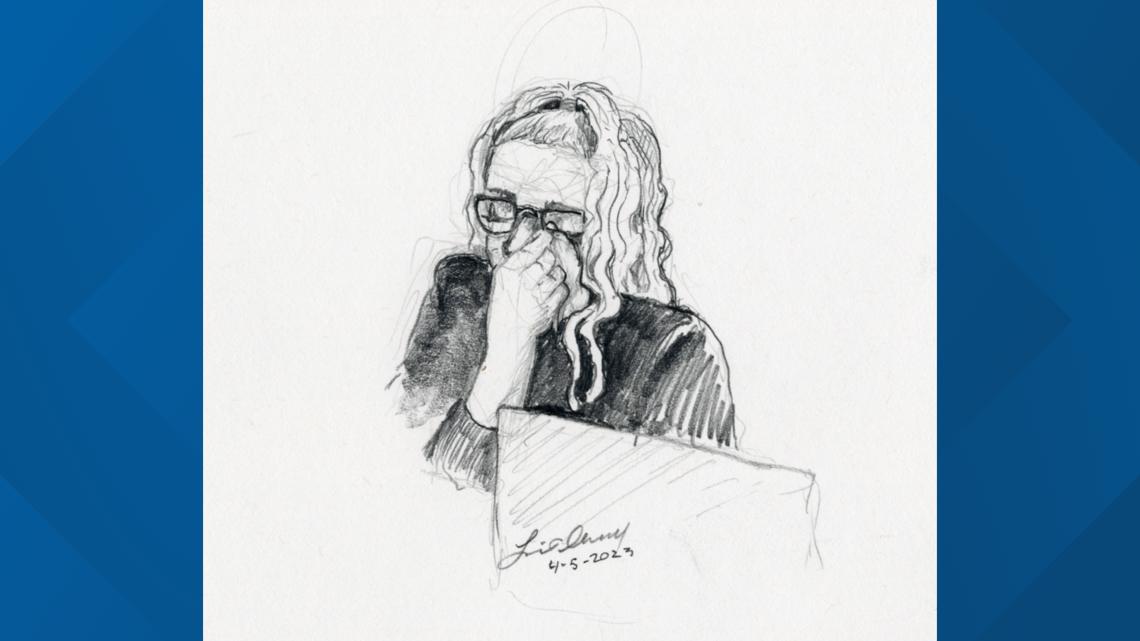 Although Cheney has been an artist for many years, this is her first time sketching inside a courthouse.
"I hope that during this focus time of sketching – that I get to sketch every single day – that my skills are going to improve as well, and I'll be able to capture those emotions faster and faster throughout the next eight weeks," Cheney said.
The main focus during the opening week of the Vallow trial was on jury selection. On Friday, the final jury selected left the Ada County Courthouse with specific instructions from the judge in order to maintain a fair trial through the next eight weeks.
The media and public were seated in a viewing room. No one was allowed to see the individual juror's faces, but multiple cameras were set up in the courtroom for a live feed to hear the questions asked by the defense and prosecution.
Just like many others, Cheney was sketching from the overflow room – something she said was a challenge.
"When I saw on, you know, the big screen, the tiny little figures, I was like, 'oh goodness, this is gonna be a challenge,'" Cheney said. "You know, they were gracious enough to bring me in a smaller screen right in front of me, so I could see better, which was really, really nice."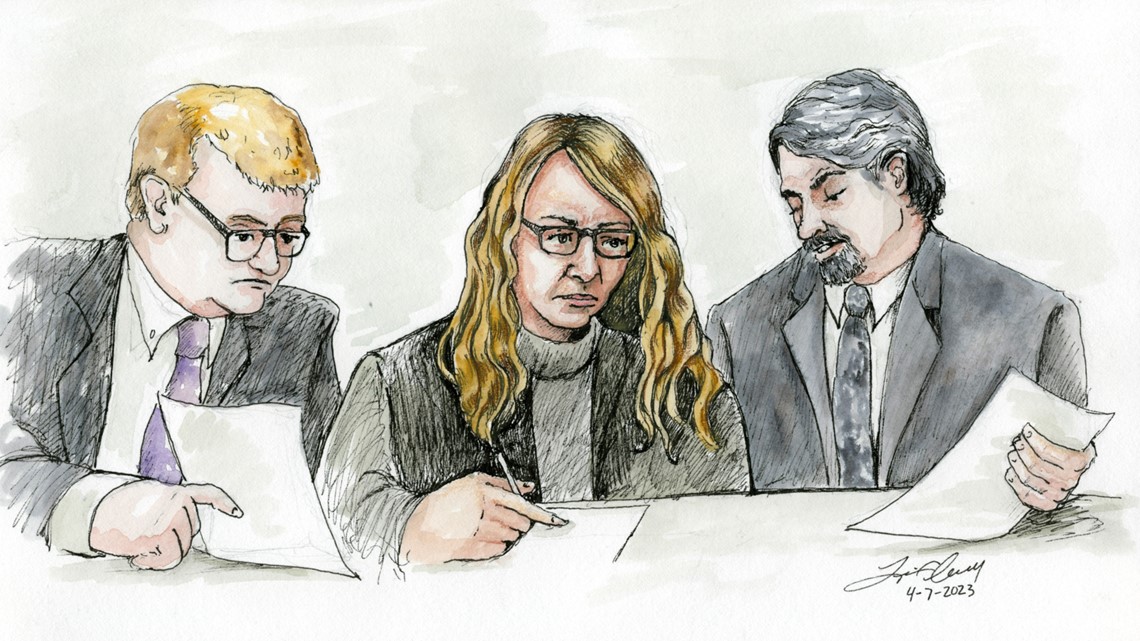 Before jury selection got underway, Cheney researched the case in order to help master her art pieces.
"I've spent a lot of time researching all the key individuals' faces, so that when I see those expressions on their faces, or their hand movements, or whatever that is, I can get a quick little sketch," Cheney said. "Then I refine the sketch as best I can without telling them, 'can you hold still for a moment?'"
People are not the only thing Cheney is focused on. She told KTVB her hope is for anyone looking at the sketches to get the full picture of what's happening, and the emotions felt inside the courtroom.
"The whole room, not just one individual or one side of the room," Cheney said. "I'm told I will be able to, from day-to-day, move around a little bit. I'm not sure exactly where they're gonna have me sitting and how much I'm gonna see. I'm hoping I have a viewpoint of the bigger picture of the room."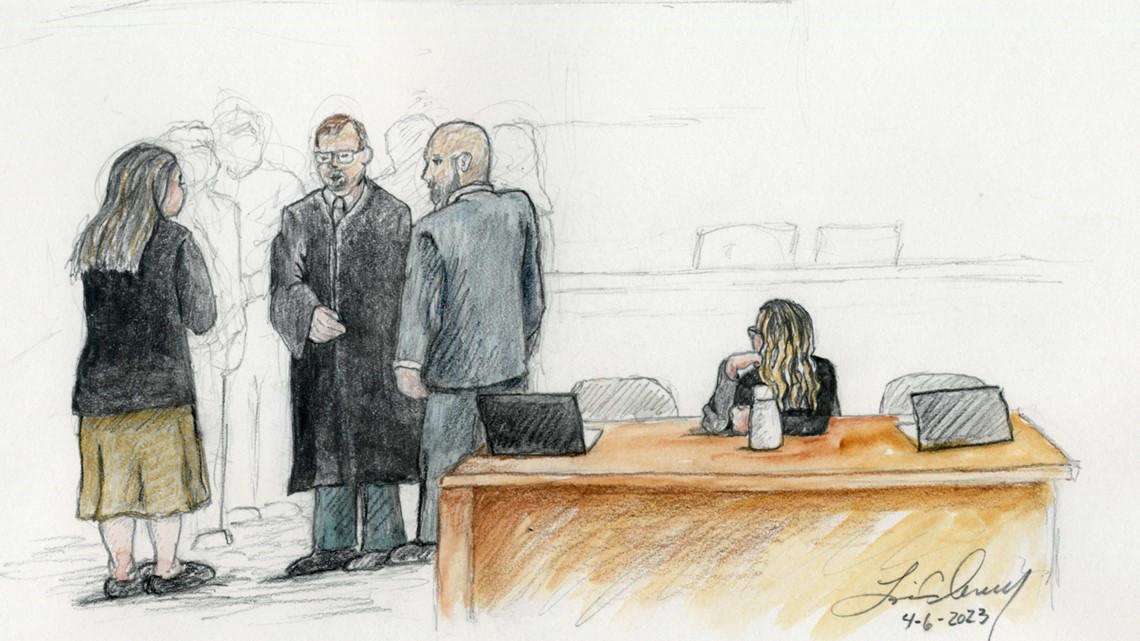 Cheney creates three to five sketches each day – sketches she said speak louder than words.
"There's one thing you can get with a camera, but cameras are a glimpse, they're just like a moment that you see it, and then it's gone," Cheney said. "An artist, when they're drawing and sketching, they're taking everything in, they feel everything."
It is an art Cheney said inspires those interested in the industry.
"Art is not a dying industry, it's actually growing," Cheney said. "There are so many professions out there for artists, and this just happens to be one of them."
Those following the trial daily may have noticed some sketches are in color, while others are black and white.
Cheney told KTVB there is no requirement on how the art needs to be done. It is a personal preference and depends on what she decides in the moment.
The final jury in the Vallow trial consists of 10 men and eight women, in addition to six alternates. The jury selection was made official after prosecutors and the defense were given an opportunity to "strike" jurors they didn't want on the real jury. The court began with 42 potential jurors and each side was given the ability to eliminate 12 people they did not want.
Opening statements begin Monday at 8:30 a.m. at the Ada County Courthouse. The prosecution will go first. The defense can choose not to provide opening statements and wait until they begin their case.
Alexandra Duggan will be reporting from the courthouse. Follow her on Twitter @dugganreports.