KOOTENAI COUNTY, Idaho — Army Sgt. 1st Class Brian Sharp thanked the North Idaho community members who came out to support him and his family Friday.
"To the people of North Idaho, Thank you. My family and I are truly humbled by your unwavering support and patriotism. Your display of community has lifted the spirits of my family and the families of the fallen. I would have never asked for such an event, but I've come to find peace in that this event wasn't just for me or my family, rather it was for all of our operators still fighting evil worldwide. It is absolutely remarkable to come home and see the streets lined with passion, hope, faith, and most importantly - family. Your patience as you waited, standing in the rain, is something I can only believe family would do. Our hearts will forever have a spot reserved for all of you. Please let us all continue to bond through yet extended hardship as one of yours, Sergeant First Class Dustin B. Ard of Idaho Falls, has paid the ultimate sacrifice in Afghanistan just two days ago. As a fellow Special Forces soldier and Green Beret, I can personally attest that Dustin will not be forgotten. Thank you Idaho, for all that you've done and everything that words can't express. I am not one to ask for help, but if you are seeking a way to help our gold star families and families of the wounded, the Special Forces Foundation is the place to start. Again, thank you for celebrating life, liberty, and freedom"
Dozens of community members lined up to give a hero's welcome on Friday to a veteran who was wounded in Afghanistan this year.
Deputies with the Kootenai County Sheriff's Office provided an escort for Army Sgt. 1st Class Brian Sharp from Stateline to Highway 95, then north to Lancaster Road at 11 a.m. on Friday.
The sheriff's office has also reached out to Idaho State Police and other law enforcement agencies that may want to help.
Sharp is the cousin-in-law of KCSO Sgt. Erik Hedlund, who says Sharp is coming to visit family in North Idaho now that he has recovered enough to travel.
Sgt. Sharp and his fellow Green Berets were on a mission in Afghanistan earlier this year when they were ambushed by their own Afghan support team, Hedlund said.
Two soldiers were killed in the battle. Sharp was shot multiple times in the pelvis and abdomen, and almost died in the field. He was awarded a Purple Heart for his sacrifices.
After Sharp was stabilized, he returned to the United States and has been recovering in the hospital, just recently regaining the ability to walk, Hedlund said. At the same time, his one-year-old daughter, Audrey, was also learning to walk for the first time.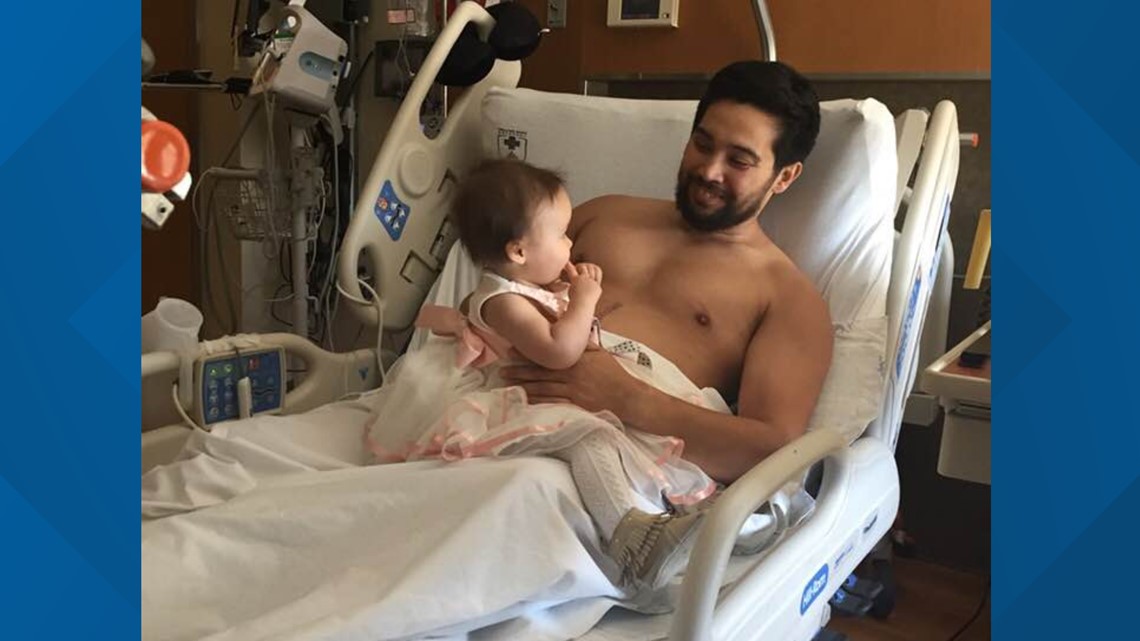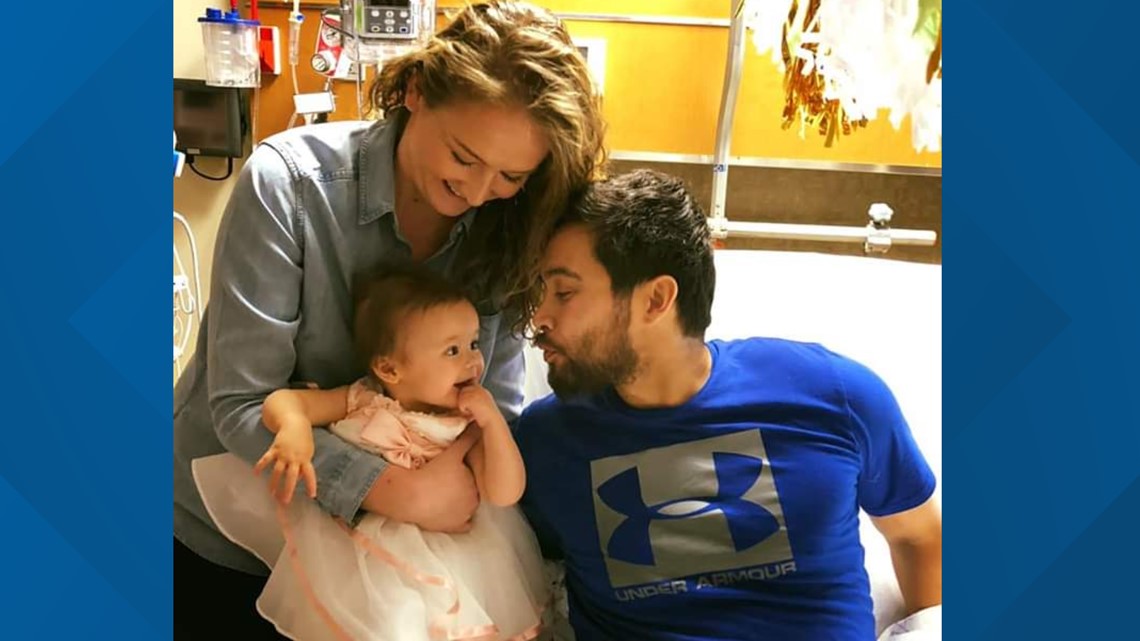 During his recovery, however, two more Green Berets from his team were killed and, in a more recent mission, his mentor Sgt. Major James "Ryan" Sartor was killed in battle.
Hedlund said Sartor saved Sharp's life multiple times and was close with his wife, Amy.
"As you might imagine, my cousin Brian is struggling right now, not only with the physical pain of not being there for his brothers as they gave the ultimate sacrifice in battle," Hedlund wrote.
Dozens of people lined the streets beside Highway 95 on Friday morning for Sharp's law enforcement escort. A local Walgreens in the area even changed its reader board to say, "Welcome home Sgt. 1st Class Brian Sharp."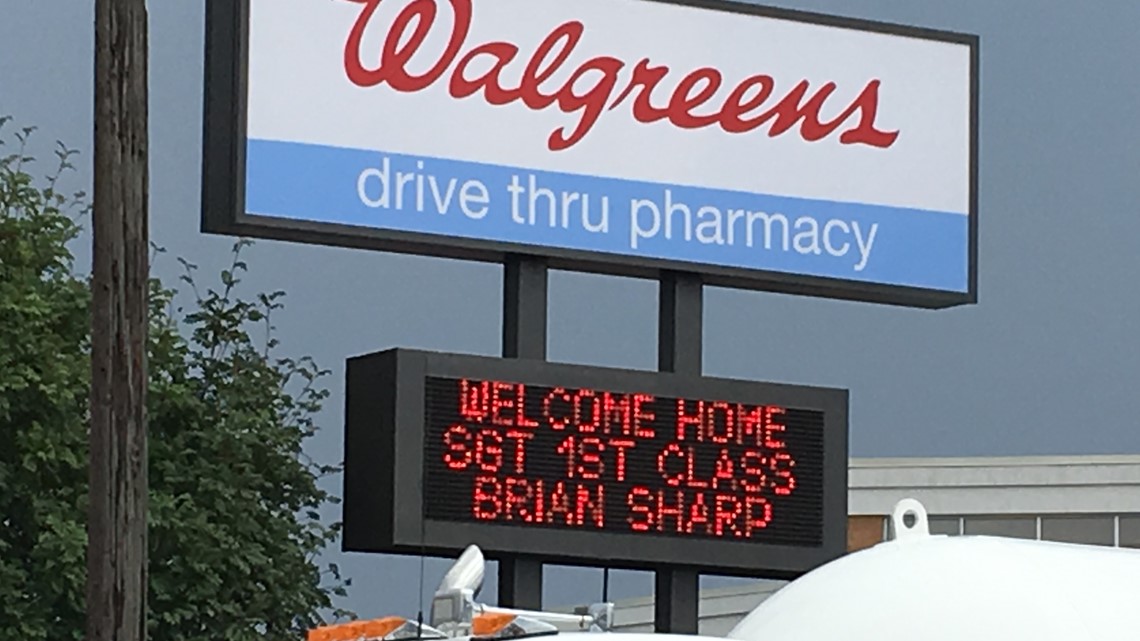 Hedlund said Sharp is from Montana, but his wife was born and raised in Coeur d'Alene and also lived in Spokane. The two were married in a private ceremony overseas but had a wedding reception with family in Hayden.
The family's ties to the community include Amy's grandma in Spokane Valley, several cousins, aunts, uncles, nieces and nephews in and around North Idaho, Hedlund said.
Photos: Sgt. 1st Class Brian Sharp and family