CHENEY, Wash. — Eastern Washington University's Interim Dean of Libraries was killed in a three-car crash near Cheney on Sunday night.
University President Mary Cullinan announced 63-year-old Charles Mutschler's passing in a letter to the campus community on Monday.
Cullinan wrote in part, "Charlie was a beloved member of our Eastern family and contributed greatly to ensuring that our libraries flourish at the heart of our academic community. Charlie knew and lived EWU's history, and he was delighted to share his knowledge and love for this university."
Faculty or staff in need of support are asked to contact Human Resources or the Employee Assistance Program. Students can contact the office of the Dean of Students or Counseling and Psychological Services.
Cullinan's full letter can be found on the EWU website.
Before Mutschler's time as Interim Dean of Libraries, he served as a university archivist. He also received his master's degree from Eastern Washington University and a doctorate from Washington State University.
Justin Otto, one of Mutschler's colleagues at the library, said most of his staff found out Monday morning.
"It's been a tough day. It was very shocking. Charlie was basically the expert on the history of the University. He was very proud of Eastern. He really believed in Eastern," Otto said.
Mutschler's passing has rocked the EWU community. People on social media are sharing their fond memories of his time at the school.
Many EWU alumni and friends of Mutschler describe him as a happy, kind and generous man with a fondness for trains and loads of school spirit.
His interest and knowledge of railroad history has always impressed Jay Rea. Rea worked with Mutschler while he pursued his master's degree in the 1970s.
"He was very knowledgeable about a lot of things. And if he didn't know everything about the railroads. And I mean the old, old ones and the new ones," Rea said.
Mutschler's friends described him as a true community servant. He worked hard to promote and preserve Cheney's history. And that includes being part of an effort to save the historic Northern Pacific Railroad Depot from being torn down.
KREM Photographer Jeff Bollinger remembered his long-time friend Mutschler as he stood in front of the boarded-up old train station. Mutschler helped his stepson Ben on an Eagle Scout project to raise money to preserve the depot.
"Charlie was like the great uncle you always wish you had. He always wore a suit and he always had a great story and a great smile and it made doing Ben's Eagle project so much more fun. It's such a blow when you think life goes on without someone you care so much about," Bollinger said.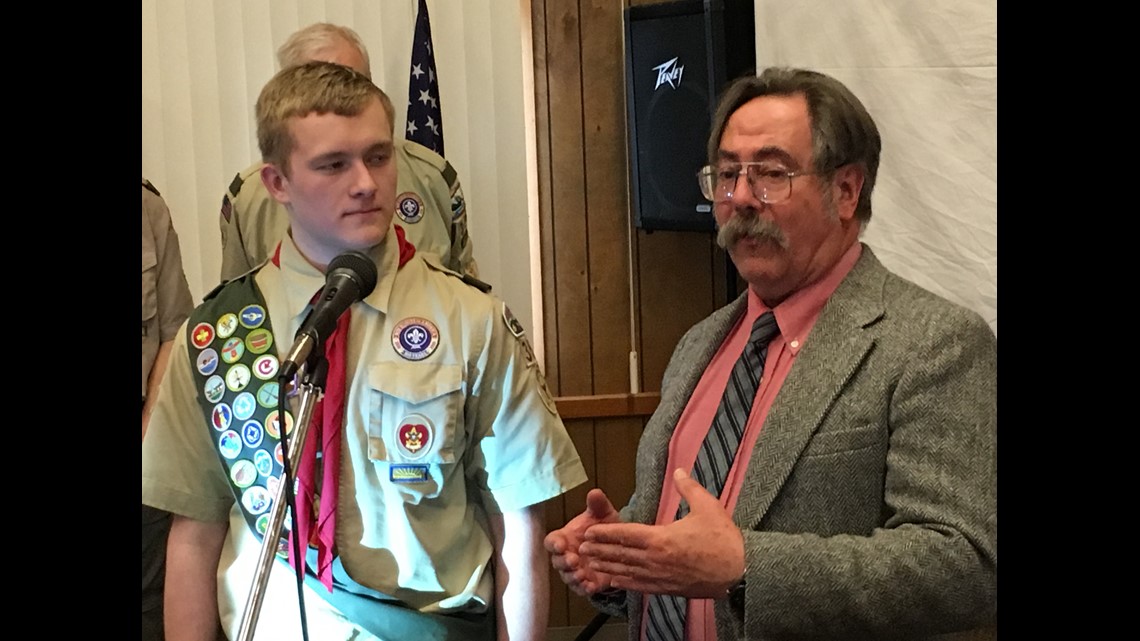 According to Washington State Patrol, Mutschler was traveling in the westbound lanes of Highway 904 near 5th Street. This is five miles east of Cheney.
Mutschler's vehicle crossed through the center turn lane into the eastbound lanes, hitting one vehicle from behind before colliding with another head-on. He was pronounced dead at the scene.
Kathryn M. Sinn, 21, of Newman Lake was injured in the crash and taken to the hospital, according to WSP. The other driver involved in the crash was not injured.
WSP troopers continue to investigate the cause of the crash. They say drugs and alcohol were not involved.