SPOKANE, Wash. – A Spokane woman was taken for hundreds of dollars after she said someone hacked her Amazon account.
Allie Raye is always on the prowl for the perfect picture.
"I'm a local photographer and filmmaker in Spokane and I use Amazon incessantly for my business," Raye explained.
But, when she got an Amazon email notification that camera gear was headed her way, she was confused.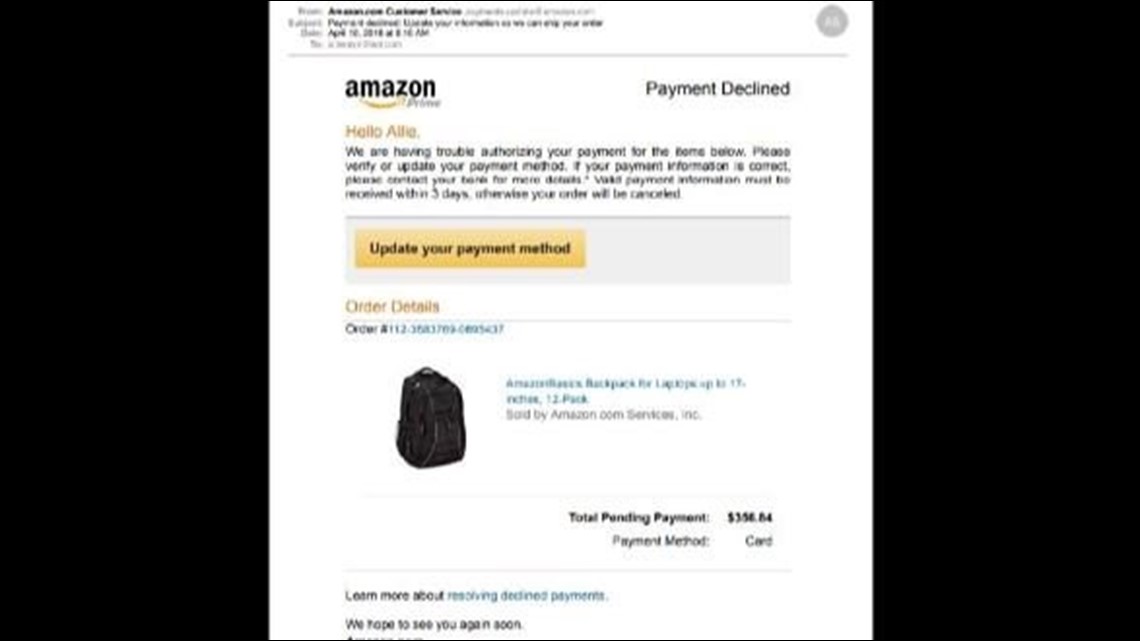 "Your two hard case shell camera wheelie luggage or whatever, camera cases are on their way. I'm like, 'A – I don't need them B- I wouldn't buy them for $352.48 and C – Oh my,'" she said.
She thought it was just a mistake.
"So I call Amazon and they said, 'Oh we'll take care of it, we're sorry for the inconvenience. Sent an email, fill out a survey, how do you feel?' Whatever. So I'm like, 'Okay they took care of it. I'm happy,'" Raye said.
Then, more emails started coming. One after one, notifications that new items, items she had never ordered, were on their way.
"I just didn't pay attention to them. I didn't pay attention," she said. Until one day when big boxes showed up on her doorstep. "Twelve backpacks for laptops," she said. "Well let's find out how many more come and more came."
It was not just free stuff that magically appeared at her door. Raye has an Amazon store credit card and someone else was using it. The store credit was gone and her checking account was tapped for the rest.
"Money is coming out. Money is coming out of my checking account. They wiped me out. They left me like 90 bucks, wiped me out. I couldn't pay my bills," she explained.
She got 10 USB chords, two Echo Shows along with camera cases.
"Every day a new box and a new order shows up at my house," she said.
Then came the gift cards, more than $1,000 worth, and each of them had already been used. Of those gift cards, six were digital, so she did not even know about them until she looked into her past orders. There was just one physical gift card that arrived, wrapped in a pretty orange bow.
"I got one Amazon gift card for $350 in a gift box, the black one that's $3.50 extra," she explained.
It felt a bit like a message from the thief.
"Someone that creates a diversion. Like I'm getting the camera boxes and I'm getting the Echoes and I'm getting the USBs, things that don't matter, and then they go to the gift cards. And while I'm contacting Amazon about all the other packages I'm getting the gift cards that are already being used," she said.
Raye said she called Amazon everyday for about two-and-a-half weeks. She explained her story to a new person each time.
"And I wanted them the first time, lock my account down. It's not me lock it down. She goes, 'No, just change your password.' Well that's common sense, I did change my password. And it didn't matter, they still purchased more items," Raye explained. "Yeah it was insane. It was really getting maddening and then I reached out to you."
KREM 2 crosschecked the phone numbers to make sure Raye was actually talking to Amazon. An Amazon spokesperson confirmed the numbers were legit. Then, we made sure she was also emailing Amazon. After all the emails say, "Jeff Bezos received your email." The spokesperson said yes, they put that on their emails. They also said they would work with Raye directly to make sure she is taken care of, which ultimately they did.
"One thousand six hundred and forty dollars and some change," Raye said. "They refunded everything now including tax and interest."
Unfortunately, she cannot be sure that takes care of the looming cyber threat. So how did her account get hacked? A cyber security expert may have the answer.
"You might have someone that runs a website that knows your email address, knows your password," cyber expert Scott Keith said. "They will go to popular websites and try to log in using your credentials."
Keith said more likely, it could be a shadowy virus known as a key logger, where you are essentially handing over your information to a crook.
"That's going to take the keystrokes of everything that you type on your keyboard and it's going to send it off to the person's server somewhere," he said.
They would have your passwords, emails and addresses, all of it. Remember, Raye changed her password on Amazon and the orders kept coming. It makes sense that someone knew she changed her password.
Keith said the best way to prevent this from happening is having an anti-virus and anti-malware on your system. But, he thinks Raye could still be at risk on other sites.
"I'd make sure that she goes in and changes her passwords for other sites, especially if she re-uses that password on other websites. There's no telling where someone else could go with that information," Scott said.
Raye said she will take those steps and, from here on out, she will be more attentive.
"Check your account. Every time you order, check. Check emails they send, don't just throw them away like I did," she said.
Raye said she did not think she needed malware or antivirus because she has a Mac. Keith said Macs might be a little more secure than windows machines but the reason they get fewer viruses and malware boils down to market share. In other words, he said if someone is going to be destructive they will typically go after the biggest target, which are PCs. Keith believes if you have a Mac you still need programs to keep your computer safe.