POST FALLS, Idaho — The Post Falls Police Department (PFPD) found a credit card skimmer installed at a local convenience store on Monday and are now urging businesses and shoppers to be careful.
PFPD officers were called to a local store after someone reported a credit card skimmer was installed. When officers arrived at the store, they found an overlay skimmer installed on top of the credit card terminal.
A credit card skimmer is a device placed on top of a point-of-sale system (fuel pumps, ATMs, etc.) that collects cardholder data and PIN numbers. This stolen data is then used to create fake debit and credit cards.
The device does not collect credit card data from EMV-chip transactions (Europay, Mastercard and Visa) or data from contactless payments, officials said.
Officials said the devices are installed by suspects on top of original car readers in less than 10 seconds. Officers ask businesses to be aware of these devices.
Cashiers need to know their equipment and check for these overlay devices throughout their shifts. Customers can help protect themselves by using contactless payment options or EMV-chip transactions. They are advised to wiggle the point-of-sale terminal before using it. If it moves, it could very well be an overlay skimmer.
If you find a skimmer, contact your police department. For more questions, contact the Secret Service Cyber Fraud Task Force Officer Neil Uhrig at nuhrig@postfallspolice.gov or 208-777-7140.
Post Falls Police shared a photo of the collected skimmer: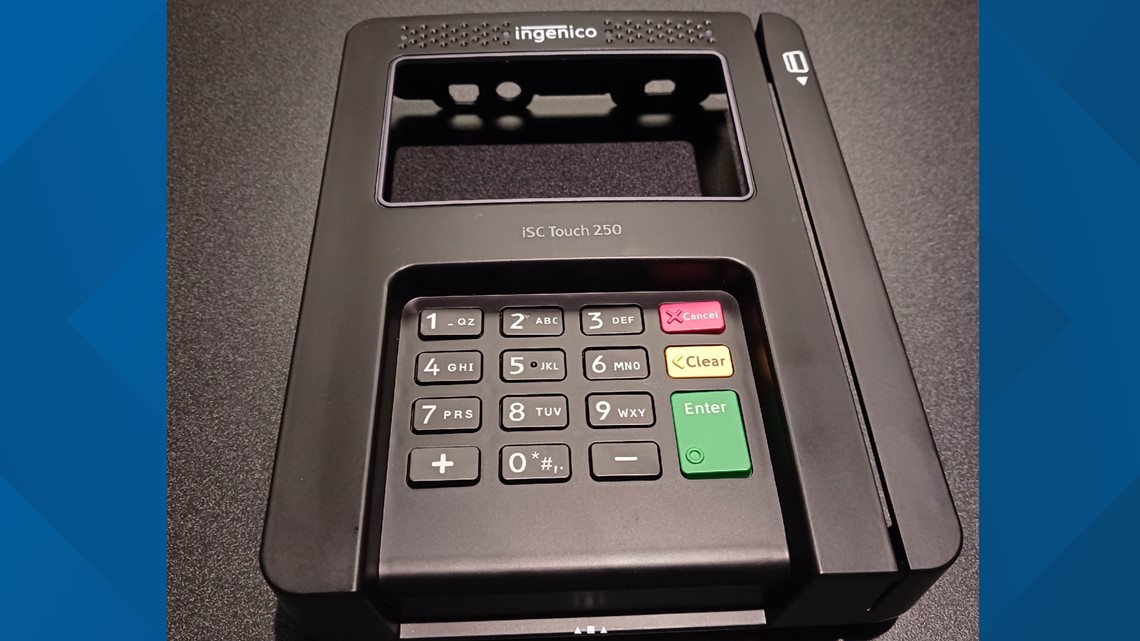 DOWNLOAD THE KREM SMARTPHONE APP
HOW TO ADD THE KREM+ APP TO YOUR STREAMING DEVICE
ROKU: add the channel from the ROKU store or by searching for KREM in the Channel Store.