COEUR D'ALENE, Idaho — In a continued effort to educate and warn Idahoans, Idaho State Police let KREM 2 inside the ISP District 1 evidence processing room to get an up close look at the deadly drug investigators are pulling off the streets every day.
"These are the type of pills we're seeing," said ISP Captain John Kempf.
Captain Kempf points to an evidence baggie filled with bright blue and light blue pills.
"I've never seen or even dreamt of seeing a drug that is so pervasive as fentanyl is and has such a profound impact on the people that use it, even once."
The highly-addictive opioid is becoming a much bigger problem in the Gem State.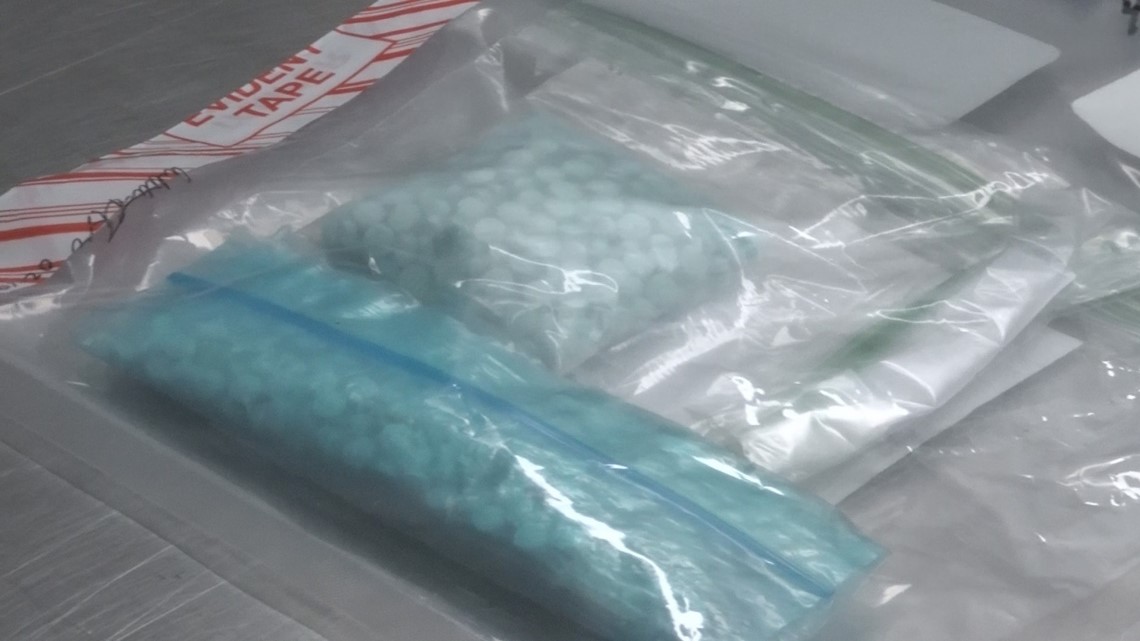 "Already this year we have seen over 600 fentanyl overdoses in Idaho and 10 of those have been fatal overdoses," Captain Kempf said, adding that 70 of those overdoses have been in Kootenai County.
With only 46 days passed this year, six people here have died from fentanyl poisoning.
"So right now we're averaging one a week, which is an astounding number," Captain Kempf said.
Even more concerning for police, those overdoses are starting to happen to younger and younger fentanyl users.
"We saw 133% increase in the amount of overdose deaths of victims ages 14-18," Captain Kempf said. "It's the fastest growing segment of our fentanyl poisonings."
Last summer, a Post Falls High School student nearly died from a suspected fentanyl overdose; a 17-year-old student was convicted of selling the pills at school.
Idaho State Police has partnered with the DEA to combat the issue; investigators with ISP work on tracking down and prosecuting dealers whose drugs lead to overdose deaths. Reaching those charges can be difficult and time-consuming, because autopsies and lab testing must establish the drug itself led to the victim's death and investigators must prove down to the specific pill that the dealer was responsible.
Enforcement is only one piece of the continued fight against fentanyl.
Captain Kempf says ISP is also focused on education and awareness, going into schools in a statewide push to reach those younger kids, who may have no idea they're dabbling in a deadly drug.
The captain says the lab that helps test suspected fentanyl has found the opioid in methamphetamine, heroin, marijuana and in drug paraphernalia like pipes.
He says the drug has become so prevalent because it gets users hooked, but it keeps them hooked because of its low price. He says even young users can get it easily through social media at just over a dollar a pill. That's pushing drug traffickers to push out more.
"We used to see 10-15 pills at a time," Captain Kempf said. "Two weeks ago we seized over 3,000 pills in one day and that's between our investigation division and our patrol division. This past week in Idaho Falls one of our troopers made a traffic stop and seized 40,000 pills."
The District 1 office in Coeur d'Alene seizes an average of 1,000 pills every day. Captain Kempf says they're also concerned about the rise in powdered fentanyl; he's even seen drug traffickers mix crushed fentanyl pills into heroin to move it quickly.
"It is hard to keep pace, but we have to stay optimistic," Captain Kempf said. "We can't surrender to it. We're going to keep fighting."
ISP will also hold a fentanyl town hall at the District 1 office (615 W. Wilbur Avenue in Coeur d'Alene) on May 9 at 6 p.m.
HOW TO ADD THE KREM+ APP TO YOUR STREAMING DEVICE
ROKU: add the channel from the ROKU store or by searching for KREM in the Channel Store.