SPOKANE, Wash. — The National Weather Service (NWS) is warning of strong winds early in the week for Spokane and the Inland Northwest.
The strong wind gusts will peak on Tuesday across the Inland Northwest. The wind will decrease gradually beginning Tuesday night and last through Wednesday.
The strongest winds will be from North Idaho to the Columbia Basin. The wind gusts are expected to reach 35 to 45 mph. Gusts of that magnitude are strong enough to have several impacts: blowing dust, reduced visibility and minor tree damage.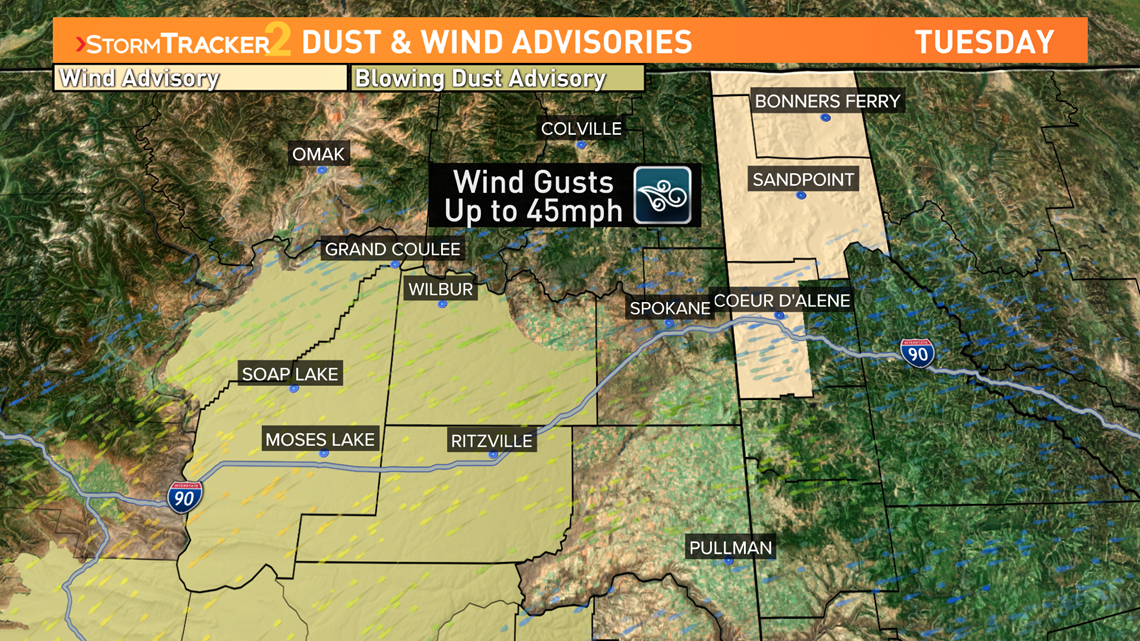 The highest potential for tree damage will be in central-northern Idaho Panhandle. The strongest winds were reported during the mornign hours, between about 2am and noon, but have subsided slightly. The Wind Advisory has already been cancelled. While the wind won't be strong enough to cause widespread downed trees, a 45 mph gust is strong enough to snap some tree limbs.
A Blowing Dust Advisory is in place in Central Washington and the Columbia Basin from 11 a.m. to 8 p.m. where 45-mph wind gusts pose a different threat. Dry ground and loose dirt create the potential for blowing dust and reduced visibility. At times visibility might drop to below one mile or less at times.
The fire risk is at the highest around Tuesday afternoon when it will be the driest and windiest.
The NWS also warned of "crosswinds," which are winds that blow in an angle or direction that is not parallel with a vehicle. This can increase difficulty while driving. The crosswinds are expected to cause the most difficult for travel on I-90 from Ritzville to Vantage and U.S. 195 from Spokane to Pullman.