SPOKANE, Wash. — The estimated cost of the Jan. 11 windstorm that hit Spokane is $2.7 million, according to a memo from the city accounting director.
The memo is part of the City of Spokane's Finance and Administration Committee report that was presented to city council on Monday. According to the memo from City Accounting Director Michelle Hughes, the city submitted the projected costs to the Department of Emergency Management for consideration for FEMA reimbursement but the city did not meet the criteria for consideration.
Hughes wrote that more than $2.4 million would need to be funded from the city's General Fund. She said tree damage and removal cost nearly $165,000. Damage to the butterfly in Riverfront Park and other park assets cost nearly $735,000.
A hillside erosion project in Peaceful Valley, which was indirectly related to the windstorm, is expected to cost up to $1 million, according to Hughes. She said the damage was caused by large amounts of rain that eroded much of the hillside and was then further impacted when trees fell due to the winds.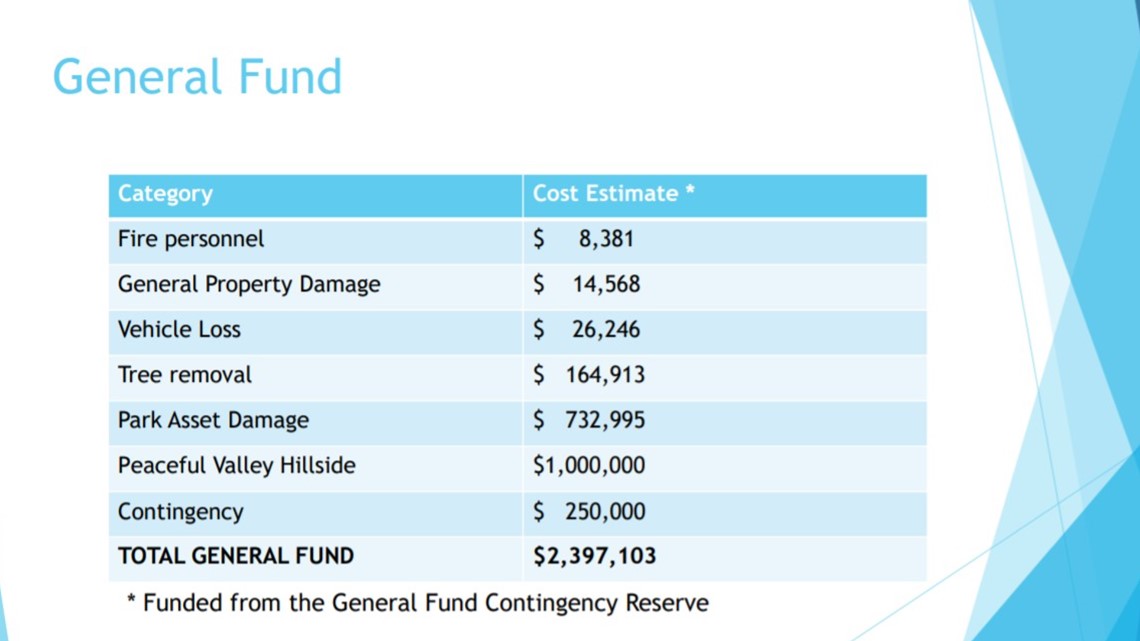 The windstorm killed two people and left 200,000 households without power for days.
A woman died after a tree fell on her car on Spokane's South Hill on Wednesday morning and a Post Falls man, 59, was also killed when a tree hit his car while he was driving on Highway 97 in North Idaho.
The woman was later identified as 42-year-old Melanie Sandborn, a pediatrician at Shriners Hospital. The man was identified as Jon Snider.
Downed trees fell on homes and cars across the Inland Northwest and blocked roads. The storm also left tens of thousands of people in the area without power and the outages could last for multiple days.
The strongest winds were felt early Wednesday morning. Winds slowly died down throughout the day, but strong wind gusts of 40 to 50 mph were still felt during the afternoon hours.