SPOKANE, Wash. — A major storm is headed for the Northwest this weekend bringing heavy snow, strong wind and rain. Parts of the Inland Northwest have the potential to see the biggest snow so far this season, including Spokane and Coeur d'Alene.
Winter Storm Warnings, Winter Weather Advisories, and Wind Warnings and Advisories are in place ahead of the incoming storm. In the Cascades, Winter Storm Warnings are in place for the incoming snow and wind. The warnings are in place from 6 p.m. Friday to 4 a.m. Sunday.
Valleys in the Cascades will pick up about 7 inches of snow. Mountain passes will receive 10-20 inches of fresh snow by the time it comes to an end with mountain tops getting up to 3 feet of fresh snow. To make matters worse, strong wind will accompany the snow. Wind gusting to 40 miles per hour will create near zero visibility at times.
A Winter Storm Watch is in place for parts of the Inland Northwest for heavy snow Friday evening through Sunday. The areas under the watch include Northeastern Washington and North Idaho. Valleys in the Northern Rockies of Idaho will pick up four to eight inches of snow while mountainous areas have the potential to pick up 10 to 20 inches of snow by the time it comes to an end. In Northeastern Washington, two to four inches of snow will fall in the valleys with seven inches to one foot expected in higher elevations.
Wind Advisories and Wind Warnings are in place on the west side for the impacts of wind from this storm. In the Inland Northwest, it's a Wind Advisory for Northeastern Washington. From Ritzville and Spokane to the Canadian border, the advisory runs from 10 p.m. Friday to 4 p.m. Saturday. Sustained winds out of the southwest blowing at 15 to 30 miles per hour are expected, along with gusts of up to 50 mph. That isn't strong enough to cause widespread damage but plenty strong enough to send Christmas decorations flying if they are not tied down.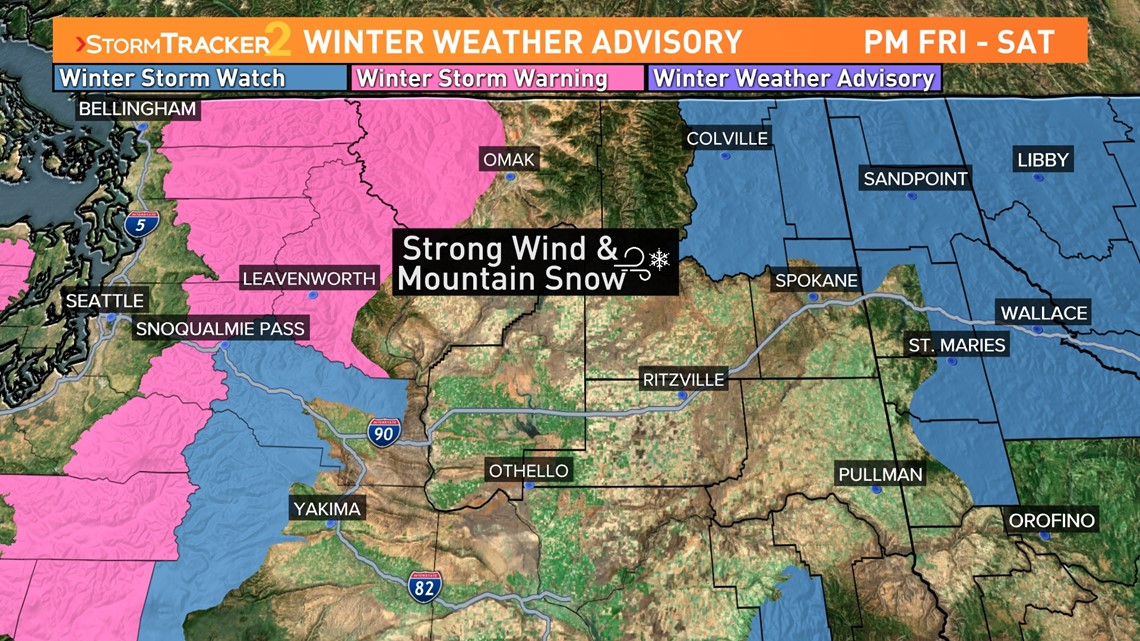 Spokane, Coeur d'Alene and other low elevation areas will see some interesting weather in the next 48 hours. As the storm moves in, some light snow will fly Friday evening but the real snow starts overnight. The snow will continue through Saturday morning. Spokane has the potential to pick up one to two inches with Coeur d'Alene getting upwards of three inches before it turns to rain.
Warm, southwesterly wind will cause temperatures to climb into the 40s by Saturday afternoon in lower elevations. That warmup means snow transitions into rain for many. Warm temperatures and rain will melt a lot if not all the snow that falls in Spokane.
The biggest impacts of the storm will be in the mountains. It will be imperative to check road conditions and weather if you are traveling any mountain passes in the coming days.