SPOKANE, Wash. — Another fall storm will target the Northwest and that means another round of fall-like weather across the region.
Cooler temperatures and widespread rain are expected as a potent cold front sweeps the region. This drastic change in the forecast comes after an unseasonably warm and sunny weekend across the Inland Northwest.
Ahead of the front's arrival, temperatures were very warm across the Inland Northwest. Spokane fell to just 61 degrees thanks to gusty wind and some light spotty drizzle. That would make this the latest 60-degree or above low temperature ever recorded in Spokane, but as the front arrives it is likely temperatures drop below 60 in Spokane before midnight.
Ahead of the front, strong southerly winds and pockets of light drizzle will persist. The arrival of the front will coincide with a shift in the wind direction and rain picking up across the region. The steadier rain will arrive in Spokane on Monday evening. Rain will continue overnight eventually winding down Tuesday morning.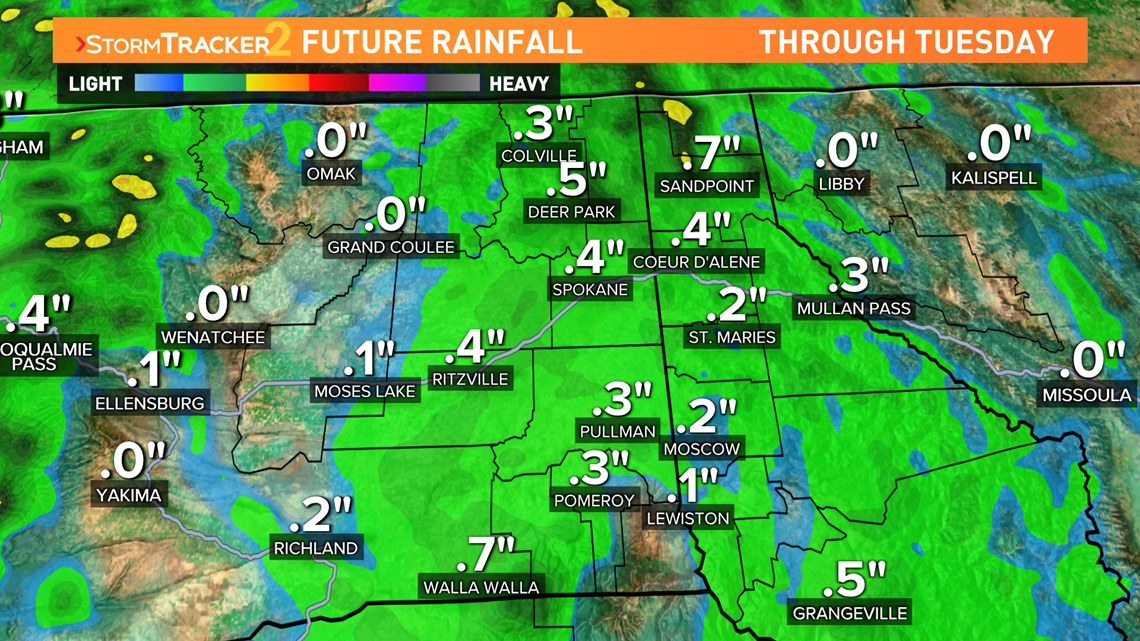 A few post-frontal showers will linger through Tuesday, but similar to Monday they will be scattered and lighter in nature. When all said and done, Spokane and much of the Inland Northwest will receive between a quarter and a half-an-inch of rain. Because of the nature of this storm, Central Washington will largely miss out on the moisture while higher elevation areas in Northeastern Washington and North Idaho might pick up close to an inch of rain.
Following the rain, a cool few days are in store for the Inland Northwest. Spokane will struggle to climb to 60 degrees both Tuesday and Wednesday. But as quickly as it cools down it warms back up.
By the weekend, temperatures will be back in the low 70s in Spokane under sunny skies. But enjoy it while you can. The average high temperature in Spokane will soon fall to just 65 degrees. That means 70-degree high temperatures will soon be a distant memory across the Inland Northwest and snow will become a much more likely occurrence.