SPOKANE, Wash. — After Friday morning snow storm has passed, the next storm system isn't too far away, hitting this Saturday evening and Sunday.
Before getting into more rain and snow this weekend, the winds will increase in the wake of today's winter storm. A Wind Advisory is in effect until 4 A.M. Saturday for Spokane, Davenport, and Pullman areas. Wind gusts will be as strong as 50mph.
The strongest winds will occur between now and 3-4 A.M. Saturday morning.
The next weather system/snow storm for the Inland Northwest hits Saturday evening and into Sunday morning.
The system will be very similar to the one that just passed through. There will again be a fine line between who see rain or snow and how much snow is possible. The small different is that temperatures will be just a couple degrees warmer. That means more rain and less snow for fairly low elevation cities, but northern Washington may still be in for another significant round of snowfall.
The mountains will again receive heavy snow. Mountain passes will be severely affected, so check weather conditions and pass restrictions before leaving if you are heading over mountain passes this weekend.
Will it rain or will it snow in Spokane?
I prompted this question last time too. This time, I believe Spokane will see a rain/snow mix at the coldest, meaning little to no accumulations are forecast at the moment.
The northern Washington Valleys will be a close call at the moment. Omak is leaning towards rainfall, but 2-4" of snow is reasonable to forecast for areas like Colville and Sandpoint. 6" would be in the upper threshold for higher elevations.
Be sure to follow all the KREM Meteorologists on social media to track latest forecast updates in real-time through the weekend.
Friday morning's snow storm
Road conditions have improved significantly from this morning with relatively warm temperatures in the upper 30s and low 40s. So the snow has been watery and slushy and not icy.
Three inches of snow were reported in cities throughout Bonner County, Idaho, including Spirit Lake and Ponderay.
More dramatic snowfall totals of 11.3 inches and 10 inches were reported in Loon Lake and Rice, Washington, both of which are located in Stevens County. One KREM viewer reported 16 inches of snow in Rice, WA, just north of Inchelium.
Thousands of Inland Northwest residents are without power on Friday, with many of the outages centered in northern Washington.
A Winter Storm Warning has been issued for northeastern Washington and nearly all of North Idaho. This includes Republic, Colville, Chewelah, Newport in Washington; and Coeur d'Alene, Sandpoint, Bonners Ferry, St. Maries, and Moscow in Idaho.
The ending time of the warnings are different depending upon the region. It lasts until noon Friday for Coeur d'Alene, Moscow and northern Washington. It goes until 4 p.m. on Friday for the Idaho Panhandle and until 4 a.m. on Saturday for the Silver Valley.
KREM 2 viewer photos of snow in the Inland Northwest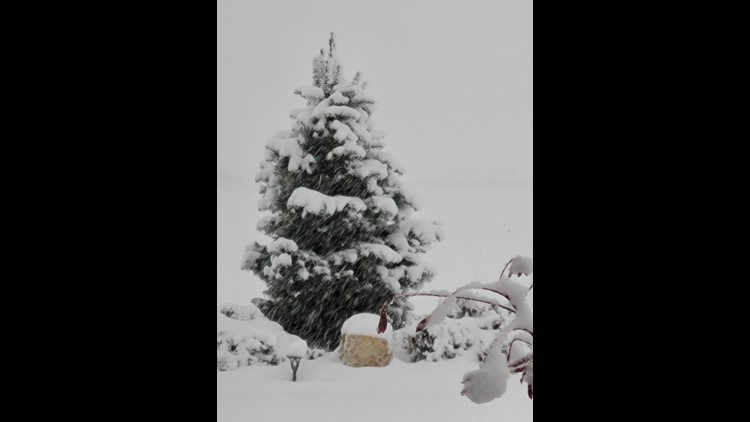 A Winter Storm Warning is in effect for the Cascades, as two feet of snow between Friday afternoon and Saturday is possible across the mountain range. Eighteen inches of snow or more are in the forecast for several mountain passes, including Snoqualmie and Stevens.
All of that snow then moves inland. Mountains in the Northern Rockies could easily pick up 1-2 feet of snow this weekend. That means many ski resorts will get a big boost to the base as ski season waits just around the corner.
Even afterwards, the mountain snow will not let up as subsequent storm systems will continue to drop heavy snow through the weekend, Monday and Tuesday. That particular system will be far warmer for the region, so valley rain will be accompanying the early week storm.