SPOKANE, Wash. — A record-breaking amount of snow blanketed the region on Tuesday night into Wednesday morning, leaving tens of thousands of people without power and downed trees in its wake.
KREM morning weather anchor Evan Noorani said final snow totals may sit between four to five inches in Spokane.
The wet, heavy snow caused tree branches to fall into the roads and on power lines.
Crews are working to clear the roads and restore power, but police said many traffic signals at intersections are not working on Wednesday morning.
Spokane fire crews have received 120 calls about damages since midnight on Wednesday.
KREM viewers have sent us photos of snow, downed trees and other damages in their area.
Photos: Snow, downed trees after Spokane area snowstorm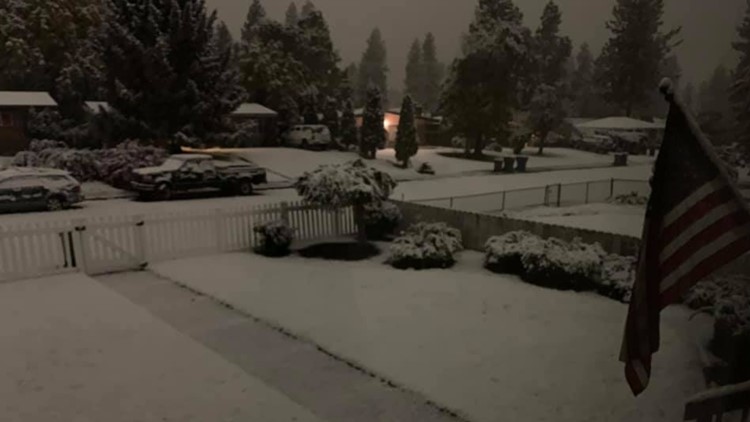 Viewer Stan Lantz even reported six inches of snow on the back end of Fernan Lake in Kootenai County, Idaho.
Several videos also show the snowfall and extent of damages, including one showing downed trees and road conditions from Spokane Fire Chief Brian Schaeffer.
KREM photographer Al Lozano shared a video showing heavy snowfall and downed trees at Southeast Boulevard on Spokane's South Hill.
We also captured the moments when snow began falling at about 10 p.m. on Tuesday.
Do you have photos and videos of snow in Spokane or North Idaho? Send them to pics@krem.com or share them on social media using #KREMWeather.