SPOKANE, Wash. — Trees sagging with snow seemed to be almost as big of a problem as trees that fell over in Spokane.
This was largely because trees still had their leaves when the snow fell Wednesday morning.
Spokane residents reported more than 150 downed trees and tree limbs in the streets after a historic October snowstorm on Wednesday.
Tree clean-up efforts will likely continue through the week and possibly into the weekend, according to city spokeswoman Marlene Feist.
Clumps of snow on top of the leaves put a burden on the trees that they aren't used to carrying.
A city of Spokane Arborist, Angel Spell, said this could cause some shock to the trees.
"That could be damaging to the tree, and you may have some branch loss that doesn't respond back," she said.
But she said the damage shouldn't cause any long-term effects to the trees.
So as a homeowner, what should you do to help lessen the damage to your trees?
Spell said it is helpful to shake some of the snow from the branches.
"Certainly for the smaller trees and shrubs, give them some relief from that weight," she said.
Though the larger trees may be harder to clear, Spell said still brushing some snow from them could prevent property damage and help keep the trees healthy.
"The trees will recover," she said. "It would be a much greater concern if we continued with freezing temperatures today."
Photos: Snow, downed trees after Spokane area snowstorm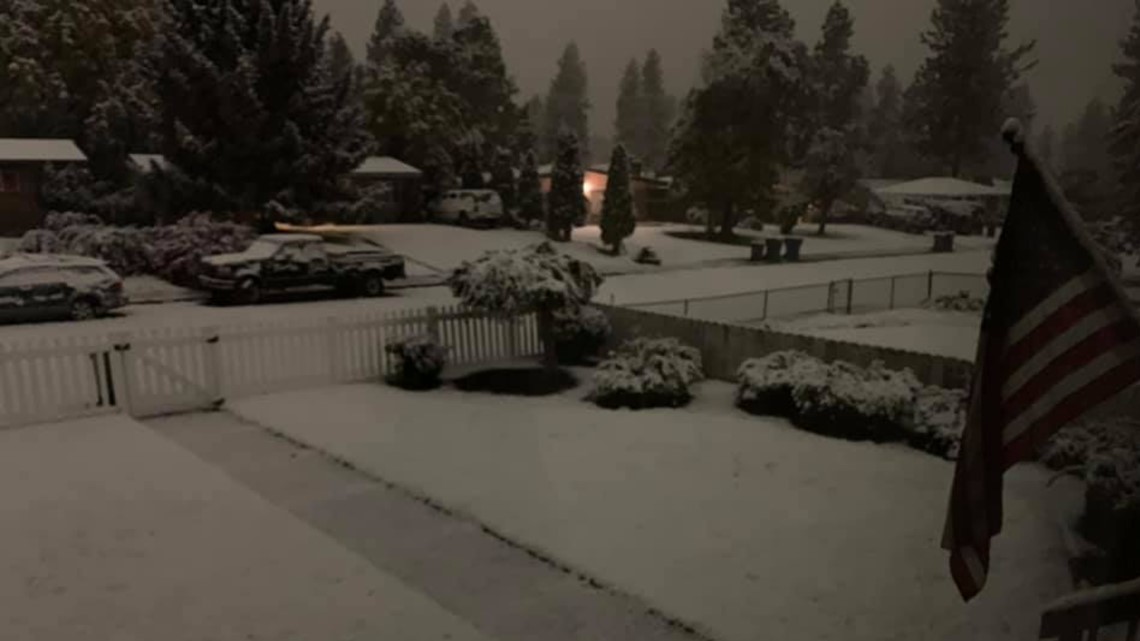 RELATED: Avista hopes to restore power to most customers by early Friday morning
RELATED: 'It was right above where we were sleeping': South Hill homes damaged in snow storm
RELATED: Spokane Public Schools expected to reopen Thursday
RELATED: Record-breaking 4 inches of snow falls overnight in Spokane area
RELATED: These are Wednesday snow totals for Spokane area, North Idaho
RELATED: Spokane mayor says it will take at least a week to clean up winter storm damage