SPOKANE, Wash. — Rain will continue to come down across the Inland Northwest Saturday after two days of flood warnings.
A Flood Warning for Spokane was in effect until 8 a.m. Saturday morning. Torrential rainfall caused areas of Spokane to flood Thursday evening.
A Flood Warning was also in effect for western Okanogan County until 2 a.m. Saturday. The National Weather Service reported heavy overnight rain in Okanogan and Methow Valleys.

The heaviest of downpours may be behind us, but we will see more scattered and widespread rain until Saturday. Flooding areas will likely be re-aggravated if heavy rain returns.
According to the National Weather Service, Friday's rainfall is expected to bring rises to area creeks and streams.
Drivers should be mindful of closed roads due to the flooding or debris from Thursday.
Some storm reports indicate that around one-third an inch to one inch of rain fell in a very short period of time. Reports include 0.9 inches of rain in 20 minutes in Spokane and 0.5 inches of rain in 10 minutes in Chatcolet, Idaho.
The heaviest of rainfall in Spokane was concentrated in the downtown area. Spokane International Airport only had 0.28 inches of rain in 24 hours, while west central Spokane had nearly 1.5 inches of rain in that same time period, according to the National Weather Service.
One gauge in west central Spokane showed 0.72 inches of rain in 20 minutes.
Power outages and flooding aftermath
The Art Garfunkel concert at the Fox Theater on Thursday night was canceled after flooding affected the stage and front door, according to Fox Theater Public Relations Manager Alison Highberger.
The flooding prevented Garfunkel from rehearsing or doing a sound check, and the concert will be rescheduled. Those with tickets can call the Fox Theater box office for more information.
A KREM viewer reported extensive flooding at Rogers High School.
When KREM reporter Kierra Elfalan visited the school on Friday morning, she said there were fans running to dry out wet carpets, a gash in the wall and some drywall damage due to flooding.
Avista reported that 851 customers were affected by power outages at 8:20 p.m. They reported 926 customers in Spokane Valley got power restored around 7:12 p.m.
Inland Power and Light reported 496 outages at 8:33 p.m., and Kootenai Electric Cooperative reported 120 outages at the same time. Electricity has since been restored to all customers.
As of 5 a.m. on Friday, there are still several Avista outages affecting less than 100 homes and businesses. Most of the outages are in the Spokane area, with some in Spokane Valley and Airway Heights.
Vera Water and Power announced that they had restored power to the approximately 3,000 people without power at 6:50 p.m.
Central Valley School District canceled all evening activities on Thursday due to power outages.
On Friday, the Mead School District canceled its Disability Learning Center Olympics due to weather.
One viewer called and said sewage was coming out of drains at her daughter's downtown apartment.
A Spokane fire truck was also stuck in a sink hole near the Perry District after the downpour.
PHOTOS: Severe weather hits the Inland Northwest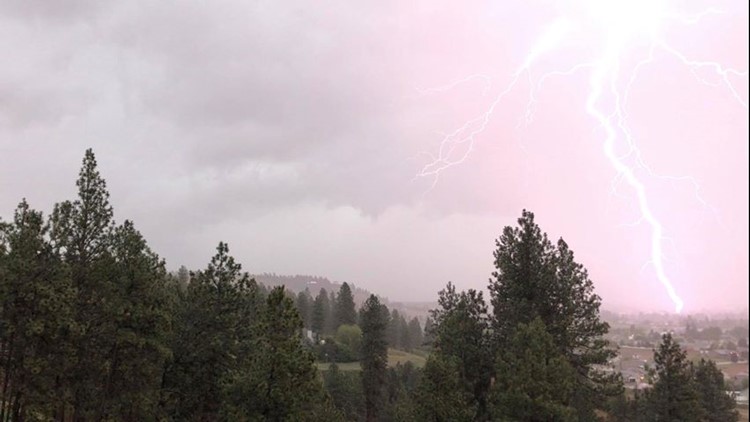 One of the first severe storms hit near Kamiha, Idaho, where wind gusts up to 60 mph knocked tree limbs off a willow tree.
As of 9 pm, the heaviest rain is moving through the northern tire of Washington with scattered showers still found across the Inland Northwest.
Wet weather continues Friday
Friday does not bring a break from wet weather.
Steady rain all afternoon could include an additional inch of rain across eastern Washington and North Idaho, according to KREM Morning Weather Anchor Evan Noorani.
Some localized areas may see as much as 3 inches of rain before the weekend.
Showers decrease from west to east as night rolls around, and the weekend includes a brief break before wet weather returns next week.
The heavy rainfall could also lead to rapid rises on creeks and streams in the Inland Northwest. This could lead to potential flooding on roads, along with mud or rock slides in steep terrain.
Thunderstorms and hail are not expected on Friday.
Here is a look at rainfall totals through Friday night:

Watch more storm coverage on KREM's YouTube page: