SPOKANE, Wash — Rain and highs in the 70sexpected Friday for parts of the Inland Northwest but just one year ago the weather was much different.
Spokane broke a record for Oct. 9 when about four inches of snow fell. It was the first time in 40 years snow fell on this date.
Snow started falling in the region at about 10 p.m. the night before. As temperatures dropped, a batch of precipitation turned into snow between Spokane, Deer Park, Coeur d'Alene, Athol, and Sandpoint.
The National Weather Service said the heaviest amounts of snow fell from the southern portions of Spokane toward Rathdrum and Athol. The South Hill saw over five inches of snow while parts of Kootenai County saw as much as six inches.
Wet, heavy snow caused tree branches to break off and fall into the roads. The City of Spokane responded to over 650 reports of fallen tree debris that day.
Photos: Snow, downed trees after Spokane area snowstorm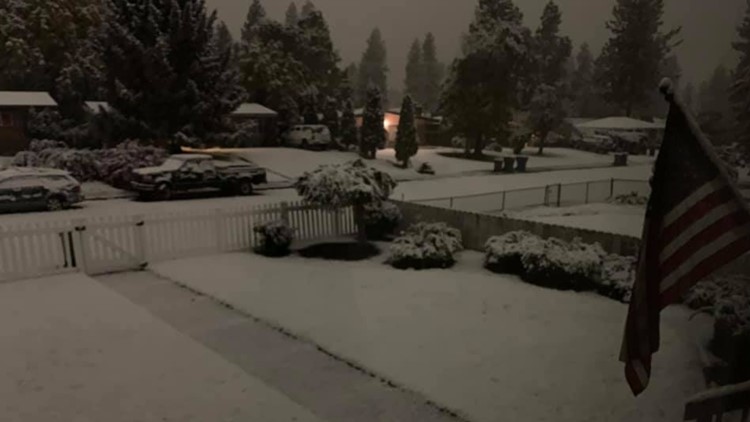 The South Hill was one of the hardest hit places. Spokane fire crews received over 120 calls about damage. Some residents reported that trees that fell on their homes. Fire stations called in off-duty and extra crews and worked with Spokane County Public Works to clear the streets. Some fire stations were also without power.
Trees also fell on power lines and more than 30,000 people were without power in Spokane County and North Idaho. Power was restored to almost all Avista customers about two days after the storm.
Tree limbs also left some roads impassable. Almost all roads were cleared of debris two days later.
Many school districts, private schools and area colleges also closed for the day.