SPOKANE, Wash. — High winds are already leading to power outages in the Spokane area and North Idaho on Wednesday morning.
Sustained winds are expected to reach speeds of 25-35 mph on Wednesday, with some spots hitting 40 mph. Gusts of up to 60 mph are expected in the region.
KREM morning weather anchor Evan Noorani says peak winds are expected between 10 a.m. and 4 p.m. The highest winds in Spokane County are expected in the Deer Park area.
Winds of that strength could lead to tree damage and power outages.
"Warnings" and "Advisories" are issued by the National Weather Service in the 24-36 hours before the adverse weather begins.
Other than power outages, driving and traveling will be overall challenging. Lightweight cars and high-profile trucks will feel the largest effect of the wind while driving. Additionally, any unsecured objects or decorations in yards can get blown away in the strong winds.
Winds in Spokane and Coeur d'Alene were blowing at about 18 mph at 5 a.m. on Wednesday. Winds were already blowing at 30 mph in Sandpoint at the same time.
Thanksgiving will be cold in the Inland Northwest. As of 5 a.m. on Wednesday, Spokane and Coeur d'Alene were sitting below 20 degrees with wind chill.
Spokane will likely see a low of about 14 degrees on Friday morning and highs are expected to sit in the low 30s for the rest of the week.
Wind damage in North Idaho
A large tree fell at a home in Hayden Lake. Luckily, no damage was reported there.
The Eagle Boat Launch at Farragut State Park is closed due to downed trees. Trees and branches are on the road leading to the boat launch. Staff there said some trees there are damaged by bark beetles.
Another tree fell on a home on Dufort Road, South of Sagle in Bonner County. There are also reports of downed trees in Hope, Idaho too.
Avista prepares for outages
Avista's director of operations said crews are preparing for outages in North Idaho and the Spokane area. The most significant are expected in the Sandpoint area.
Avista will have crews staged and ready to go starting early Wednesday morning, as winds are expected to pick up around daybreak.
People should be prepared for outages with blankets, flashlights and batteries. Avista cautioned people against running generators indoors, and generators should not be connected to the grid so linemen can stay safe.
Anyone who sees a downed power line is asked to call Avista or report it on Avista's website or mobile app.
Snow flurries fall on Tuesday
Light snow flurries fell around the Spokane area on Tuesday.
KREM's Nicole Hernandez showed a light layer of snow coating the sidewalks in downtown Spokane near Third Avenue and Browne Street at about 6 a.m.
She also reported spots of frost and ice on the roads, but said they were mostly clear of snow. Light snow continued to fall around the Spokane area on Tuesday, leading to icy roads and crashes.
A KREM viewer living in Anatone, a small community in Asotin County, Washington, about 2.5 hours away from Spokane, reported one foot of snow overnight into Tuesday morning.
Spokane has seen a fairly mild November so far, after the coldest October on record. In Spokane, several inches of snow fell in mid-October, cutting the fall foliage season short and causing many trees to lose their limbs.
The Spokane Airport has not recorded any measurable snow for the month of November. Spokane average 7.4 inches of snow in the month of November.
Snow showers over the mountain passes
Snow over the mountain passes could complicate Thanksgiving travel throughout the week.
While the main wave of snowfall moves into Oregon and northern California, just enough moisture will result in occasional snow showers for Washington and Idaho.
Wednesday will bring scattered snow showers across the region, with several inches possible in the mountains.
That means anyone with travel plans over mountain passes, including Lookout and Snoqualmie, should be prepared for snow and blowing snow over the roads.
The snow will likely not be heavy enough to close the passes.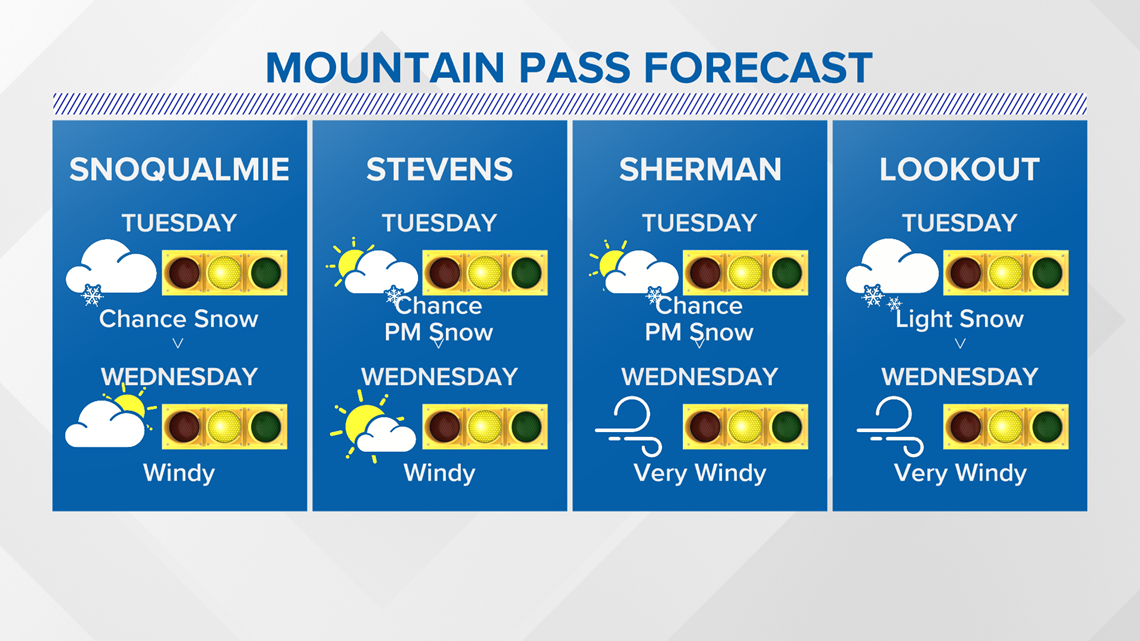 More treacherous travel conditions are expected on Highway 97 from Highway 2 to Blewett through Wednesday.
Be sure to check on pass conditions and if there are any restricts before you leave.
Tell friends or family members your travel plans including time of arrival in case there is an emergency.
A winter driving kit and mental preparedness for winter driving conditions will make any travel much safer for this holidays. The National Weather Service in Spokane put together this simple winter driving supply checklist.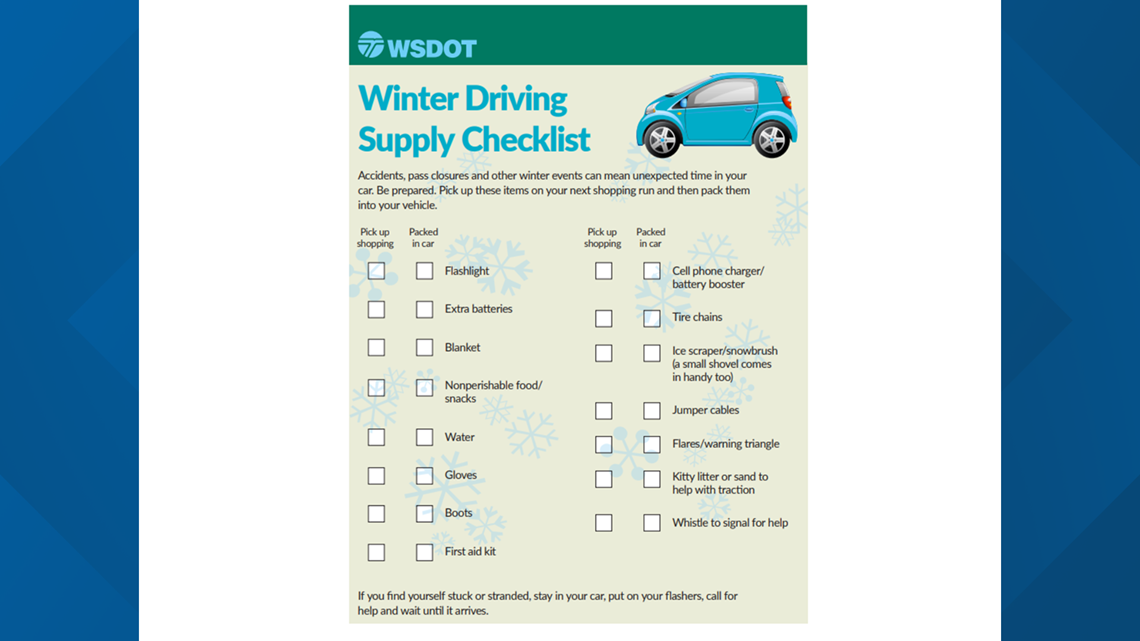 Continue to monitor the forecast and any changes in the forecast daily leading up to any travel plans you have over the Thanksgiving holiday week.