SPOKANE, Wash. — A one-two punch of fall weather is going to hit the Inland Northwest. Following Thursday morning's freezing and near-temperatures, several days of rainfall are in the forecast this weekend.
The cold temperatures were reminiscent of what the Inland Northwest might expect to see a month from now. But it's not just the temperatures, a fall-like storm pattern set up over the region bringing a follow-up to last week's rain.
The rain will definitely be the big story of the week as a pronounced upper-atmospheric trough and strong storm moving in starting Friday. This will be the best chance at a days-long rainy weather pattern. As the storm moves through southern Canada, waves of energy or a series of fronts will keep rain and breezy wind in the forecast all weekend.
It's still a bit far out to pinpoint exact rainfall totals but there is plenty of atmospheric moisture available as the system moves in. If you squeezed out all the water vapor in the atmosphere, it would rain close to an inch. This variable is known as "PWAT." Should it rain that efficiently, one inch of rain is possible for parts of North Idaho, with a forecast range from about 0.35 to 1.2 inches likely falling between Friday and Sunday. For Spokane and the lower elevation areas, we're expecting closer to about 0.2 to 0.35 inches of rain.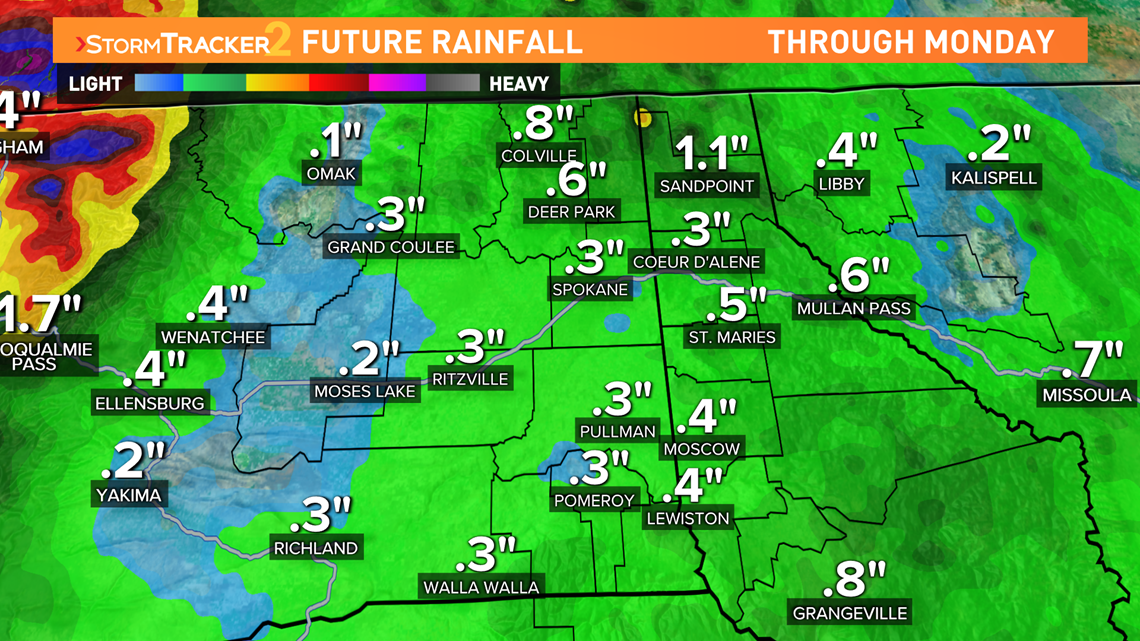 Widespread rain like this tends to be called a "season-ending event" referring to the end of the summer season. Summer rain is sporadic and scattered at best, with only pinpoint downpours hitting the eastern Washington landscape. But a more fall-like rain tends to be more steady and widespread, and this is exactly what's in the forecast for this weekend.