SPOKANE, Wash. — Hundreds of Avista customers are without power as high winds move through the Inland Northwest.
Sustained southwest winds of 15-25 mph are expected with infrequent gusts from 40-45 mph. Isolated tree damage and scattered power outages are possible. It could also cause difficult travel for high profile vehicles, especially in areas along the Columbia Basin.
Skies will remain cloudy and temperatures are expected to warm up into the upper 50s.
A High Wind Watch is also in place for the Spokane area Monday from 1 p.m. to 10 p.m.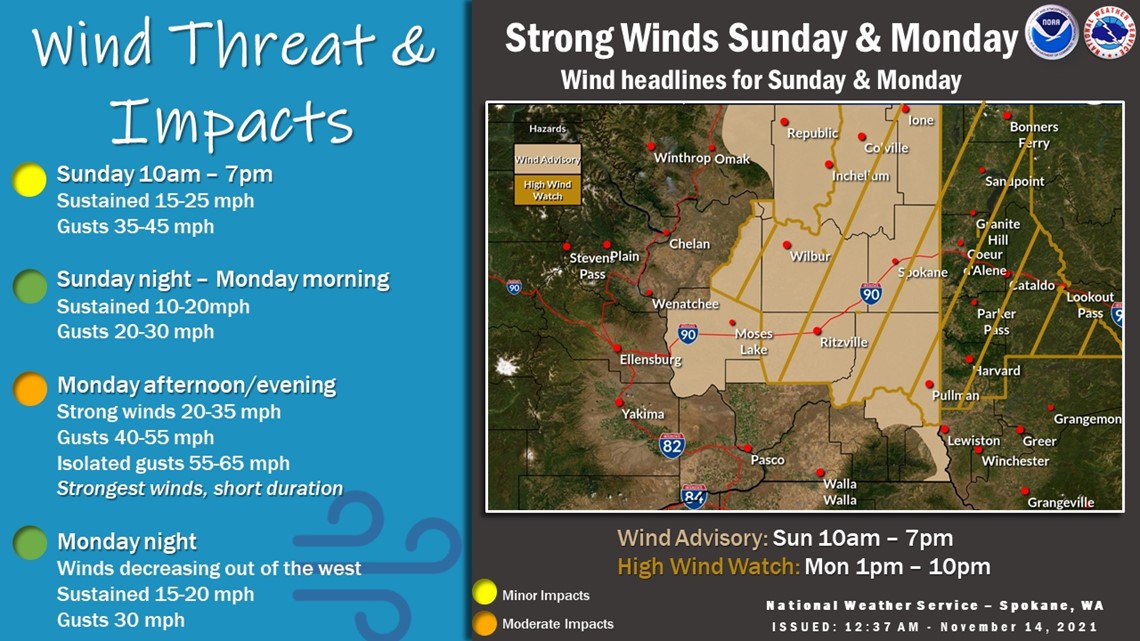 By Sunday night into Monday morning, winds will die down to 10-20 mph with gusts between 20-30 mph. NWS says winds will pick up again Monday between 3 p.m. and 11 p.m. with winds between 20-30 mph and gusts between 40-55. Isolated gusts of wind could reach speeds of up to 65 mph. NWS expects the strongest winds to hit the area between 4 p.m. and 9 p.m. Monday with westerly gust between 45 mph and 60 mph.
Strong winds causing damage around Spokane, North Idaho
The NWS does not think this storm will be as strong or as long as the November 2015 or January 2021 wind storms that resulted in widespread tree damage and power outages. However, they believe the storm has similarities to the November 2003 windstorm, where gusts reached 55 mph.
NWS recommends people secure lose items outside or bring them inside, close and secure doors and windows and be prepared for any power outages.