SPOKANE, Wash. — Traffic and snow in the Inland Northwest valleys and mountain passes could pose travel problems during the Thanksgiving holiday.
We began to see changes in the weather on Wednesday, according to KREM morning weather anchor Evan Noorani.
Rain is likely on Friday. We could even see some snow in the valleys on at night, according to the National Weather Service.
Thanksgiving Day and Friday are expected to be the most difficult days out of the week to travel over the passes due to a combination of traffic and snow.
The National Weather Service released a chart on Wednesday with the best and worst times to drive over mountain passes throughout the holiday week. Conditions are expected to be poor on Stevens Pass, Sherman Pass, Blewett Pass and Loup Loup Pass on Friday.
Conditions are Lookout Pass will be fair on Thursday and Poor on Friday, according to the National Weather Service. This is also the case for Snoqualmie Pass.
Mountain passes are expected to get between one and four inches of snow on Thanksgiving and somewhere between two and nine inches on Friday depending on the pass, according to the National Weather Service. You can view a full chart of expected snow accumulation totals on the National Weather Service website.
The better day to travel is Saturday but roads could still be icy due to cold temps.
You can view the full chart below: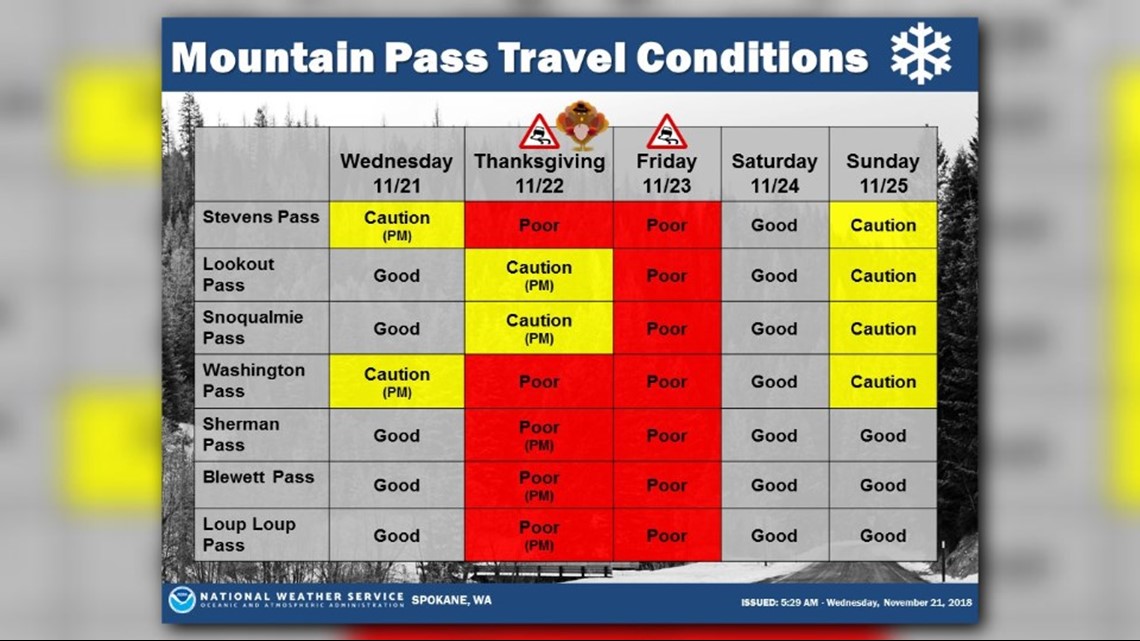 Snow accumulation in the valleys will be minimal – around an inch to be more exact, Noorani said. In the mountain passes, we will see between three and five inches of snow on Thanksgiving and Friday.
Spokane International Airport will also see more than 65,000 holiday travelers at its security checkpoints from Nov. 16 to Nov. 26, according to data from the Transportation Security Administration.
The lightest travel day will be Thanksgiving, when about 3,500 travelers are expected to pass through the airport.
In Spokane, the busiest times at the security checkpoint are from 5 a.m. to 7 a.m. and 8 a.m. to 9 a.m. There is usually an afternoon rush around 1 p.m. to 3 p.m., too, according to TSA.
TSA expects to screen a record 25 million people throughout the nation from Nov. 16 to Nov. 16, making it one of TSA's busiest Thanksgiving holidays on record. This represents a 5 percent increase compared to the same period last year.
TSA said Spokane is in line with the national uptick in holiday travel.
Here are some helpful travel tips to make the security checkpoint experience go smoothly during the holidays and throughout the year:
During the peak holiday travel rush, arrive at Spokane two hours prior to your flight departure to ensure adequate time to be screened through the security checkpoint. By arriving early, you will arrive at your gate with time to spare.
Dress for security screening. Simplify your experience by avoiding bulky jewelry, scarves, hair accessories and large belts since these types of items are likely to require additional screening. Remember to remove all items from your pockets and secure them in your carryon bag.
Organize your carry-on bag so electronics larger than a cell phone can be quickly and easily accessed when at the security checkpoint. All electronic devices larger than a cell phone should be placed in bins for x-ray screening with nothing on top or below, similar to how laptops have been screened for several years.
Remove travel-size liquids, gels and aerosols (3.4 ounces or less) from carry-on luggage. Ensure they can be quickly and easily accessed. Any quantities larger than 3.4 ounces should be placed in checked baggage.
Questions about what you can bring through the security checkpoint? Tweet or Message AskTSA weekdays from 5 a.m. to 7 p.m. PST and weekends and holidays from 6 a.m. to 4 p.m. PST.