SPOKANE VALLEY, Wash. — After months of work, Sullivan Road, also known as Bigelow Gulch Phase 6, reopened on Thursday in Spokane Valley.
A ribbon-cutting ceremony was held on Thursday morning at the intersection of Sullivan Road and Wellesley Avenue to celebrate the road's reopening.
Some of the road's new construction updates include the following:
Four-lane road with turn pockets and a center median
Crosswalks from high school to middle school ballfields
Installation of culverts and storm sewer pipe
Pedestrian underpass at East Valley School District (EVSD)
Luminaire system
Traffic Signal at Bigelow Gulch/Sullivan and Wellesley Avenue
It's good news for hundreds of drivers that use Bigelow Gulch and Forker Road every day to drive to their destinations. Sullivan Road is also an important component of Phase 6 of the Bigelow Gulch/Forker Road Urban Connector.
Bigelow Gulch Corridor Phase 6 alone will cost more than $6 million, which is more than half of the total cost of the entire Urban Connector.
Nearby homeowners Rondy and Alan Alexander had a front row seat to the Phase 6 construction. They said they're happy the road is finished and they won't be missing the noise.
"Hearing all of the thump, thump, thump, which was great we knew it had to be done, but it'll be great to have this road finished," Alan said.
Rondy said she has had to use detours around Sullivan Road to get up to north Spokane. With the road back open, she said she's looking forward to less travel time.
"We do have business up there once and while so this will be very nice," Rondy said. "No curves up on the hill. They eliminated those before, but we had to go up to Progress to get on it, so this eliminates all that."
The construction of the Bigelow Gulch Corridor included the following phases through the years, shown in the picture below:
Bigelow Gulch 1 in 2008
Bigelow Gulch 2 in 2023
Bigelow Gulch 3 in 2021
Bigelow Gulch 3A in 2007
Bigelow Gulch 4 in 2020
Bigelow Gulch 4A 2018/2019
Bigelow Gulch 5 in 2020
Bigelow Gulch 5A in 2018
Bigelow Gulch 6 in 2022
COSV Sullivan/Wellesley in 2022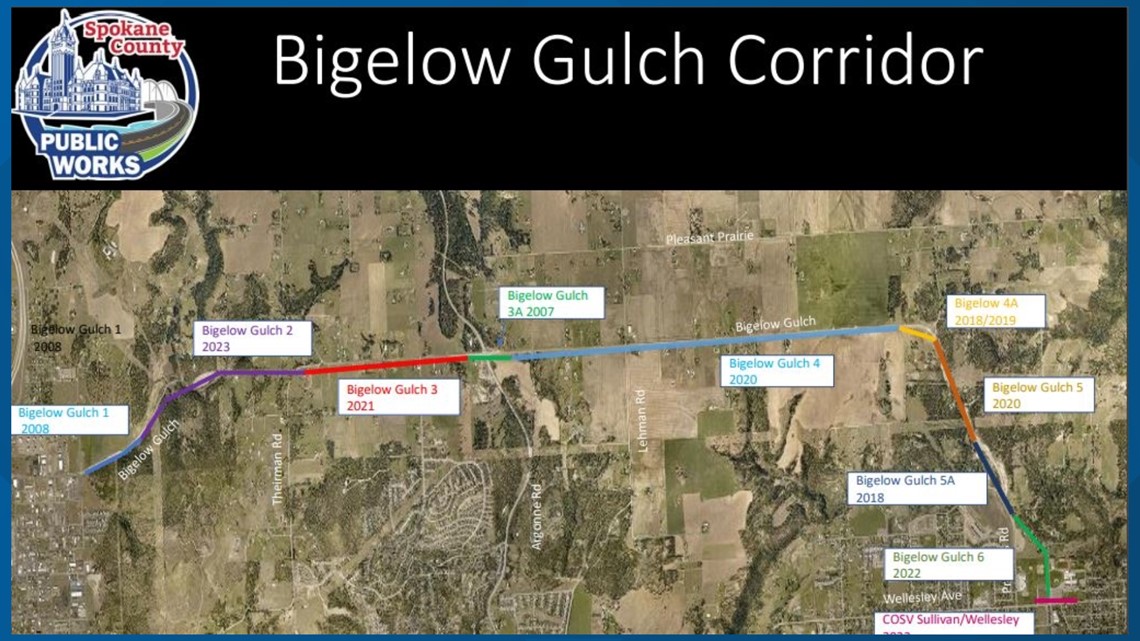 During Thursday's opening ceremony, East Valley superintendent Brian Talbott, City of Spokane Valley Mayor Pam Haley, and the board of county commissioners attended the event.
Senior Director of Public Works, Kyle Twohig, opened the ribbon-cutting and said this kind of event was special to Spokane Valley.
"It's very rare we get to open a new road," Twohig said. "Something that has never existed before. We're always rebuilding, rehabbing and maintaining our corridor to the best of our ability. But this is really something unique and something special."
DOWNLOAD THE KREM SMARTPHONE APP
HOW TO ADD THE KREM+ APP TO YOUR STREAMING DEVICE
ROKU: add the channel from the ROKU store or by searching for KREM in the Channel Store.