SEATTLE — Summertime means sunshine, warm weather, and a greater chance for algae blooms across western Washington.
Several recent blooms this year sparked regional attention.
How can you tell which blooms are harmless and which ones could be harmful? Here's the potential algae blooms that could grow in your backyard and which ones to be extra cautious about.
Green algae
Filamentous green algae is common on swimming beaches at lakes, including Lake Washington and Lake Sammamish. It can grow as filaments attached to rocks or as floating mats and can be picked up and handled.
Green algae is generally harmless but can degrade the water quality and give off a strong smell when it's decomposing, according to King County's water and land resources division. It does not produce toxins like other types of algae.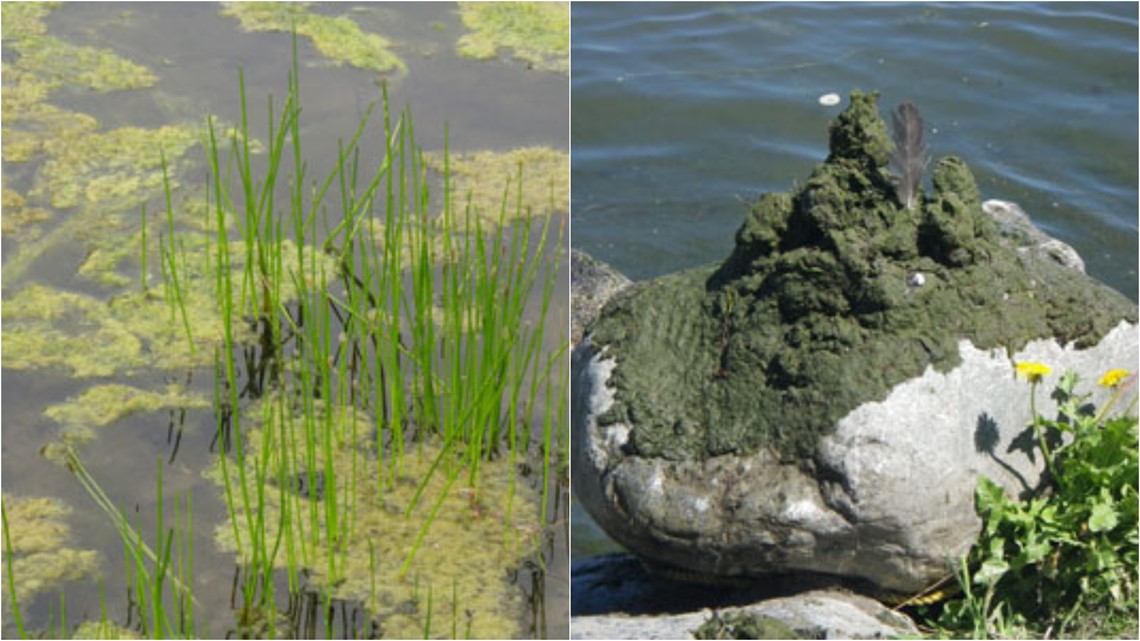 Toxic blue-green algae
Blue-green algae is closely related to bacteria and can produce toxins that can potentially be deadly to people and pets. Warm weather, sunshine, and nutrients in the water can cause the algae to quickly reproduce, developing a bloom within days.
It causes most harmful algae blooms in fresh water, according to the state Department of Health.
This algae can appear green, blue-green, or reddish-brown in color, and some blooms will form a thin, oily film on the water that could look like a paint spill.
If you touch or consume water contaminated with blue-green algae, symptoms include numb lips, tingling toes, and dizziness. Symptoms of liver toxin exposure include pain, diarrhea, and vomiting.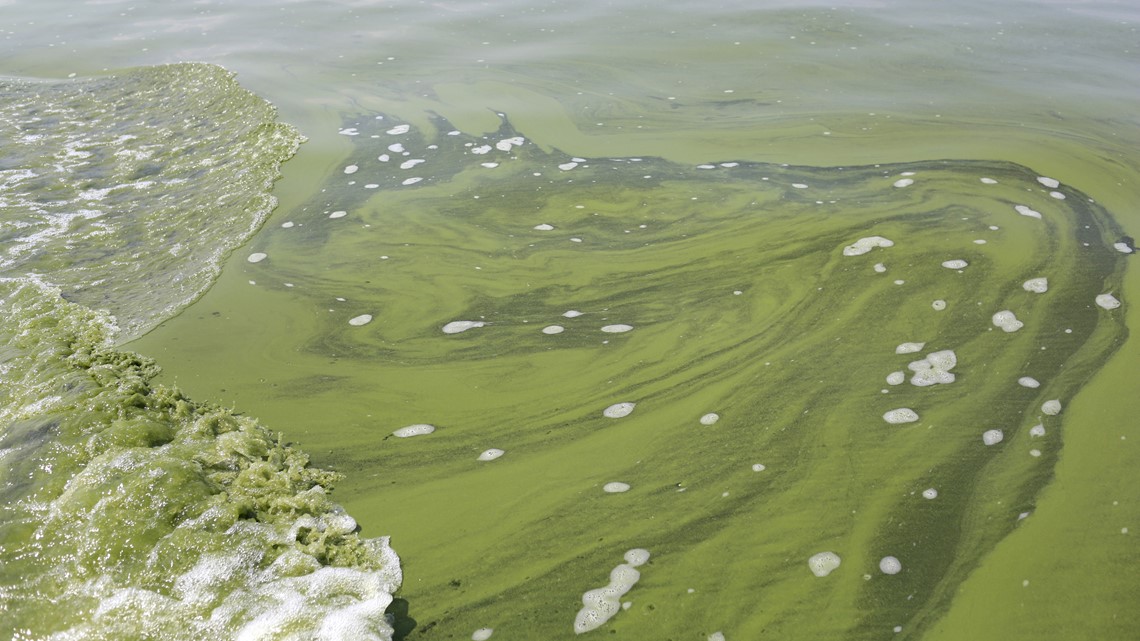 Diatoms, Dinoflagellate, and Noctiluca
The common blooms in marine waters in Washington are diatoms, which are green; dinoflagellate, which are typically red-brown; and Noctiluca, which are red-orange and can look like tomato soup, according to Carol Falkenhayn Maloy, marine monitoring supervisor with the Department of Ecology's environmental assessment program. The different colors come from pigments in different types of phytoplankton.
Just like freshwater blooms, they often occur in summer and fall when there's more nutrients flowing into marine areas.
Most blooms you may see in Puget Sound are harmless, according to Maloy.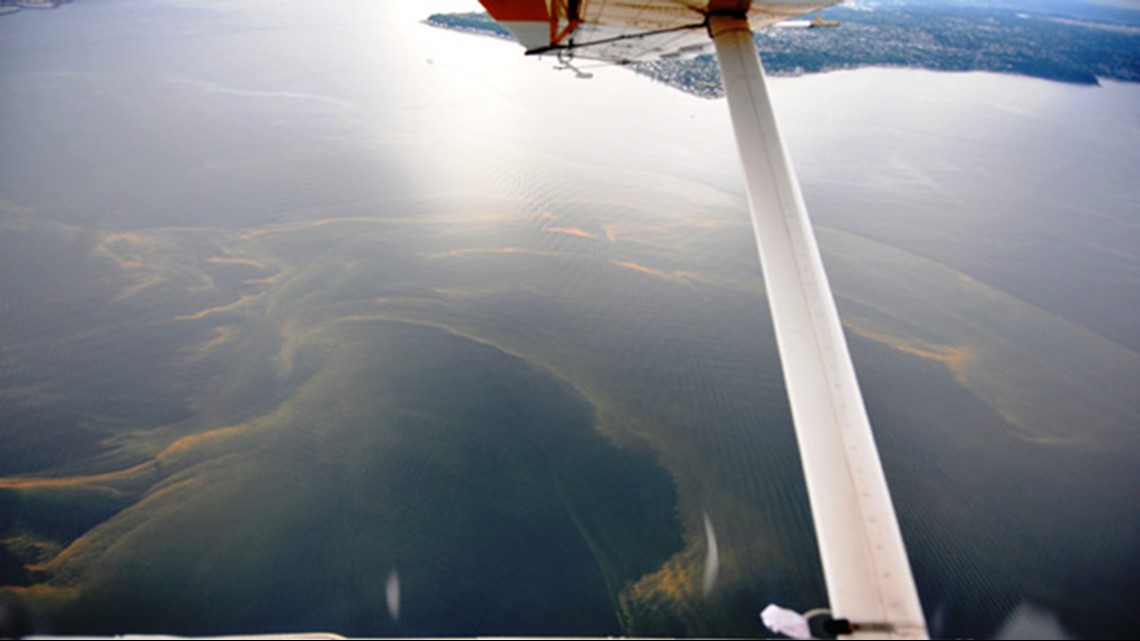 Toxic marine blooms
Harmful algae blooms in saltwater can contaminate water and shellfish, kill animals, and make humans sick. They can occur when nutrients flow into bodies of water and "overfeed" the algae, causing it to grow out of control, according to the National Oceanic and Atmospheric Administration. That can happen when the water is unusually warm and after extreme weather events.
Maloy said it's "nearly impossible" to tell if a bloom is toxic by sight as they can look similar to non-toxic blooms. While the Department of Ecology does monitor Washington's marine waters for blooms, it doesn't specifically monitor for toxic blooms.
These types of blooms can happen across Puget Sound and the Washington coast. In 2015 there a massive toxic bloom that stretched from central California to the Alaskan Peninsula.
What to do if you see a bloom
Spot a bloom in your neighborhood's lake? Washington state has a lake toxin monitoring program and the county will test a sample of the water to determine the algae species. If the sample contains algae that's known to be toxic, the lab will run a toxin analysis.
Department of Ecology officials said it may be difficult for the general public to tell right off the bat if a bloom is toxic or not, because the color may change based on decomposition, and toxins aren't always visible to the naked eye. When in doubt, stay out of the water.
"Most folks might not be able to tell the difference, so I would encourage people to use caution when they see algae," said Collen Keltz, a spokesperson for the department's water quality program.
If you live on a lake, Keltz says you can also maintain certain environmental practices to keep the water clean, such as maintaining your septic system, limiting fertilizers, and controlling runoff.
You can also check toxicity levels for Washington lakes here.