Editor's note: Above video shows Seahawks players visiting kids at Sacred Heart in Spokane in December
SPOKANE, Wash. — A Spokane girl's dreams came true when she met a Seattle Seahawk at the Northeast Youth Center on Thursday.
Dellana Hill learned to love sports and play football during her seven years attending the Northeast Youth Center, according to a Facebook post.
The center is a nonprofit organization that provides education and recreational activity for children ages 3-17.
Hill still plays football today.
On Thursday, Seahawks safety Delano Hill invited her to practice, where she met who the Seahawks called her "same name buddy" had a surprise visit with Russell Wilson.
Photos: Spokane girl meets Seahawks Russell Wilson, Delano Hill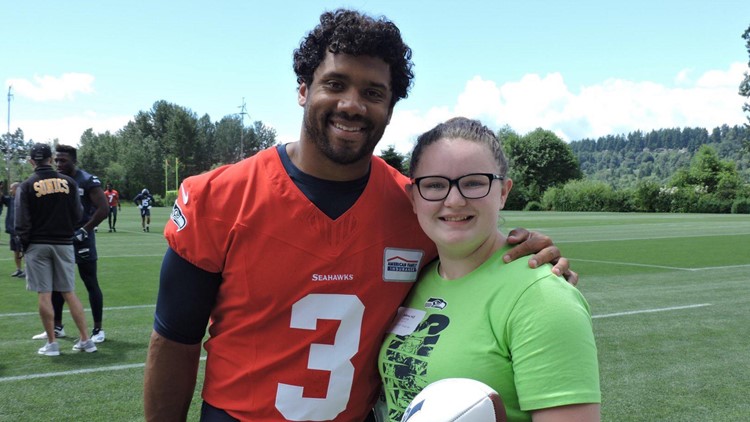 This comes as the Seattle Seahawks' annual 12 Tour kicks off on Friday, with stops around the Inland Northwest.
Seahawks players, mascots Blitz and Blue Thunder and Seahawks Dancers will make stops in Moses Lake, Yakima, Spokane and even Silverwood. The crew will also visit Fairchild Air Force Base.
Fans are invited to visit with the crew during two public stops on Saturday, June 8.
Players, mascots and dancers will be at Silverwood on Saturday from 11 a.m. to 1:45 p.m. for meet and greets, photo opportunities, giveaways and more. Guests who wear their Seahawks gear receive 12 percent off tickets at the gate.
The Seahawks did not announce which players would appear at Silverwood.
Blue Thunder and the Seahawks dancers will also make an appearance at the 28th annual Spokane Rainbow Festival from 3 to 4 p.m. on Howard Street. Fans can stop by the Seahawks booth for free giveaways.
Fans are encouraged to wear Seahawks gear and take part in the traditional 12 flag raising ceremony
In December, a trio of Seahawks visited Sacred Heart Children's Hospital to spread cheer around the holidays.
Former strong safety Kam Chancellor was joined by fellow defenders and twin brothers Shaquem and Shaquill Griffin to greet children and their families.
Seahawks players visit families at Sacred Heart in Spokane