UPDATE 6/5: Hugh Smith is drafted with the first pick in the 6th round by the Detroit Tigers.
Whitworth baseball has not had a player drafted from its program since 2001, but that streak is going to be broken when Hugh Smith, Northwest Conference pitcher of the year, hears his name called in the MLB Draft.
Where he will go? Who knows? Before he takes off to pursue his professional dreams, I was able to snag Smith and his coach CJ Perry for a catch at Merkel Field to discuss his unexpected journey to a now undeniable prospect:
EVAN CLOSKY: How fast do you usually throw as far as your fastball goes?
HUGH SMITH: I've topped out at 97-98 so far.
CLOSKY: Oh dang, so we're definitely going to steer away from the 97's in this catch! CJ, how does a guy, who is projected to be drafted in the 3rd-8th round, go under the radar by everybody during the recruitment process?
CJ PERRY: If you were to ask Hugh or anybody else in High School, he had average stuff. When you're out recruiting, the 'what if this kid doesn't pan out?' is a question you often have to ask yourself:
CLOSKY: Hugh, in high school, how tall were you?
SMITH: Sophomore year, end of sophomore year I was 5 feet 10 inches tall--six feet five inches tall my senior year.
CLOSKY: So you were a late bloomer. How tall are you now? Six feet 10 inches tall?
SMITH: The more accurate number is six feet 8 inches, six feet nine inches somewhere around there.
CLOSKY: Now fast forwarding to the beginning of June, you will, most likely, be the fifth Whitworth player ever drafted...
SMITH: It's pretty crazy. It's something I never really dreamed about especially being unknown or unnoticed out of high school. Senior year of high school, I didn't really think about baseball as an option in college. I was lucky enough to get into a couple of good schools. I was big on Washington. I then had the summer ball season, played against the Spokane Dodgers who CJ was coaching. I denied him at the gates there when he first asked me about (coming to) Whitworth, but then afterwards, I had a lot more paassion for baseball than I thought I did. I liked what it gave me. So I had second thoughts there. Having that initial chip on my shoulder and working hard every year--every offseason to get where I am today is something I really appreciate.
PHOTOS: Hugh Smith enjoys huge growth as a pitcher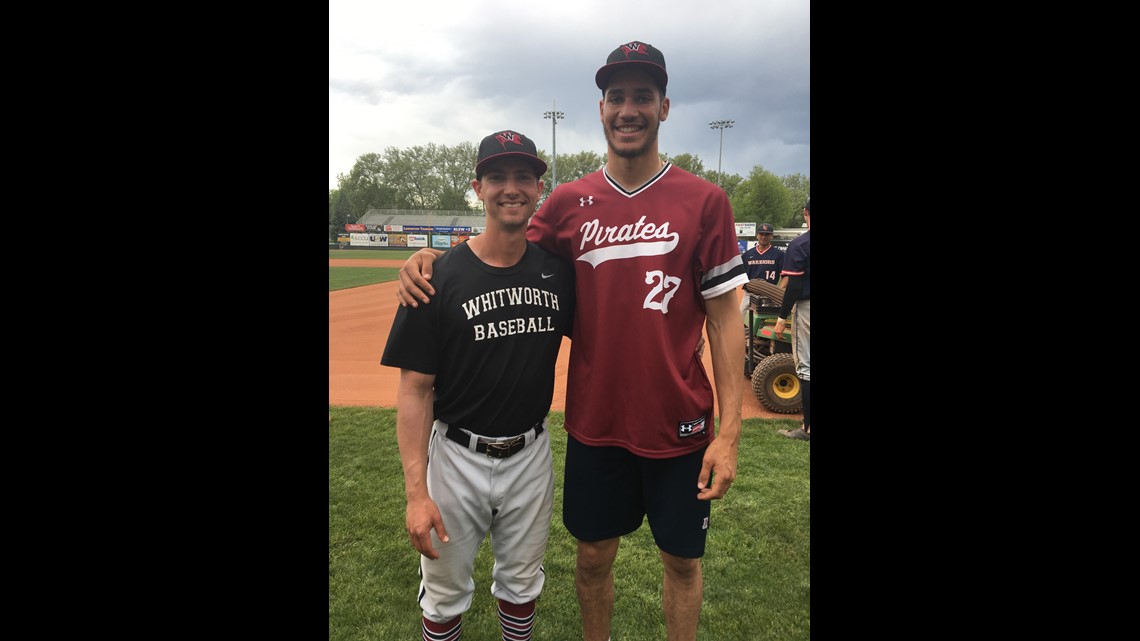 CLOSKY: How many MLB teams have you heard from?
SMITH: I've talked to all 30 teams.
CLOSKY: CJ, how rare is it to have a talent like him at Whitworth and in Spokane?
PERRY: If we see a guy like Hugh in high school we have no shot we're in consideration. I mean, that's a kid looking at a power-5 conference or looking to go in the draft. I mean I wouldn't be surprised if we never see another player like him.
CLOSKY: Hugh, your junior year you go 6-1 with a sub-2 ERA. More strikeouts than innings pitched. Was this the right track for you in retrospect for someone who had no idea what Whitworth was and whether you even wanted to come out here from the beginning?
SMITH: It's crazy to think about that it almost didn't happen. I almost went to UW. It was a really tough decision to make back in high school, but it's turned out extremely, extremely well. It's been a long road, but the destination is looking pretty good.
The draft begins Monday, June 4 and Smith is hoping to hear his name selected no later than Tuesday, which means he would be a top-10 round pick.