2023 Opening Day: What to know before attending Mariners game at T-Mobile Park
Here's your full guide for attending a Mariners home game in 2023.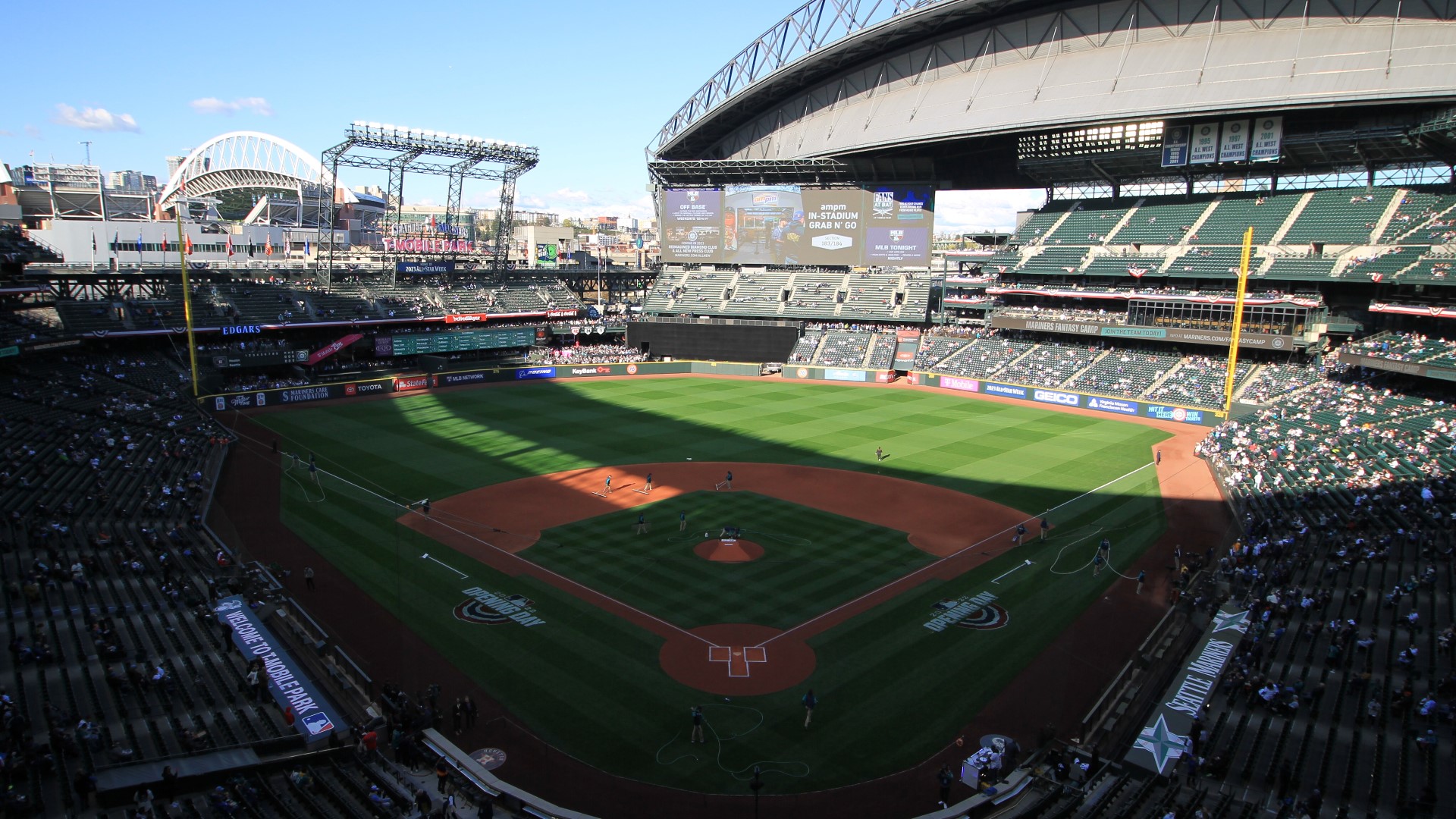 Thursday's Opening Day marks the long-awaited return of baseball to the Pacific Northwest.
The Seattle Mariners will host the Cleveland Guardians to open up the 2023 MLB season at T-Mobile Park.
From food options to parking and everything in between, here's what you need to know if you're heading to T-Mobile Park to watch the Mariners this season:
Opening Day
:
Seattle Mariners vs. Cleveland Guardians
First pitch for Opening Day at T-Mobile Park will be Thursday, March 30 at 7:10 p.m. Gates to the 'Pen will open at 5:10 p.m., while all other gates will open at 5:40 p.m.
The starting pitchers will be Luis Castillo for the Mariners and former Cy Young Award winner Shane Bieber for Cleveland. Castillo went 8-6 with a 2.99 ERA last season and signed a long-term contract extension in September 2022. Bieber was 13-8 with a 2.88 ERA and won a Gold Glove for his work in the field.
Fans looking to get an early glimpse of the team ahead of Thursday's season opener can check out the new Diamond Derby and Skills Challenge at T-Mobile Park on Wednesday, March 29. Those in attendance can see players compete in a variety of competitions, including a home run derby, fungo golf and a bunt battle.
Manager Scott Servais and some of the players will also speak about expectations for the season, and there will be concessions available as well as a live DJ, giveaways and autograph opportunities.
Getting to the ballpark
:
Transportation and parking
T-Mobile Park is located at 1250 1st Ave. S in Seattle's SODO neighborhood. Fans are advised to "plan ahead and consider all the transportation options available."
Rideshare and taxis: A taxi stand located at the northwest corner of First Avenue South and South Royal Brougham Way operates before, during and after games, according to the Mariners' website. Anyone using rideshare services – like Uber and Lyft – is encouraged to use the taxi stand location for public safety and traffic flow.
Gate and bag policy
:
What's allowed inside?
Fans are encouraged to arrive early to pass through security.
All main T-Mobile Park gates open 90 minutes before the first pitch. The T-Mobile 'Pen gate, located next to the Mariners bullpen in centerfield, opens two hours before the first pitch. Fans will only be able to access the 'Pen area of the ballpark until all other main gates open.
Clear bags no larger than 12 inches x 6 inches x 12 inches are permitted. One-gallon clear plastic zip-top bags are also allowed.
Security must be able to see inside and identify items at the bottom of the bag. Items may not be used to obscure the view of bag contents, including but not limited to non-clear bags, pouches, etc. Bags with interior contents obscured from view are not allowed.
Small clutch bags no larger than 4.5 inches x 6.5 inches are permitted.
Backpacks, multi-compartment bags, duffle bags and purses larger than 4.5 inches x 6.5 inches are not permitted. Exceptions will be made for medically necessary items or single-compartment diaper bags (child must be present).
Outside food and drink
Outside food is permitted in single-serving sizes. Sealed, clear plastic water bottles up to 32 ounces, baby bottles, beverages related to medical needs, and unopened, soft-sided single-serve containers like juice boxes are permitted. Soda, coffee or other beverages are not allowed. Guests may also bring in one empty plastic reusable bottle 32 ounces or smaller.
New food options
:
What should I eat?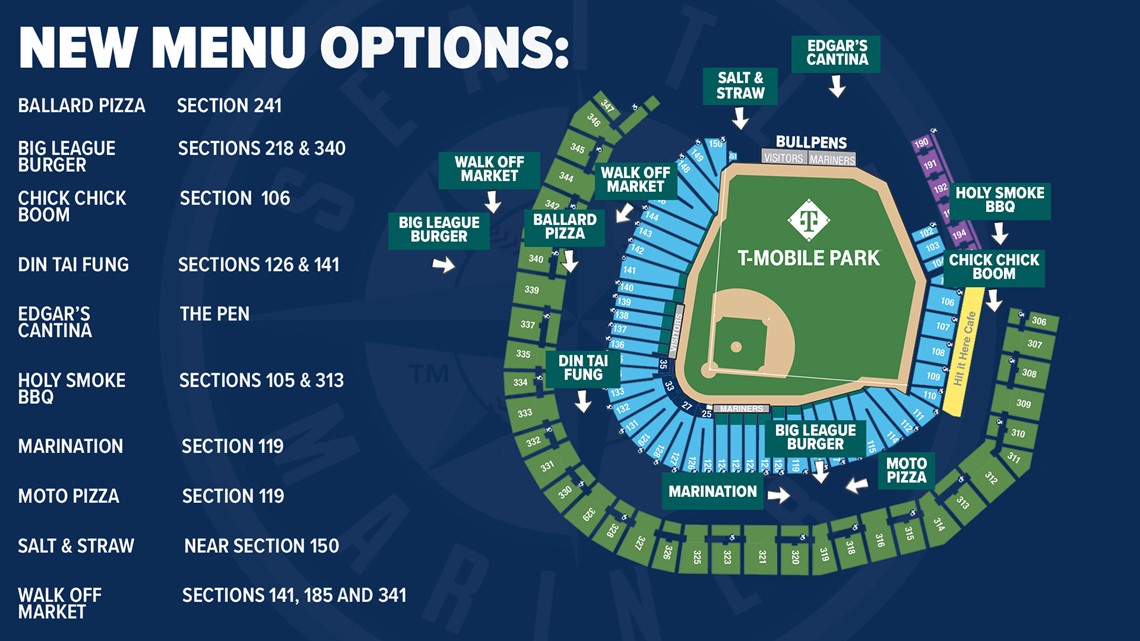 T-Mobile Park is cashless, as only credit, debit or mobile pay options like Apple Pay or Google Pay are accepted.
Eight kiosks are located around the ballpark to convert cash to pre-paid debit cards. The kiosks are free to use and cards can be loaded with any amount up to $500. Debit cards never expire and can be used at any business that accepts credit or debit cards, including those outside T-Mobile Park. For guest convenience, eight Cash to Card kiosks are located near the following sections: Section 116, 144, 226, 331, The 'Pen, and the Team Store.
Popular West Seattle deep-dish pizza joint MOTO created a special rectangular-shaped pie, which is only available at the ballpark. Grabbing an order at a game is easier than dining at the restaurant, which has a month-long waiting list.
Returning vendor Marination has a new option for its popular luau plate: sweet ginger miso chicken. Din Tai Fung also expands to two locations and a new menu item.
The stadium's spicy chicken sandwich has also been updated with a "Mind Blown Sauce." For Mexican food options, Edgar's Cantina has some new items including crispy fish taquitos and quesadillas.
The popular value menu will continue, giving fans pricing options. Healthy choices like hummus and carrots and ranch will also be available.
There will also be a return of the value beer menu, with 12 varieties available at various locations priced at $5 and $6 for 12-ounce cans.
An interactive map with locations of every food and drink vendor inside T-Mobile Park can be found on the Ballpark App, which can be downloaded from either the App Store on iPhone or Google Play.
Players to watch
:
2023 roster
Plenty of familiar faces return to the lineup for the Mariners this season, although fans can expect a few newcomers to provide valuable contributions in 2023.
Julio Rodriguez, of course, is now the unquestioned face of the franchise in center field. After winning Rookie of the Year in 2022, J-Rod has his eyes on a potential MVP campaign.
Teoscar Hernandez is likely to be the most successful new position player for the Mariners after coming over in a trade from the Toronto Blue Jays during the offseason. Hernandez is projected to hit 30 home runs in 2023 according to FanGraphs.
Luis Castillo and Robbie Ray form one of the league's strongest 1-2 punches in the starting rotation, but the first full MLB season for former top prospect George Kirby will be the most intriguing storyline of the '23 season.
Kirby put together a strong rookie year after debuting in May and punctuated his resume with a postseason save against the Blue Jays and a dominant seven-scoreless inning performance against the eventual World Series champion Houston Astros in the playoffs.
See the full Opening Day roster here.
Other FAQs
:
Below are a few frequently asked questions and other information about T-Mobile Park:
Photography and video are allowed inside T-Mobile Park if the images are for personal use only. "Videotaping any game action is prohibited," the M's website states. Cameras smaller than 6 inches with the lens fully extended are allowed.
Items that could interfere with "the enjoyment of the game for others" like tripods, detachable telephoto lenses and selfie sticks are not allowed. Video cameras, monopods and extendable gimbals are also prohibited.
Coolers are not permitted inside the T-Mobile Park. Chairs or bleacher seat backs containing metal are also not allowed.
T-Mobile Park is a one-of-a-kind retractable roof that is designed to cover but not fully enclose the ballpark. While the retractable roof preserves an open-air environment while protecting fans from possible rain, visitors should dress appropriately and plan for possible chilly nights during the season. Click here to check the forecast.
Smoking is not allowed inside T-Mobile Park or within 25 feet of entrances, windows and vent intakes. This includes cannabis, chewing tobacco and electronic cigarettes.
All-gender restrooms are located in Sections 105, 120, 234, 319, 327 and 333.
Anyone who misplaces an item or becomes separated from their party should go to a Guest Service Center. Visitors can call (206) 346-4000 after a game for help with a lost item. Items will be kept for a month before being donated to charity.