In April, several VERIFY viewers, including Rachel and Hannah, said they received a notification on Facebook that claimed they may be entitled to payment from the settlement of a data privacy lawsuit.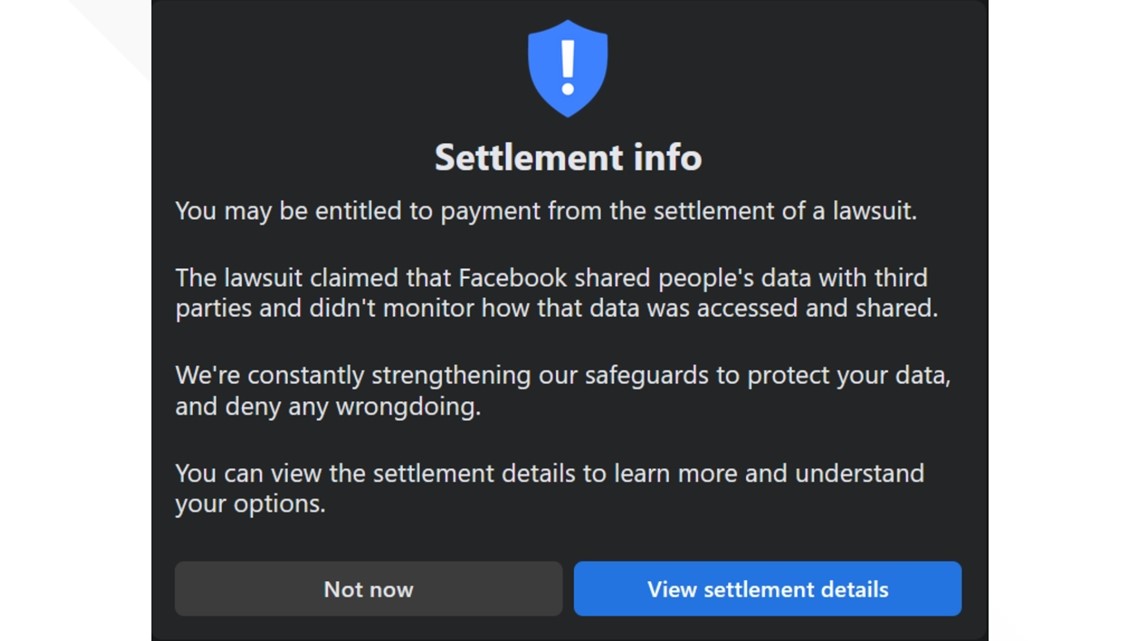 THE QUESTION
Is the Facebook user data privacy class-action settlement real?
THE SOURCES
THE ANSWER
Yes, the Facebook user data privacy class-action settlement is real.
WHAT WE FOUND
According to the settlement website, a group of current and former Facebook users filed numerous lawsuits against Facebook, now known as Meta Platforms, Inc. or Meta, claiming the company shared private user data with data mining firm Cambridge Analytica and other third parties without their permission. They also claim Facebook did not sufficiently monitor and enforce its rules on third parties who had access to user data.
In 2018, Facebook said that Cambridge Analytica gathered details on as many as 87 million Facebook users. That data is alleged to have been used to manipulate the 2016 presidential election.
Meta, which denies any liability or wrongdoing, agreed in December 2022 to pay $725 million to resolve these claims outside of court. On March 29, U.S. District Judge Vince Chhabria of the Northern District of California preliminarily approved the settlement.
If you used Facebook between May 24, 2007, and Dec. 22, 2022, you may be eligible to receive a cash payment from the settlement associated with the class-action lawsuit. If you are eligible, you can submit a claim form online or print and mail a completed form to the settlement administrator. The deadline to submit a claim form is Aug. 25, 2023. Find out more information at facebookuserprivacysettlement.com.
It is unclear at this time how much money each claimant will receive from the settlement. According to the settlement website, the final payment amount will depend on how many eligible individuals submit valid claims and how long each person used Facebook between May 24, 2007, and Dec. 22, 2022.
Settlement payments will be distributed after the court grants final approval of the settlement and after any appeals are resolved. A final approval hearing for the settlement of this case has been scheduled for Sept. 7, 2023.
The Associated Press contributed to this report.