PIERCE COUNTY, Wash. – The Pierce County Sheriff's Department is investigating an officer-involved shooting at 252nd Street E. and Mountain Highway E. in the Elk Plain Area.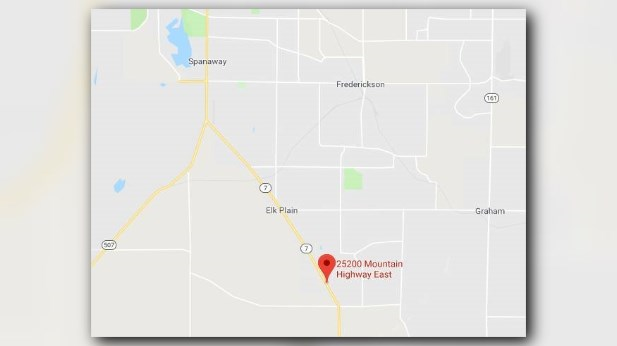 On Friday around 9:30 p.m., a woman called 911 to report a male friend's mental breakdown in the middle of the road. During the call, the dispatcher suddenly heard screaming and was unable to speak to the caller, officials said.
The caller eventually got back on the phone and told the dispatcher her friend had a knife. She said, "Let go of me now! Stop it!"
Officials said she then told the dispatcher her friend was headed eastbound on 252nd Street on foot.
As deputies were en route, a second person called 911 to report a suspect matching the man's description who had attempted to enter his vehicle, officials said.
The first 911 caller was still on the phone with dispatchers and reported that her friend was trying to "jump into other people's vehicles." Officials said the caller reported that the suspect was attempting to enter her vehicle as the first deputy arrived on scene.
Officials said a deputy radioed in shots fired moments later. The suspect reportedly refused multiple commands from the deputy at gunpoint and entered his patrol vehicle, at which point the deputy fired at the suspect.
The suspect, a 28-year-old male believed to be from Spanaway, Washington, died at the scene, officials said. The deputies was uninjured.
Detectives are investigating the incident.