COEUR D'ALENE, Idaho — A Florida man has walked thousands of miles since Feb. 1. By the Fourth of July, he will end his journey at approximately 2,650 miles in Coeur d'Alene, Idaho.
After Ken Brock ended his nine-and-a-half-year career as a military police investigator, he suffered from severe PTSD. His psychiatrist at the Department of Veterans Affairs eventually encouraged him to get a service dog, who he affectionately calls Pam.
"She [Pam] got me out of the house and basically back into society. When I got her I was over 300 pounds. …After I got her and got motivated again, I decided to do something to give back," Brock said.
Now, Brock and Pam are walking across the country to spread awareness and raise money for the Wounded Warrior Project, a nonprofit providing services for wounded post-9/11 service members and their families. Brock's fundraiser on the Wounded Warrior Project website has raised more than $7,500.
As of June 18, Brock is walking through Superior, Montana. He hopes to arrive in Coeur d'Alene by July 3 and is set to participate in the city's Fourth of July Parade, waving both a U.S. and Wounded Warrior Project Flag as he walks.
He said he chose Coeur d'Alene as his stopping point because his son Arek Brock – who serves as a Patrol Deputy – with the Kootenai County Sheriff's Office, daughter and six grandkids live in the area.
"I figured I'd pick a place that when I get there I could have lots of love and hugs," he said.
RELATED: Family honors late veteran for Memorial Day
RELATED: Every day, strangers pay for Post Falls veteran's breakfast: 'They're appreciative of my service'
Brock and Pam walk an average of 20 to 25 miles a day but have been putting in about 35 lately. The strenuous exercise has helped Brock both mentally and physically, as he has lost about 60 pounds since he began the journey.
"I could barely walk to the mailbox and back before I started," Brock added.
He said the walk has also helped him cope with his PTSD, though he still has nightmares sometimes.
"It's been a diversion. I still have nightmares and stuff. My dog wakes me up when I have them. Once this walk is over with, reality is going to set in," he said.
Photos: Ken Brock's journey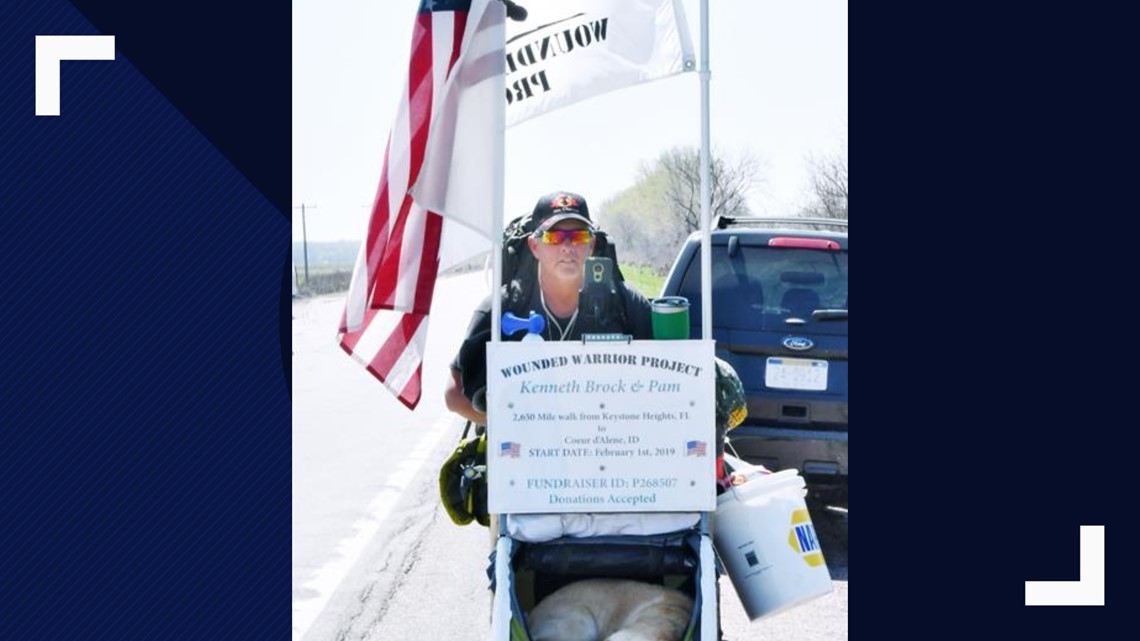 During his time as a military police investigator, Brock assisted with undercover drug and child sex crime investigations in both Germany and San Antonio, Texas.
Though the walk has been rewarding, Brock has experienced some setbacks. When KREM asked him what the most challenging part of the journey was, he said, "It's gotta be the mountains of Montana – and I'm getting to go through more."
But the people he has met along the way have made the hardships worthwhile, he said.
Brock said he has spoken with children who were overwhelmed with joy and gratitude about his projects, and a man diagnosed with ALS raising awareness for the disease. Recounting those stories nearly brought Brock to tears when he spoke with KREM.
After his walk, Brock said he will continue to raise awareness and funds for Wounded Warrior Project.
"I'll be their cheerleader, per se. I've been through the main headquarters in Jacksonville, Florida, and met everybody, and they're all phenomenal people," he added.
Those who would like to support Brock and Pam's journey through a monetary donation can do so through a GoFundMe created by Brock.
RELATED: Chewelah man recovers lost flag of late veteran grandfather