MEDICAL LAKE, Wash. — Cadets from the Eastern Washington University Reserve Officer Training Corps (ROTC) battalion planted flags at the Washington State Veterans Cemetery in Medical Lake over Memorial Day weekend.
Seven cadets placed the flags at all of the headstones and saluted each one, according to the EWU website.
"Our EWU ROTC cadets once again demonstrated the real meaning of Memorial Day by supporting the Washington State Veterans Cemetery with preparing for their Memorial Day Ceremony," EWU ROTC wrote on Twitter.
"Please take time today to remember those who gave their lives for our freedom. Thank you to EWU Army ROTC for honoring the fallen this weekend," EWU added.
EWU ROTC says the volunteer initiative is part of the battalion's longstanding support for the cemetery.
PHOTOS: ROTC cadets plant flags for fallen vets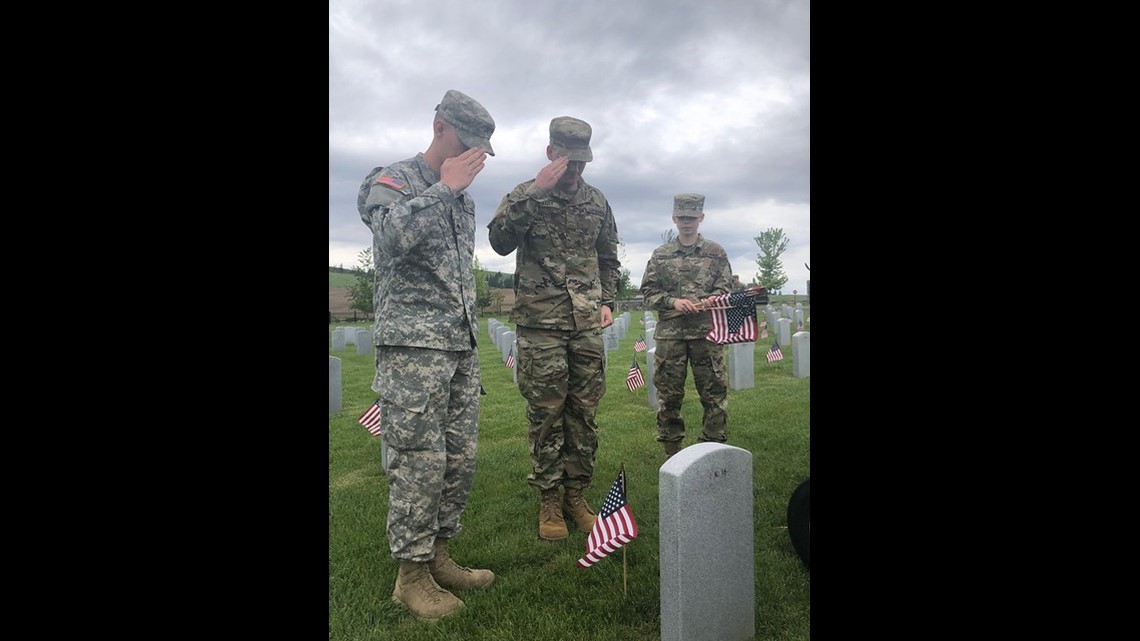 The Memorial Day 2019 Ceremony at the cemetery began with music at 10:30 a.m. on Monday and will be followed by the official ceremony at 11 a.m.
SEE MORE: Memorial Day events, ceremonies in Spokane area honor our fallen heroes
On Wednesday, EWU hosted multiple Memorial Day events.
The Veterans Resource Center hosted a display with plaques honoring nine EWU alumni killed in action during the Vietnam War.
At noon, the ROTC program held a Fallen Soldier Memorial to honor 10 former cadets who lost their lives defending their country. Ten blank cannon rounds were fired from the hill above Roos Field to honor those fallen soldiers.
On Monday, several groups joined together to place frags in the grass across campus to honor the 156 Washington state service members killed in action since 9/11. They will remain there through next week.
RELATED: Spokane man holds American flag at Division and Sharp on Memorial Day
RELATED: Chewelah man recovers lost flag of late veteran grandfather