SANTA CLARITA, Calif. — Two students were killed and three others wounded in a shooting Thursday morning at a high school in Southern California near Los Angeles. Authorities say a student, on the morning of his 16th birthday, had pulled a gun out of his backpack and opened fire in the campus quad at Saugus High School in Santa Clarita, shooting the five classmates before turning the weapon on himself.
Authorities said at an afternoon news conference that the gunman is in custody at a hospital in critical condition after shooting himself in the head. They said security video showed that the last thing he did was shoot himself with the final bullet in the .45-caliber handgun, which was recovered at the scene.
The shooting happened around 7:30 a.m. Pacific time in the suburban city about 40 miles north of Los Angeles.
The two students killed in the shooting were a 16-year-old girl and a 14-year-old boy who died at a hospital. Those injured included a 14-year-old boy, a 14-year-old girl and a 15-year- old girl.
Throughout the day, there had been conflicting reports about the number of victims, and even whether the shooter himself was dead or alive.
The Los Angeles County Sheriff's Department tweeted confirmation that two students were killed, saying in the Twitter post the community "has suffered so much already this morning... please do not provide information that has not been verified."
Sheriff Alex Villanueva said the shooter was a student but did not identify him. Villanueva said the gunman remained at Henry Mayo Newhall Hospital in Santa Clarita, and that security around the facility would have to be increased with the information now being public.
Investigators searched the gunman's home to make sure there were no additional victims. The sheriff later said that the teenager's mother and girlfriend were being interviewed.
According to investigators, a post on what is believed to be his Instagram account said, "Saugus, have fun at school tomorrow."
That post was later removed -- the account was active after the shooting and as the gunman was hospitalized -- according to investigators, leading them to believe someone else other than the gunman has access.
Investigators do not know if the shooter gave someone his Instagram account password or if the account had been hacked.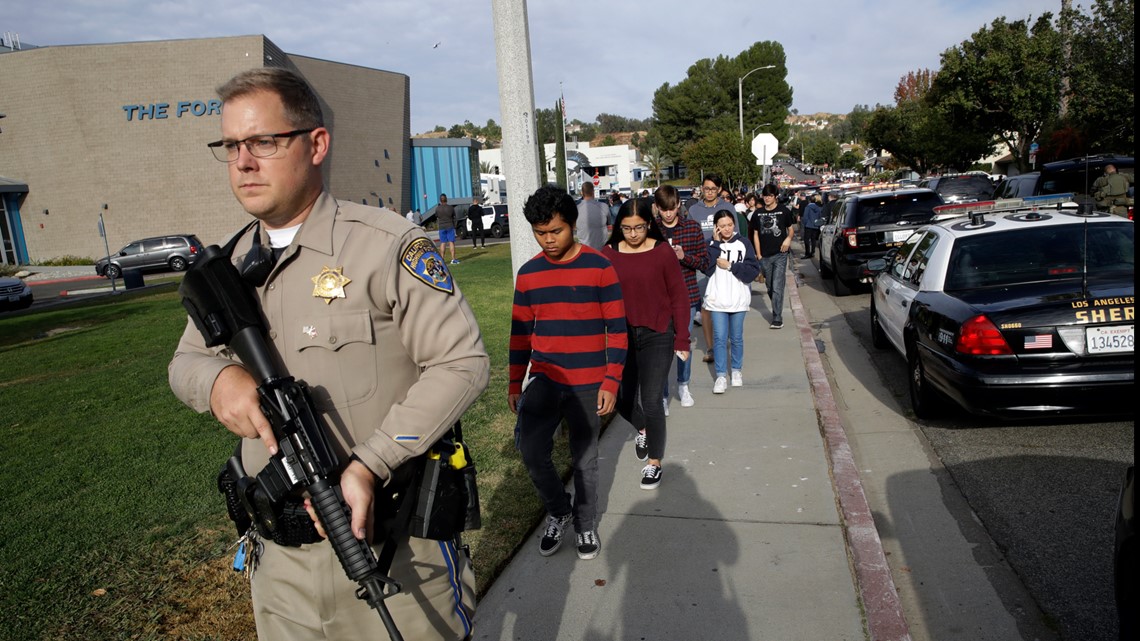 KFMB says neighbors told reporters the family was mostly quiet, noting that the teen's father had died two years ago, possibly from a heart attack.
According to Villanueva, off-duty officers whose children went to Saugus High School were the first on-scene, and provided first aid to the victims.
One off-duty officer had just dropped off a family member when he saw children running from the gunfire. He then turned around and arrived within seconds. When the two other off-duty personnel arrived, they began to provide first aid, potentially saving several students' lives.
"With a heavy heart, we're going to move forward with the investigation, figure out what went wrong," the sheriff said.
"I hate to have Saugus be added to the names of Columbine, Parkland, Sandy Hook, but it's a reality that affects us all throughout the nation, something we're going to have to deal with," he said. "... We've got to figure out what are we doing wrong and how can we stop this from happening in the future, so we'll figure that out over time."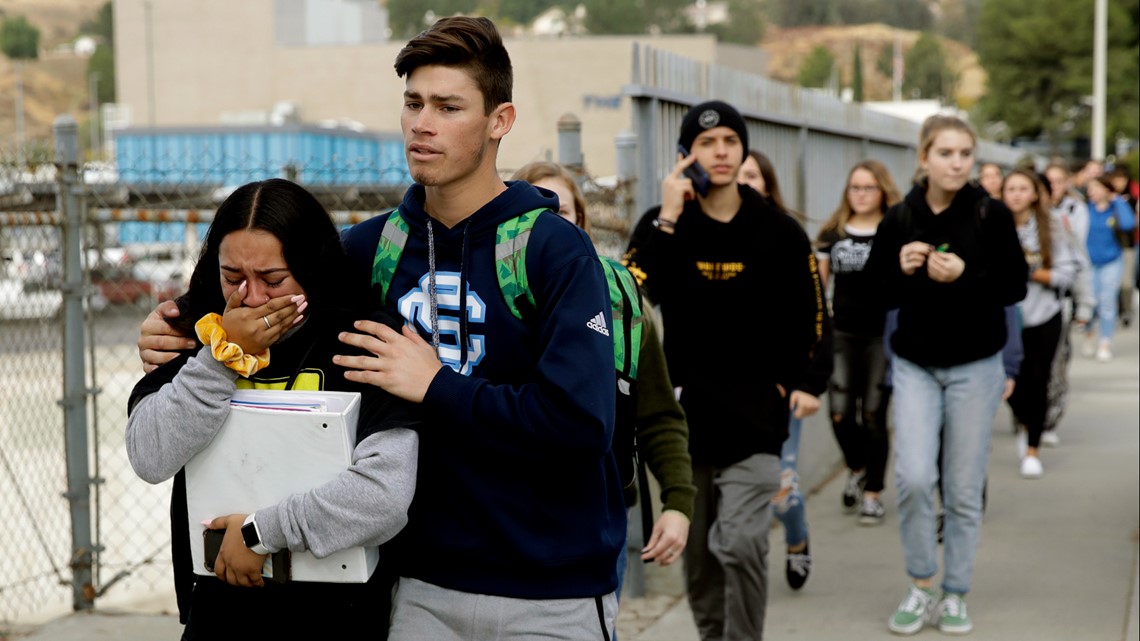 Investigators are working to determine if the shooting had a motive, and the FBI says there's no reason to believe the gunman was acting on behalf of a group or ideology, or that there were any conspirators.
President Trump tweeted saying that, "We send our deepest condolences to the families and friends of those tragically lost, and we pray for the speedy recovery of the wounded."
Emergency crews had arrived at the scene of the shooting within two minutes of the first 911 call, and found six students suffering from gunshot wounds. They were all rushed to local hospitals, and one of those six was later identified as the gunman.
Shauna Orandi, 16, told The Associated Press that she was in her Spanish class doing homework when she heard four gunshots that she initially mistook as instruments from a band class. She said a student burst into the room saying he'd seen the gunman, and her classmates were stunned into silence.
"My worst nightmare actually came true," she said later as she left a nearby park with her father. "This is it. I'm gonna die."
Freshman Rosie Rodriguez told AP that she was walking up the library stairs when she heard noises that "sounded like balloons" popping. She realized they were gunshots when she saw other students running.
Still carrying a backpack laden with books, she ran across the street to a home, where a person she didn't know gave shelter to her and about 10 other students.
"I just heard a lot of kids crying. We were scared," Rodriguez said.
On a normal day, she said, Saugus High School felt very safe.
"We never really thought this would happen in our school," she said.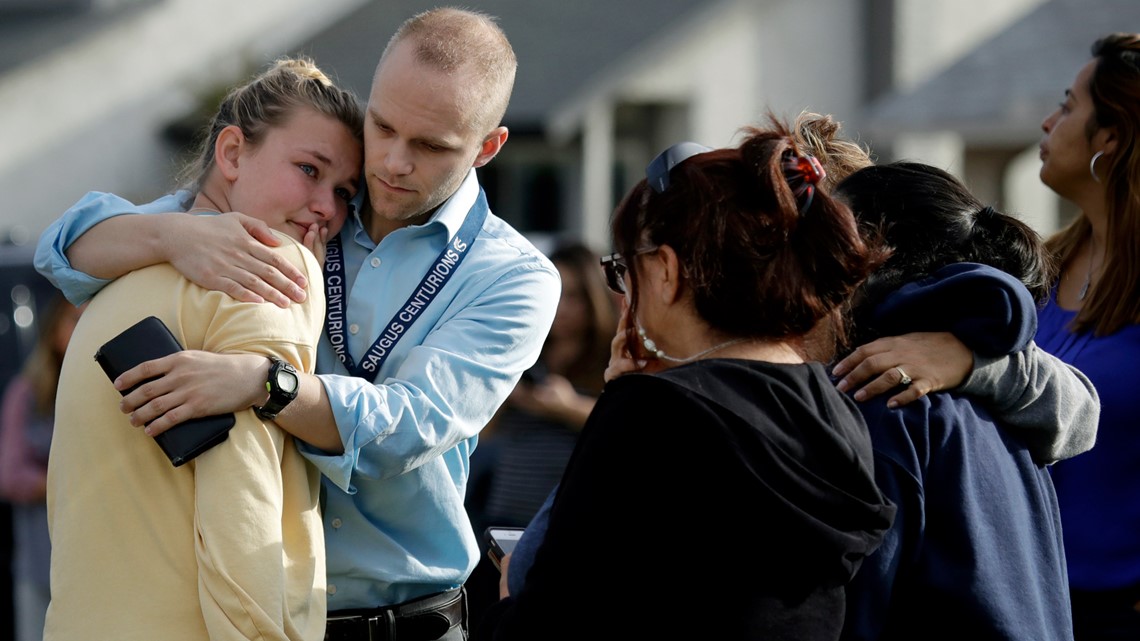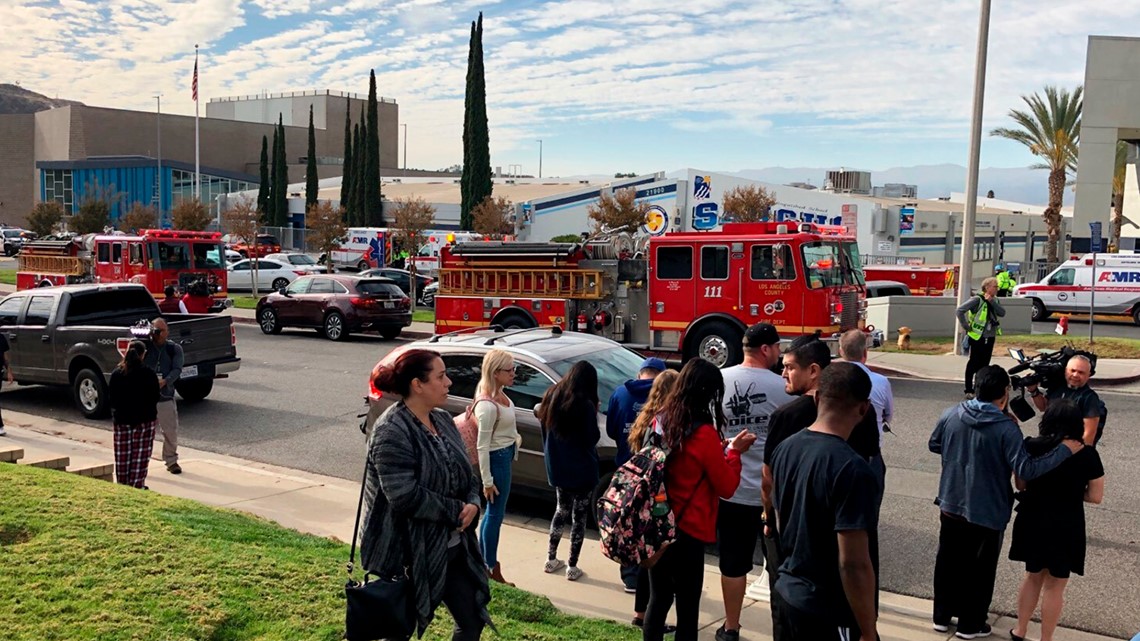 Aerial footage from NBC LA (KNBC-TV) showed firetrucks and dozens of other emergency vehicles at the scene in Santa Clarita, and three people could also be seen being loaded into ambulances on stretchers.
Saugus High and other schools in the area had been locked down.
The sheriff's department's Santa Clarita Valley Station had tweeted that anywhere near the high school should lock their doors and stay inside.