NESPELEM, Wash. — Firefighters and air crews have taken control of a fire that is burning just two miles west of Nespelem, Wash. at State Route 155 and along the Columbia River Road.
As of Wednesday, July 29, the Greenhouse Fire was down to 5,146 acres with 74% containment, according to the Northwest Incident Management Team 6.
On Sunday afternoon, all Level 2 evacuations were downgraded to Level 1 for the surrounding area, officials said.
A Level 1 evacuation means that people should be aware risks exist and should start to prepare to leave.
Fire officials said the fire started Thursday, July, 23 with more than 100 acres burned and grew to 5,400 acres Friday with 30% contained
Level 3 evacuations were previously issued Thursday night due to the fire, which was burning around 1,200 acres at that time.
A Level 3 evacuation order means that people need to leave due to imminent and life-threatening danger.
Fire crews said they took control of the fire at 6:00 a.m. on Saturday morning.
The evacuation was issued for the Nespelem School, Colville Tribal Corrections Facility, Tribal Archives and Records, the Tribal Transfer Station and several homes near the fire, according to The tribe's DNR.
The Colville Tribal Recycling Facility was burned, according to the release.
The fire is located east of Columbia River Road and it has since jumped Schoolhouse Loop Road west of Nespelem, according to the Confederated Tribes of the Colville Indian Reservation.
Thirty-seven inmates at the Tribal Corrections Facility were evacuated to a local facility, and the Corrections Command Center was closed due to heavy smoke but will reopen Friday, the Confederated Tribes of the Colville Indian Reservation said.
The fire is burning tall and dry grasses along with sage and bitter brush, according to a press release. Steep slopes and winds caused the fire to grow.
Air crews have been dropping water and retardant to protect Nespelem, building and cultural sites, according to the release. Firefighters built a dozer line along the north perimeter of the fire.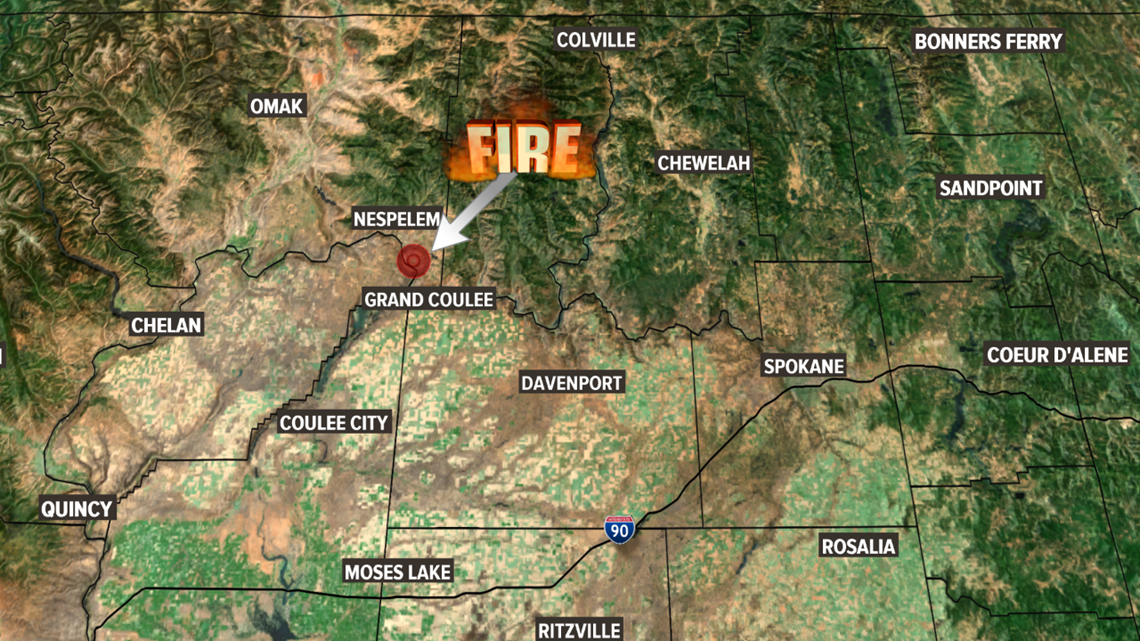 Schoolhouse Loop Rd. and Columbia River Road remains closed from Omak to Colville Indian Agency, Nespelem due to the fire. State Route 155 remains open, according to fire officials. Fire crews asks everyone to be safe and drive with caution.