The fire grew an additional 110 acres in size and, as of Wednesday morning, is nearly 800 acres. According to Northeast Washington Interagency Incident Management Team, crews were able to contain the portion of the fire that escaped the containment lines this afternoon through a combination of aerial support.
According to the Stevens County Sheriff's Office, Level 2 evacuations have been put in place because of the movement of the fire. Level 2 evacuations mean to be ready to leave.
Level 3 evacuations are in place for Orin-Rice/Goddard Rd. intersection to unnamed road east of Scattergun Road and the intersection of Goddard Rd./Pleasant Valley to unnamed road east of Chamberlain Rd.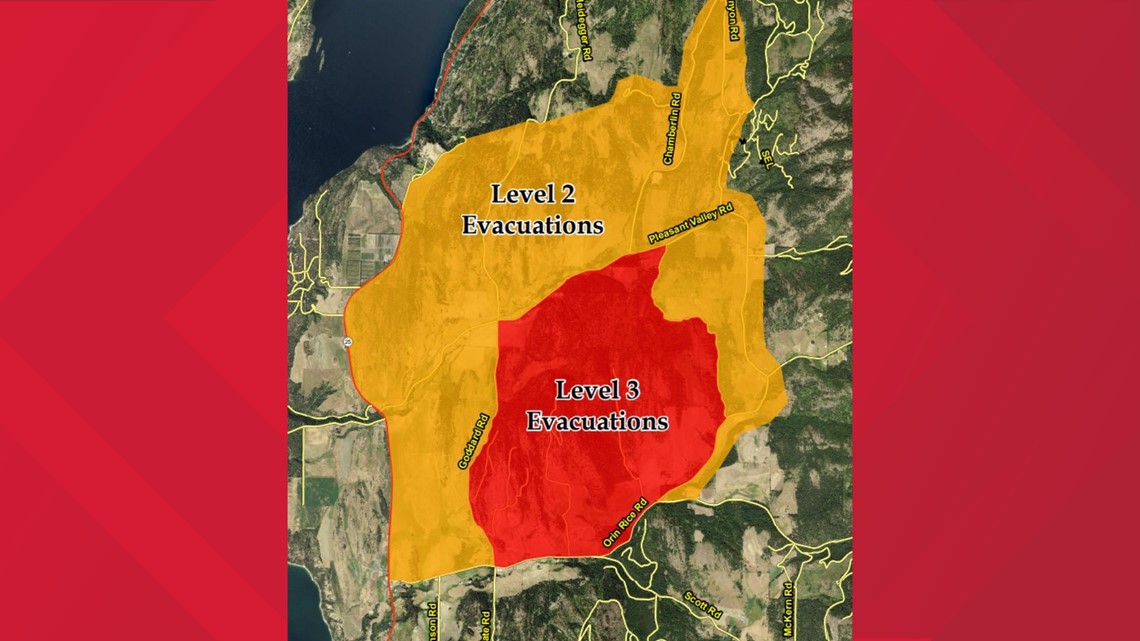 According to Stevens County Emergency Management, 22 homes are threatened and one structure has been lost.
Aerial support (helicopters, fire bosses, and a heavy with retardant), dozers and hand crews are on site and are working on slowing the spread of the fire.
DNR is on scene working to put the fire out with aircraft and ground crews.
They've requested a Type 3 Incident Management Team, which helps firefighters gather more resources to help fight the fire.
As of 6 a.m. July 17, crews will be using Kettle Falls High School as an Incident Command Center.
Red Flag Warnings are in effect through 10 p.m. Wednesday for all of central and eastern Washington as well as North Idaho. Critical fire danger through this time frame comes in a dual threat, consisting of both the usually dry and windy conditions and the chance for dry lightning strikes Wednesday morning.
Since Monday, the area of the Red Flag Warning has expand to include nearly all of the Inland Northwest. Areas in eastern Washington and North Idaho are more at risk of the thunderstorms, while central Washington will experience the dry and windy conditions.
Starting with the dry lightning, another chance for isolated showers and storms with lightning strikes are expected to occur between the hours of 1 a.m. and 9 a.m. Wednesday. This is very similar to Tuesday morning when a few lightning strikes occurred between 7:30 and 8 a.m. just west of Spokane.