SPOKANE, Wash. — Candidates for Spokane City Council are beginning to announce their runs for office ahead of the November 2, 2021 election.
So far, nine candidates have entered the race. Here's what we know about each of them.
District 1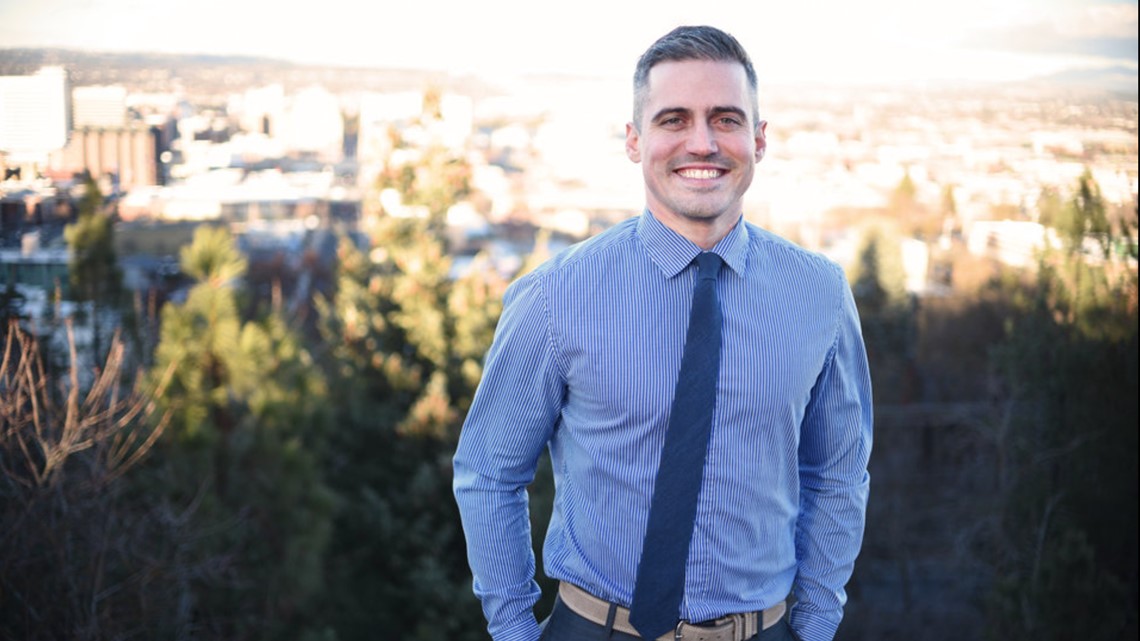 On Feb. 11, Jonathan Bingle, who ran for Spokane mayor in 2019, announced his candidacy to fill the District 1 position that Councilmember Kate Burke will leave vacant. Bingle was endorsed by District 1 City Councilmember Michael Cathcart.
"My priorities are to grow Northeast Spokane and protect its economic future as we continue to grow as a city" Bingle said. "I will give our law enforcement officers the support and funding they need to keep our neighborhoods safe, while also working to find sensible solutions to the homelessness crisis in Spokane."
Bingle is a lifelong resident of northeast Spokane who graduated from Rogers High School and studied at Spokane Falls Community College. He has owned a small business in Spokane for 11 years, and has a wife and nine-month-old son, according to a press release.
In his endorsement, Cathcart said in part that Bingle's "energy, resolve, and work ethic will provide a distinct advantage for the citizens we represent in Northeast Spokane."
Burke announced in a Facebook post that she would not run for a second term just before Bingle announced his candidacy.
"After careful deliberation, I have decided to not seek re-election. I am grateful for the opportunity to serve during this pivotal time in our city's history and firmly believe our work has positively contributed to a brighter future. I am also confident that I can most effectively contribute to this work by making space for others," Burke wrote in part.
Mumm is currently serving her second term, making her ineligible to run again. Spokane City Councilmember terms are four years long and members are only allowed to serve two terms.

Luc Jasmin II announced his run for city council in a press release on Wednesday, March 10.
In the press release, Jasmin said he is running because his experience as a business owner and an early educator motivated him to work to improve the lives of residents.
"Right now, our community is hurting. I believe my proven track record of building collaborations and finding real solutions demonstrates that I can and will help our community heal," Jasmin said in a release.
According to his campaign website, Jasmin is the co-owner of Parkview Early Learning Center, the president of the Washington Child Care Centers Association and co-executive director of GLOW Children Early Learning Center.
Jasmin said on his website that he plans to support music and financial literacy programs for BiPOC (Black, Indigenous and People of Color) community in Spokane. He also plans to support ways to provide affordable childcare to all families.
"If we listen to one another and work collaboratively to find win-win solutions, then nothing is impossible," Jasmin said in a release. "Dedication, collaboration, and true leadership will get things done."

On March 3, Naghmana Sherazi announced her run for City Council in District 1.
Sherazi has led initiatives on many issues. She currently serves on several boards including Peace and Justice Action League of Spokane, Greater Spokane Progress, Refugee Connections of Spokane and Asian Pacific Islander Coalition.
She has a Master's degree in English and multiple degrees in the sciences and now works at a local university in the office of Diversity, Equity, and Inclusion.
Sherazi issued the following statement with her campaign announcement:
The pandemic has changed our lives forever. We are struggling with every aspect of our existence – from the trauma of over 500,000 lives lost, social isolation, rise in domestic violence, and debilitating economical loss – the pandemic has impacted not only ourselves, but our communities.
People in District 1 are hurting. They are struggling to pay rent and utility bills, and to put food on their tables. Small businesses are working extremely hard to stay afloat. The community has limited access to healthcare and vaccines. The quality of life for the people in this district must be improved. They need a leader who not only knows their struggles on a personal level, but is willing to sit down and figure out solutions on their behalf. I will be that voice for them. I will be the voice for those who are often forgotten and left behind. I will be the voice for District 1.
As a single mother and woman of color, I have experienced many of the challenges that the District 1 community faces, and I know just how important it is to ensure that everyone has a chance to thrive in our City. As a renter, I know the struggles families face in finding safe and affordable housing, which is why one of my top priorities will be addressing the housing crisis. COVID-19 has inadvertently shined a bright light on the struggles of working families in Northeast Spokane, and I am running to amplify the voices of my neighbors and small businesses, and fight inside City Hall for families like mine.
District 2

Tyler LeMasters announced his run for city council in early 2021.
He's running for the District 2 seat which includes the South Hill, East Central and downtown. The position is currently held by Betsy Wilkerson, who was appointed to the position in early 2020.
LeMasters has lived all over the United States and overseas in places like China and Japan. He's lived in Spokane for the last 15 years and went to Medical Lake High School.
LeMasters is a realtor and handled a policy portfolio for Congresswoman Cathy McMorris Rodgers.
According to his campaign website, he plans to focus on helping small businesses, affordable housing, homelessness and infrastructure.
District 3

Lacrecia "Lu" Hill is running for the District 3, Position 2 seat on Spokane City Council.
Hill grew up in Eastern Washington, according to her website, learning about "generational poverty, the working poor, and access."
"I knew from a very young age that life was hard and I wanted something different for myself and my family. I wanted something different for all the humans I grew up with," Hill wrote on her website.
She became a mother at 16 years old, waiting tables at Cyrus O'Leary's through her college years at Eastern Washington University. Upon graduating from EWU, Hill moved to Las Vegas and started her career with Boys & Girls Clubs, which took her to rural Oregon and eventually home to Spokane. Her skillset ultimately took her to Empire Health Foundation.
Hill holds a bachelor's degree in psychology and an Master of Business Administration. She has ownership in cannabis brand lines, owns her own consulting business and is a yoga teacher.
Hill is also working with a group in Eastern Washington to establish a Black chamber of commerce.

Karen Kearney announced her run for the District 3, Position 2 seat on Spokane City Council in March 2021.
Kearney was born at Fairchild Air Force Base in 1952, according to a press release. She first came home to her grandparents' home in West Central while her father was deployed to Korea.
Kearney moved to Seattle in 1962, where she spent the next 30 years and met her late husband, Chuck, a career law enforcement officer. The couple spent five years after retirement in the Bitterroot Valley of Montana but returned to Spokane in 1997.
Kearney has served as chair of the Balboa/South Indian Trail Neighborhood Council for nine years. She has worked on senior citizen issues, built free libraries and been a "crusader for law enforcement and fire issues" for decades, according to the press release.
"I am passionate to serve my neighbors in the 3rd District of Spokane on the issues of public safety, economic development and infrastructure and hope to earn a seat on City Council," Kearney said.

The owner of D. Lish's Hamburgers, Mike Lish, announced his run for Spokane City Council in a press release Thursday, Feb. 25.
Lish is running for District 3, Position 2, which includes West Central, Audubon, Shadle and Indian Trail communities. He said the growing issue of homelessness will be the key focus of his campaign.
"One of the biggest reasons I have chosen to run is because I don't fully agree with all the recent changes made to Spokane, like the homeless shelters downtown," Lish said in a press release. "As a member of the City Council, I will focus on the best ways to help the homeless in our community re-enter society on a positive note."
"Spokane has been the Pacific Northwest's best-kept secret and people are starting to figure that out, he continued. "We can have all that big cities have to offer, but let's make sure to keep that small hometown feel."
Lish said as a small business owner he understands how important the community is and Spokane is a unique place to build it.
Lish has lived in Spokane since 1988. Ten years later, his father Dave Lish, and a close friend opened D. Lish Hamburgers. Mike kept the business running after his father passed away in 2008.

Christopher Savage announced his run for Spokane City Council in early 2021. The lifelong Spokane resident is vying for the District 3, Position 2 seat.
Savage has served on the Balboa/South Indian Trail Neighborhood Council and as a Community Assembly representative, according to a press release. He has also worked a board member and secretary for local nonprofit Meals on Wheels, which delivers meals to immobile seniors in Spokane.
Former City Council Member and community organizer Steve Corker voiced support for Savage's run, saying, "I welcome Christopher's candidacy and have discussed several city issues based on his vast experience with Spokane. I look forward to what he can do for Spokane."


Former Washington State Representative candidate Zack Zappone announced in a video to supporters that he is running for Spokane City Council in District 3 on Wednesday, Feb. 24.
"I grew up in the 3rd District and have a deep understanding of the struggles of hard working families," Zappone wrote in a press release. "I've seen the impact of COVID on our schools and on our local businesses. Spokane can build back even stronger than we were before. I will use my experience to champion changes that improve public health and safety, rebuild our local economy, and make quality housing affordable for all."
Zappone is a Democrat and ran for state representative in District 6 in 2020. Zappone's life has been focused on education. He received it at North Central High School in Spokane before going to Georgetown and Princeton universities. Then, he provided it as a history teacher in the Tri-Cities and was a substitute in Spokane Public Schools. He now works in public health. He said he is working to fight the COVID-19 pandemic and expand access to mental health resources.
Zappone said his council campaign is off to a strong start and he has raised nearly three times the funds of the next leading candidate in District 3.