The Seattle Department of Transportation has completed installing the "No Turn on Red" signs at 28 locations so far, with the rest to be installed before the MLB All-Star Week taking place in the Emerald City in July.
Previously, there were about 100 Seattle intersections where it was illegal to turn right during a red light. The new locations were selected by prioritizing areas with high pedestrian volumes and to keep continuity along corridors with No Turn on Red restrictions already in place.
A map of where many of the new "No Turn on Red" restrictions will go into effect is below: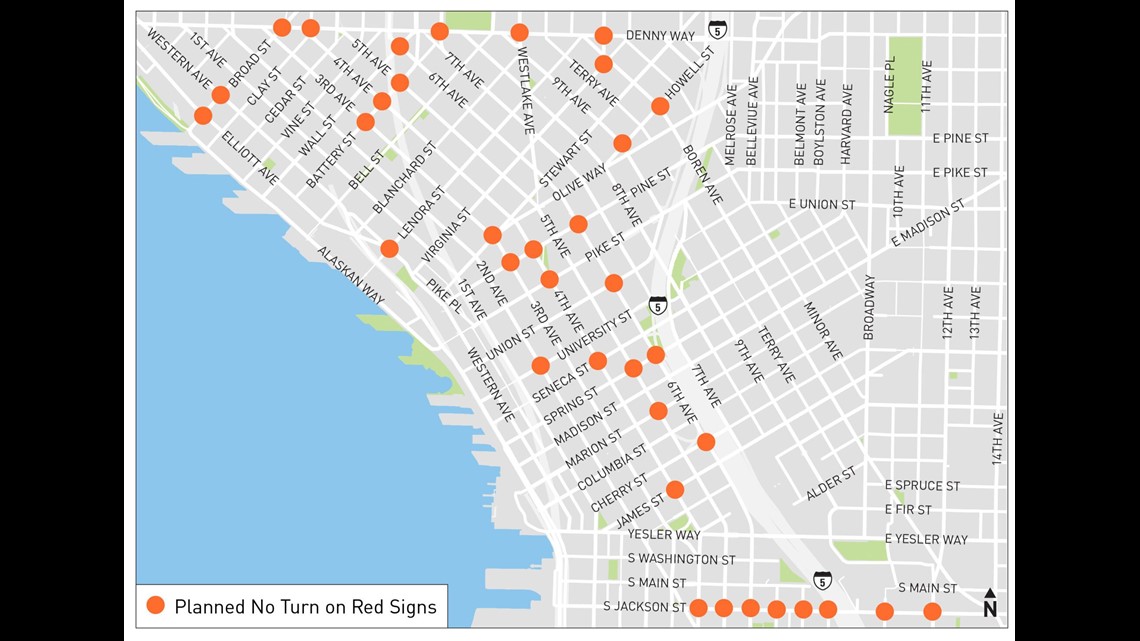 Along with the locations that have already been selected for new No Turn on Red restrictions, SDOT's new policy is establishing the "broad use" of the restrictions city-wide.
The agency will evaluate and implement No Turn on Red restrictions when new traffic signals are installed, operations at signalized intersections are modified or SDOT programs like Safe Routes to School identify locations that should be prioritized for the restriction to be put in place.
SDOT will generally add the No Turn on Red restriction unless the agency identifies a "significant operational reason" not to.
As part of the city's Vision Zero commitment, the restrictions will also be rolled out in other pedestrian-dense neighborhoods throughout the city over the next year.
The new effort is part of SDOT's Vision Zero Initiative, which is a plan to end traffic-related deaths and serious injuries on city streets by 2030. The review was commissioned by Seattle Mayor Bruce Harrell and SDOT Director Greg Spotts after seeing fatal and serious injury crashes increase in recent years, according to an SDOT blog.
The new No Turn on Red restrictions aim to "reduce conflict between people driving and people walking and rolling," according to the agency. Right turn on red crashes account for 9% of all collisions with people crossing the street at signals within the city of Seattle, according to SDOT data.
SDOT said the change should not lead to noticeable delays for drivers but is expected to make those walking and rolling more comfortable when crossing the street.