SEATTLE — The ramp to northbound state Route 99 from the West Seattle Bridge could be closed for the next 10 days after a large pothole caused several flat tires.
The Washington State Department of Transportation (WSDOT) tweeted just after 7 a.m. Wednesday that the ramp was closed until further notice as crews evaluated repairs for a pothole that created a hole in the road. WSDOT officials said the ramp will be closed for 10 days for repairs.
The 5-by-4 foot pothole was discovered around 10 p.m. Tuesday night after several drivers had to pull over on the side of the roadway to replace their tires.
Drivers will need to seek alternate routes during the closure, WSDOT tweeted Wednesday.
WSDOT spokesperson James Poling said they know it's an inconvenience and crews are working as fast as possible. Crews do routine preservation work but there is about 24,000 pieces of bridge deck that they oversee.
"We know that's a very big frustration for the West Seattle community who's already experienced a lot with the West Seattle Bridge closure, but we want to make sure this ramp is safe before we reopen it," Poling said.
WSDOT said the ramp was inspected August 9th 2022, and showed no indication this would happen, but noted the road is more than 60 years old.
The fix isn't "as simple as pouring concrete and letting it sit," Poling said.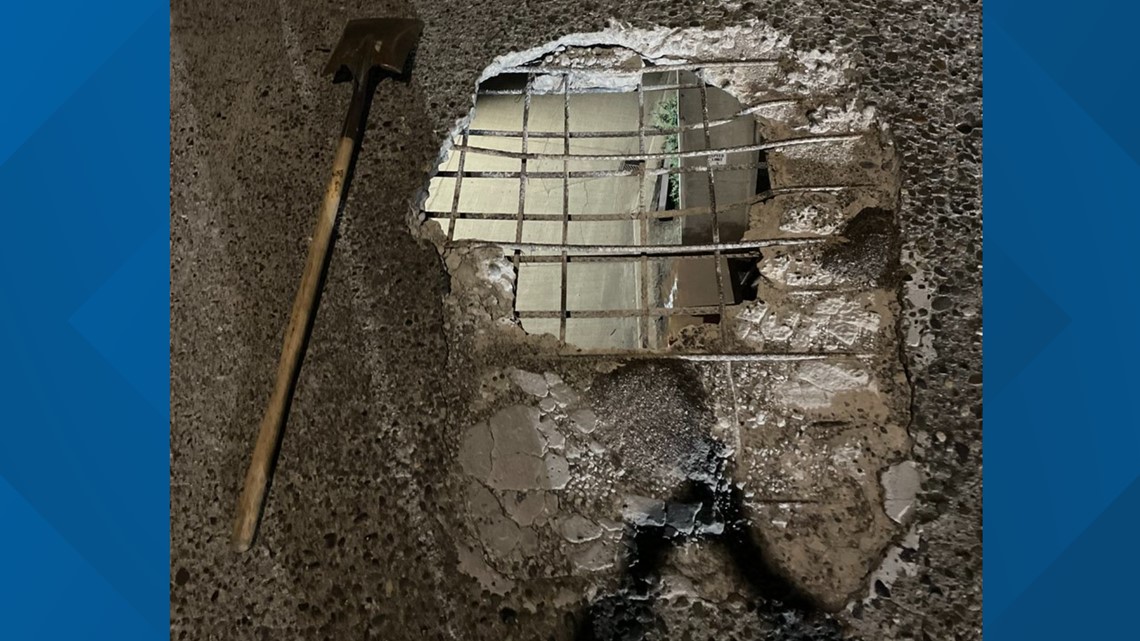 Potholes have been a recurring issue throughout Seattle.
"Here's our giant hole. Our last hole was right up here. You can see the patch job."
Jeffery Swanson is the store manager of BladeGallery's Epicurean Edge which sits under the NB SR 99 onramp from the West Seattle Bridge.
He pointed out the gaping hole and said he's not surprised to see another one.
"It wouldn't shock me to see 10 more pop up in the same area," Swanson said.
Swanson said the 10-day closure will impact commutes.
"Having less access to the Seattle bridge becomes very difficult because it is flooding the Boeing access road and Spokane Street with way more cars than they are really designed to handle."
Swanson anticipates, fewer customers will come through his doors.
"Customers just aren't going to feel like it's necessary to drive that long to come in for a quick shopping experience," Swanson said.
The Seattle Department of Transportation (SDOT) crews said in February they filled 23,000 potholes throughout the city in 2022, the most filled in the last five years. Maintenance crews filled 50% more potholes in 2022 than they did in 2021, according to the city.
"It's not your imagination," SDOT said in its February release. "There were more potholes than usual last year."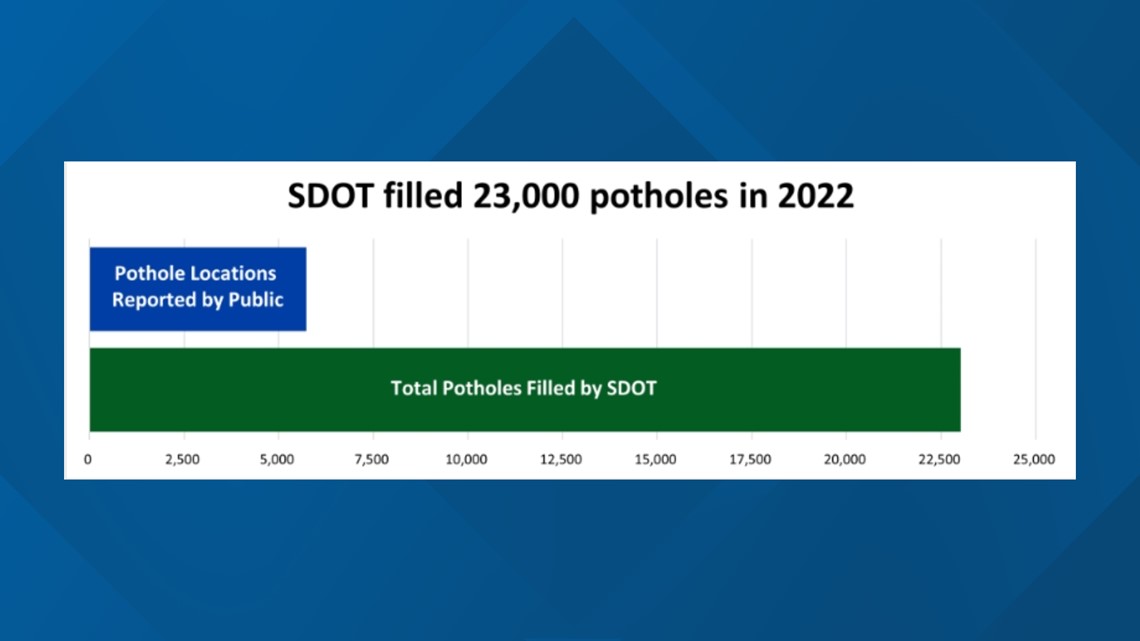 Why do potholes keep happening?
The SDOT said potholes re-appear year round, especially during the winter when severe storms are likelier.
Rain, snow and ice damage streets, as water sneaks through cracks in the pavement. When temperatures drop low enough, the water freezes and expands into ice, creating cracks and eroding streets from the inside out, according to SDOT.
As new potholes form, cars, trucks and buses worsen the street's condition and eventually cause large chunks of concrete to break off.
Winter repairs don't last "forever," SDOT said because asphalt does not bind to pavement quite as well during cold weather. That means pothole repairs today may need to be repaired again until the weather warms.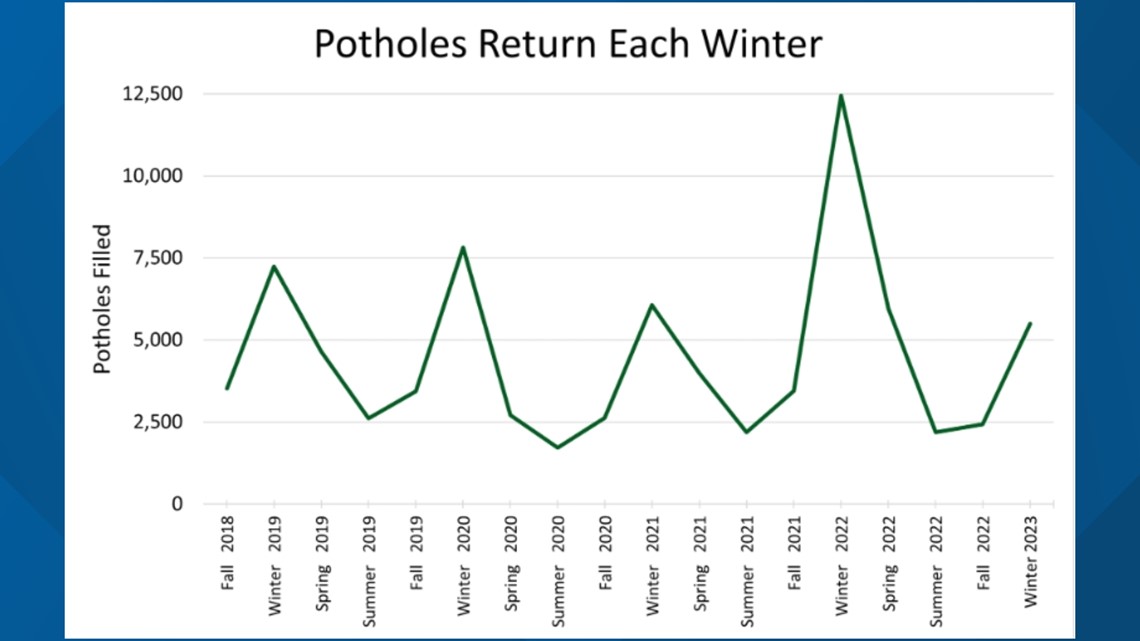 SDOT called potholes a "continual challenge year-round."
But maintenance workers can prevent frequent potholes with larger paving projects to replace the damaged pavement. Filling potholes is equivalent to putting a band-aid on a larger problem, SDOT said.
How to report a pothole in Seattle
The public is urged to send reports of new potholes as they form throughout the city. There are several ways to report a pothole in Seattle:
Check the map below to see the repair status of a pothole near you.