SPOKANE, Wash. — A Spokane couple will forever have an interesting story to share about the day they became one.
They were the last two people married at the Spokane County District Courthouse on March 16, 2020, before it shut down operations due to the 2019 novel coronavirus (COVID-19) outbreak in Washington state.
Andrew Moyer said a judge told him and his bride, Samantha, that they should feel lucky because their wedding was the last one planned for the foreseeable future. The courthouse will still offer some remote weddings for couples, he added.
The couple, who moved to Spokane from Colorado about one year ago, had originally planned for an elopement at the courthouse before a honeymoon in Thailand.
Though their honeymoon and dinner reservations on their wedding day were canceled, along with a spa treatment at a local casino planned for the following day, the couple chose to make the best of a tough situation.
"In the end, it was meaningful and it was perfect. With everything going on, it's hard to be disappointed for too long about anything," Andrew Moyer said.
The couple shared photos with KREM of their wedding day where they are wearing masks. Andrew said they had originally purchased them for their honeymoon in Thailand.
Photos: Andrew and Samantha's wedding day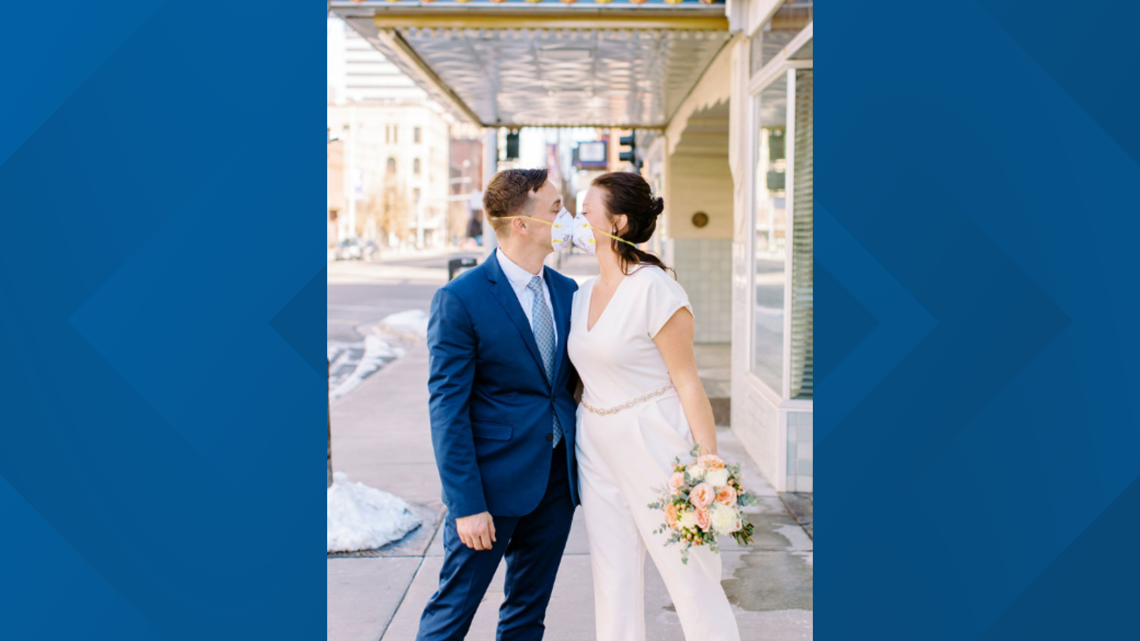 Andrew said he and his new bride decided to move to Spokane in their search for community. So far, they are enjoying the Pacific Northwest lifestyle.
When asked to describe their wedding day, Andrew called it "opportunistic," adding that they "didn't know what was happening until that day."
Though many of their plans were canceled, Andrew and Samantha still found a place to enjoy a romantic dinner and stayed together at the Roberts Mansion Inn to celebrate their union.
"Nothing else matter besides the fact that we could get married," Andrew added.
RELATED: 90-year-old Life Care Center coronavirus patient makes remarkable recovery
RELATED: KREM employee's wife tests negative for COVID-19 — this is what it was like
RELATED: Dry Fly Distilling sanitizing spray could be available by Thursday